Ménez strikes to rain on Ukraine's parade
Ukraine 0 France 2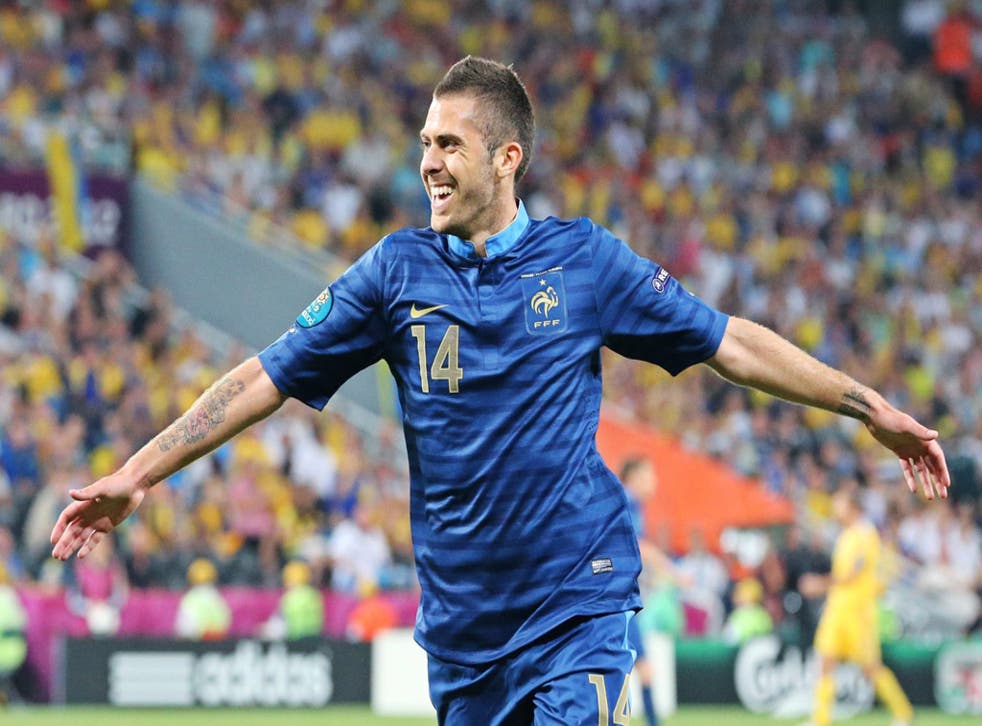 Despite thunder, rain, a partisan crowd and Andrei Shevchenko, France recorded one of the most comfortable wins of Euro 2012 over Ukraine in Donetsk last night. A game that saw players running for cover when it was suspended after five minutes due to torrential rain, only for play to resume 55 minutes later, ended at walking pace as France outclassed the co-hosts.
After a low-key first half, which effectively served as a second warm-up after the delay, France did the necessary early in the second half. Two goals within three minutes for their very accomplished midfielders Jérémy Ménez and Yohan Cabaye proved more than enough.
Had France needed to score more goals they could have done but from there it was a case of simple control. On an afternoon which provided so many distractions, anticipated and not, it showed an impressive new professionalism: this was France's first tournament win since 2006.
When the players first emerged in the Donbass Arena it was raining heavily, and the French national anthem was interrupted by bursts of thunder. Referee Björn Kuipers began the game as normal but the torrential rain and potentially dangerous flashes of lightning forced him to bring the players off after just four and a half minutes of play.
With the players back in the dressing rooms, a cancellation by 24 hours appeared likely. But after talks between officials, the announcement came that the game would be resumed one hour after the initial kick-off.
Given the short start and the long delay, the match felt as if it was starting for the first time, but with the players less prepared than they normally would be. Both sides, then, failed to drum up much of a rhythm as they reacquainted themselves with the game.
But this was easier for France than their encounter with England on Monday, as they had space to attack. There were no rigid banks for four from the co-hosts, and soon enough lone striker Karim Benzema started to find openings. He tested Andrei Pyatov from distance before linking with Franck Ribéry in a move – later replicated for their opening goal – which concluded with Ménez's effort being disallowed for off-side.
Ménez, the Paris Saint-Germain winger brought in for Florent Malouda, was France's main goal threat throughout. Breaking from the right of Laurent Blanc's 4-2-3-1 system, he then shot over from Ribéry's pull-back before firing an even easier chance straight at Pyatov.
Although Ménez's opening goal did feel like it was just a matter of time, he was fortunate to still be on the pitch in the second half. Having been booked for pulling back Shevchenko, Ménez brought down Yevhen Selin in first-half stoppage time. Referee Kuipers, who must have already had enough drama for one day, just gave the Frenchman a warning.
It only took Ménez three minutes of the second half to threaten again – shooting again at Pyatov, this time from the inside-left channel. He might well have worried about his profligacy when Shevchenko and Anatoliy Tymoshchuk fired just over before he finally took the chance to put France ahead.
Ribéry stormed down the left wing, and found Benzema, who had dropped deep. The Real Madrid striker rolled a pass right to Ménez, who cut in on to his left foot and shot through Selin's legs and inside Pyatov's near post.
As is often the case, the eventual breaking of the dam prompted another rupture. Three minutes later Ménez passed to Benzema – again in the hole – who slid a perfect pass through to Cabaye on the edge of the box. Cabaye touched his way past Oleh Husyev and placed the ball into the bottom corner.
There were still 34 minutes left but the game was as good as won. The home crowd was silenced and without their support Ukraine faded. A smart passing move faced no resistance whatsoever, ending when Cabaye's perfectly-struck shot hit the post.
From there it was easy. Blanc brought Marvin Martin and Yann M'Vila on in midfield, replacing the two goalscorers, and they kept the ball with just as much comfort and accomplishment. Olivier Giroud came on for Benzema. Had he needed to score he might have done, but the job was already done.
Booked: Ukraine Selin. France Menez, Debuchy, Mexes.
Man of the match Ménez.
Match rating 6/10
Referee B Kuipers (Neth).
Attendance 51,504.
Join our new commenting forum
Join thought-provoking conversations, follow other Independent readers and see their replies