Michel Platini accuses Fifa ethics committee of timing eight-year ban with his presidential election campaign
Platini was banned from all football-related activities for eight years on Monday over a £1.3m payment he received from Sepp Blatter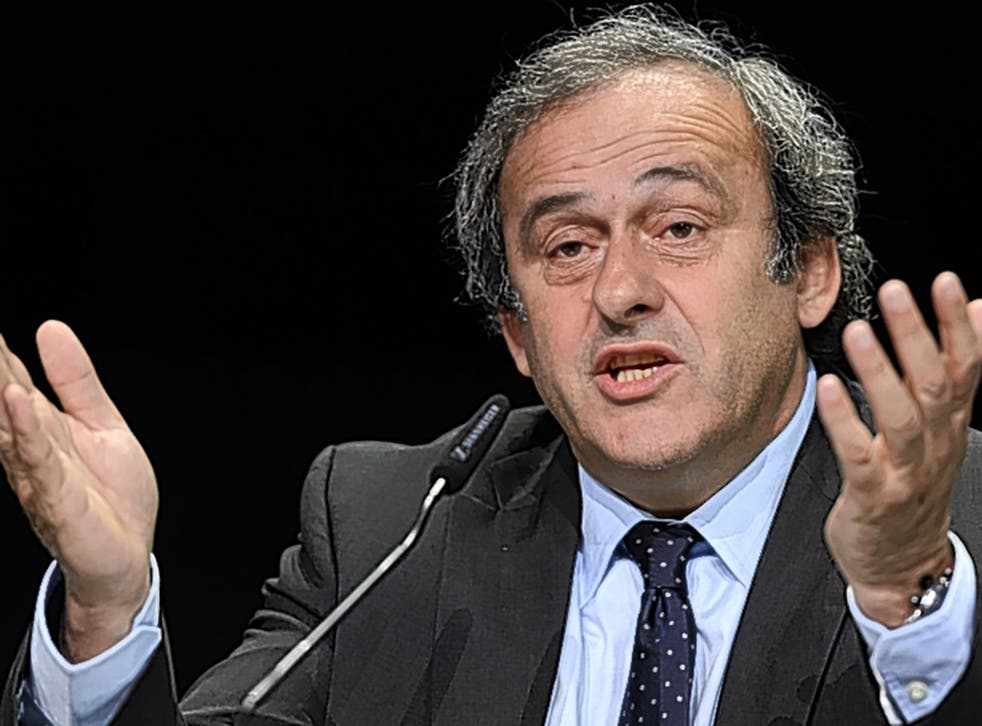 Uefa president Michel Platini has labelled members of Fifa's ethics committee "pathetic" and suggested the timing of their decision to ban him from football was influenced by a desire to block him from becoming president of the sport's governing body.
The former France midfielder has been in charge of Uefa since 2007 and was seen by many as the natural successor to outgoing Fifa president Sepp Blatter.
But on Monday the pair were banned from all football-related activities for eight years after an investigation into a payment of £1.3m Blatter made to Platini in 2011, shortly before the Swiss sought re-election for football's top job.
Although they maintain it was belated compensation for work Platini had carried out between 1998 and 2002, the committee concluded it was "disloyal" and an abuse of their position.
"The members of the ethics committee have questions to answer over their scheduling, which has prevented me from putting myself forward for the Fifa presidential election in time," Platini told AFP.
"They are not ethical, they are pathetic."
The 60-year-old has already submitted his candidacy to become Fifa president but will not be able to stand in February's election while he is still banned.
"What was the Fifa ethics committee doing between 2011 when I was paid and 2015?" he said. "Was it sleeping?"
The former France captain added: "Suddenly it wakes up. Ah yes, it wakes up in a Fifa election year when I'm a candidate. It's amazing."
Six candidates hoping to be Fifa's next president

Show all 8
Although the three-time winner of the Ballon d'Or has vowed to fight his ban, he believes his image has already been tarnished.
"The real match starts now," he said.
"[But] whatever happens, my reputation will be damaged. I will have taken a battering. People are talking about me and Blatter in the same breath."
At a time when a US probe into wrongdoing at the top of football's governing body continues to widen, the pair did avoid charges of corruption.
Former FA Chairman on FIFA
Several high ranking officials under Blatter have already been arrested as part of the investigation, but Platini believes he will one day clear his name.
"There is nothing corrupt about what has gone on here," he said, "I live by the principle that truth will out and everyone will see that I am innocent.
In the wake of yesterday's decision, Platini released a statement when he described the investigation as a 'pure masquerade'.
He said: "It has been rigged to tarnish my name by bodies I know well and who for me are bereft of all credibility or legitimacy."
Although he has already announced he is stepping down in February, Blatter has also vowed to appeal the decision. In a press conference on Monday, the 79-year-old apologised for his treatment and promised to return to power.
"I'm sorry that I, as president of FIFA, am a punching ball," he said.
"I'm sorry for football. I'm sorry for FIFA. But I'm also sorry about me, the way I am treated."
Join our new commenting forum
Join thought-provoking conversations, follow other Independent readers and see their replies