Michel Platini gets the grey men on his side, but what price financial fair play all round?
 Platini has always known that these grey men love to bathe in the self-reflected glory of a footballer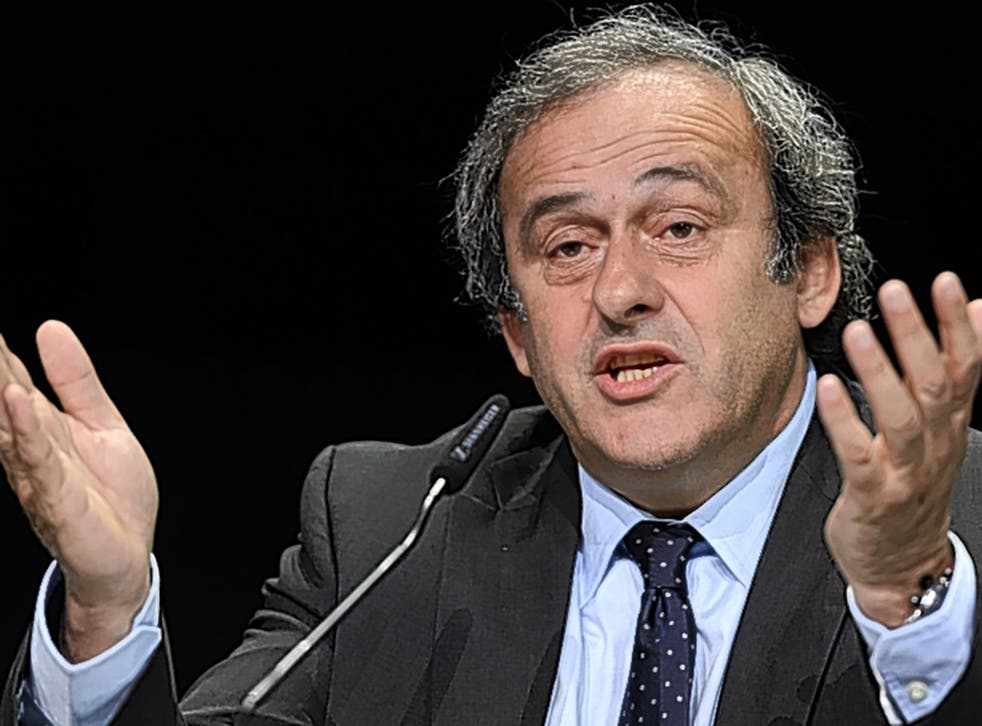 It was the Maltese hotel scene, a few weeks ago, which seemed to encapsulate the way Michel Platini has mesmerised football's men in suits.
Football's integrity was sinking into the cesspit last month and the questions were about to reach his door about that £1.3m he'd banked from Sepp Blatter, nine years after the services he'd rendered for it: a time lapse which, to you and me and all the others who'd have been chasing like hell after that invoice, does not add up. But Platini has always known that these grey men love to bathe in the self-reflected glory of a footballer. So there he was in the foyer of the Westin Dragonara hotel on the St Julian's seafront, resplendent in red kit with the name "PLATINI" emblazoned across his back and a ball at his feet. "You can be on my side," he told a few of those gathered around him. "And I'll be captain." Then he led the European Association Presidents' XI on to a pitch outside in the sunshine, for a Uefa match. The blue-shirted General Secretaries/CEOs XI will always be able to tell their grandchildren that they played against Europe's greatest No 10.
Someone who's watched this man at close quarters in France nods knowingly when the story of the scene is related. What has always concerned Platini far more than the questions about money and football's propriety is the notion that he's just another politician now, rather than the man who dazzled with a ball at his feet. "He wants to be seen as the great No 10," says one. "He wants to be reminded of how great he was."
What a politician, though. The French journalists who have criticised him down the years will tell you that there are the same consequences that a football writer might expect when a player reacts badly to a 5 out of 10. Access is shut down. L'Equipe has generally been considered one of the chosen, though its dark tone of recent weeks suggests there'll be fewer exclusives heading their way from now on. The "Platini en danger" of 30 September had become "They're both going down together" on Thursday, when Fifa's ethics committee suspended him and Blatter for 90 days while investigating the £1.3m. The money was paid out in February 2011, when Blatter faced the possibility of a challenge from the Qatari Mohamed Bin Hammam and needed Platini's support.
That suspension has been treated with much recalcitrance. It was supposed to mean Platini being temporarily banished and expunged from the organisation in the interests of neutrality and integrity while the investigation takes place. Even Blatter has adhered to this code of conduct since his suspension. Fifa issued an official communiqué on Thursday to say that the 79-year-old had been "relieved of all duties." His job title was duly erased from his Twitter profile and the presidential page erased, with a site for the acting president, Issa Hayatou, uploaded in its place. All communications relating to Blatter are being issued through a lawyer.
Not Platini. As the Associated Press's Rob Harris has observed, the home page of Uefa's corporate website currently carries a smiling photograph and statement from the man they continue to call "President".The allegations are "astonishingly vague," Platini fulminates – using the Uefa vehicle to promote his own ends. "They are based on mere semblances… profound feeling of staunch defiance… a deliberate leak." You get the picture. The headline: "Further statement from Michel Platini." Underneath you are invited to click another item. Its headline is: "Statement from Michel Platini." Different, but the same.
Needless to say, the perfect way of erasing allegations of astonishing vagueness would be to make the paperwork public – because it's hard to believe there won't be any for a transaction of that size. Times, dates, documents. The paper trail which will add the necessary detail to some of Platini's puzzling utterances of the past two weeks: that he undertook this work for Blatter between 1998 and 2002 "on various matters related to football, such as the international football calendar"; that he was told Fifa "would not be able to pay me the total agreed amount"; and that he "put the matter to the side for a while, before finally requesting… the outstanding balance". That's a nine-year wait for £1.3m from an organisation that he says insisted it was broke, yet documents on its own website reveal a revenue surplus profit of £84m between 1999 and 2002.
You can only begin to wonder how they feel about all this at Manchester City – a club over which this man stood in judgement, pontificating over their spending and ordering them to cut their cloth or pay out a world record £50m in May 2014, having breached the sanctity of what Platini christened "financial fair play". When I last checked with City, they were still not entirely sure where the £16m fine Platini eventually hit them with actually went.
Volkswagen's Michael Horn was being hauled before the American Senate and publicly mauled whilst suspended Platini was getting someone from the Uefa corporate communications department to publish his statements for him. There is a strict level of accountability for those in the real world. Elsewhere, Platini cuts a dash in his red kit, populates pretty Maltese hotels, and sails blithely on.
Jones suffered the same unkind injustice as Brittan
The indignities suffered by Leon Brittan – sent to his grave before the Metropolitan Police thought to tell his family that abuse allegations against him had been unfounded – call to mind the coffee place on Liverpool's Castle Street and the look of fear in the eyes of Dave Jones, the football manager, who was dragged into the same pit. That's where Jones found himself holed up, 15 years ago next month, in the long hours before and during his trial at Liverpool Crown Court on sex abuse charges, dating from his time as a care worker. Beyond reporting the facts of the case, which I was there to do, it was patently clear that none of this stacked up. The case collapsed immediately and the practice of "trawling" for multiple witnesses was questioned by the Home Affairs Select Committee, by which time Jones was out of work. The world turns. Things stay much the same.
A clue as to why Woodward might not get the top job
The prospect of Sir Clive Woodward directing the course of English rugby is as credible as that of Andrew Strauss at cricket's helm. But at an audience granted to junior rugby teams at Berkhamsted School last November Woodward could not bring himself to mention Stuart Lancaster by name. He was "the current coach" throughout.
Will any coach live up to Woodward's expectations? Therein lies the impediment to him taking the job.
Join our new commenting forum
Join thought-provoking conversations, follow other Independent readers and see their replies