Netherlands v Argentina: Pablo Zabaleta posts bloodied selfie on Twitter after Argentina reach World Cup Final
Zabaleta celebrated Argentina's World Cup semi-final victory with a humorous selfie despite deep cut on his face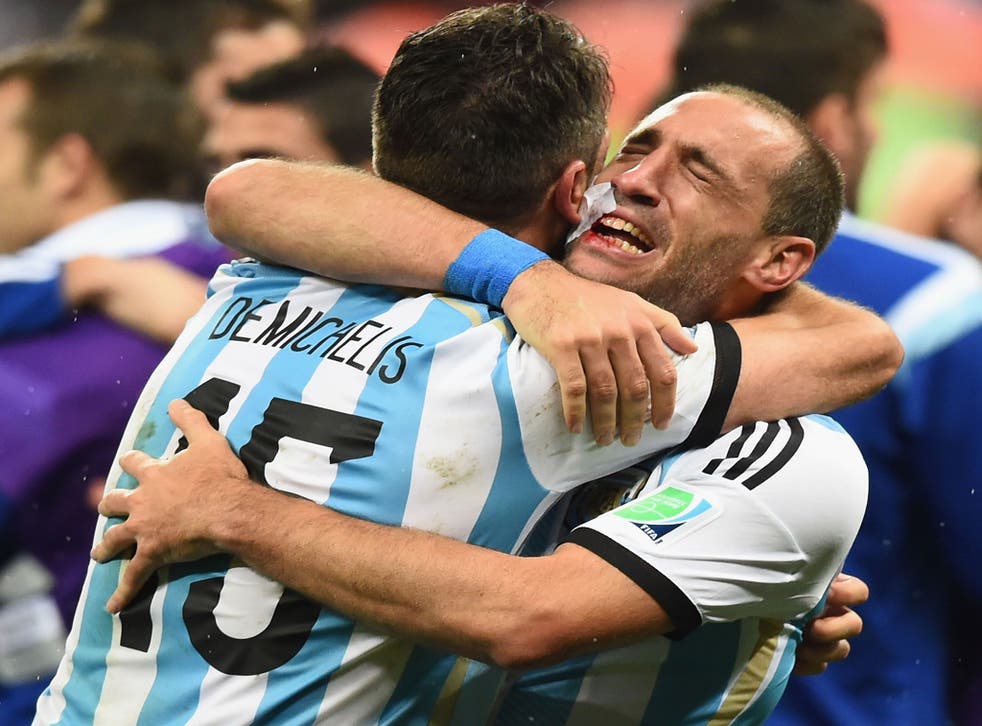 Pablo Zabaleta wears his heart on his sleeve, and it was certainly no surprise to see the Argentina defender burst into tears after helping his nation reach the World Cup Final.
The Manchester City defender had put in a strong performance during a drab stalemate between Argentina's and the Netherlands in the World Cup semi-final, limiting their opposition to just one shot on target.
And after Maxi Rodriguez fired his effort past Jasper Cillessen to secure Argentina's place in the World Cup Final, Zabaleta simply could not contain his emotions, celebrating with the utter euphoria after an dramatic shootout.
He uploaded a selfie to Twitter with the words 'proud to be ARGENTINE', with the image showing his bandaged face accompanied by a comical blue and white wig, although he appeared to have gathered his composure by this point.
Zabaleta had suffered a nasty facial injury during the game after an accidental collision with Dirk Kuyt, leaving him with a deep cut to the face.
But that did not stop the 29-year-old from celebrating the win after it was bandaged up, emerging out onto the pitch with his wig.
Celebrations continued long into the night as Argentina sealed their place in the World Cup Final for the first time since 1990.
Join our new commenting forum
Join thought-provoking conversations, follow other Independent readers and see their replies