Peerless Andrea Pirlo plays a concerto for Italy amid a din of discordance against England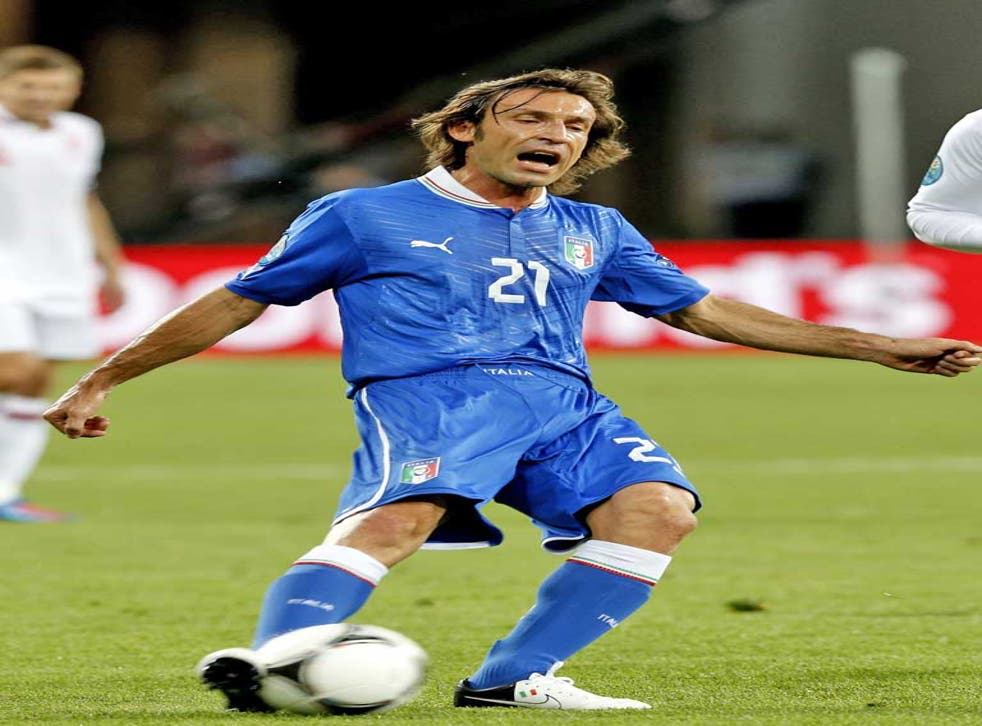 England may have succumbed in that most familiar and most uncompromising of formats but their penalty shoot-out defeat was just reward for the metronomic Andrea Pirlo, who had Italy dancing to his rhythm last night.
Roy Hodgson knew Pirlo well. A Champions League adversary for many years, Pirlo also played under Hodgson briefly during their period together at Internazionale in 1999.
Since then, both men have reached the pinnacle of the sport but, while Hodgson has only recently ascended to the top job in English football, Pirlo has been an established master of his art for years. This was his 87th cap and he missed only one of Italy's 10 qualifying games for Euro 2012. In recent times, he has been a stranger to failure.
Italy have not lost any of their 14 matches under Cesare Prandelli, while Pirlo is one of seven Juventus players who ended the last Serie A campaign successful and undefeated.
Juventus lost the Coppa Italia final last month but Pirlo last tasted defeat in the league in December 2010 when at Milan.
The 33-year-old is the calming presence in a side that prioritises patience and precision. England's game plan was clear. Hodgson instructed his entire 11 to sit in front of Pirlo, deep enough to deny him a route over the top but pressed closely enough to deny him space to act as Italy's catalyst.
Pirlo is peerless in possession but another way to negate that is to attack and England got the balance right early on after Daniele De Rossi reminded them of the multiple threats in opposition.
Remarkably, Pirlo's strike against Croatia was the first goal scored direct from a free-kick at a European Championship for eight years and England were diligent in avoiding another last night by minimising fouls on the edge of their own box.
England used the pace of Ashley Young, Danny Welbeck and Wayne Rooney to get in behind Pirlo and run at Italy's back four, with only goalkeeper Gianluigi Buffon's brilliance denying Glen Johnson from profiting.
Pirlo adjusted and acclimatised. By positioning himself between Rooney and Welbeck to receive the ball from the back four, his influence began to grow.
Initially restricted to set-piece delivery – one free-kick wasted, a dangerous corner cleared by Welbeck – suddenly he sprang to life.
England pushed higher up the pitch but forgot to press Pirlo simultaneously and in a flash he released Mario Balotelli, who fluffed the chance. It was a reminder of the constant danger and an example of the delicate balance England had to strike.
Pirlo's delightful cross then found Antonio Cassano, who headed the ball across goal only for Joleon Lescott to deny Balotelli a tap-in.
After the break, Pirlo's authority grew and both sides were moving along at his tempo. De Rossi, Balotelli and Riccardo Montolivo were all guilty of missing clear-cut chances to provide the finishing touch to Pirlo's probing.
Hodgson introduced Andy Carroll and Theo Walcott in an attempt to wrest control away from Italy but the game's pattern was barely disrupted as the Azzurri dominated proceedings.
Italy were increasingly using the flanks to bypass a crowded central midfield, with Pirlo spraying passes left and right, but Claudio Marchisio proved equally adept, momentarily, at providing a killer pass with a ball into substitute Antonio Nocerino, whose effort was superbly blocked by Johnson.
Extra time continued along the same theme, Pirlo found Balotelli who couldn't beat Joe Hart, Diamanti fired wide in the second period before Nocerino was denied by an offside flag meaning penalties were required.
With his team already behind in the shoot-out, Pirlo's utter mastery of the moment inspired a dink down the middle and Italy's fortunes turned. It was what he deserved.
Join our new commenting forum
Join thought-provoking conversations, follow other Independent readers and see their replies