Perhaps not even Lars Lagerback can halt Norwegian football's tragic decline
From beating Brazil at the World Cup and being ranked second in the world to missing nine consecutive tournaments, is the Norwegian job too much for even miracle man Lagerback?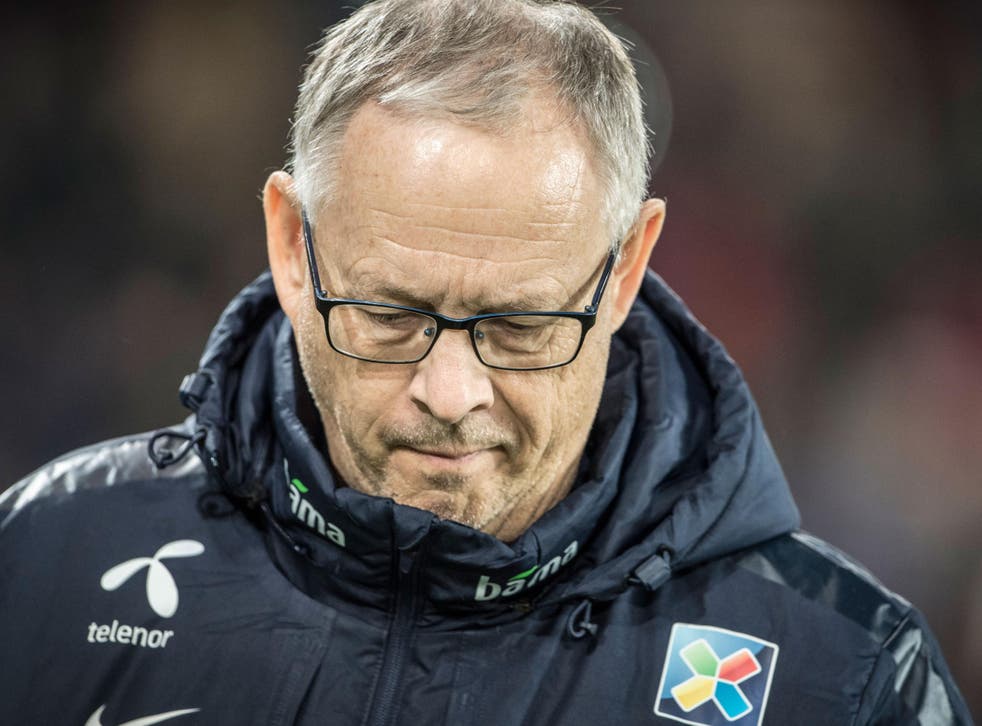 Though most might think of Norway as a skiing nation, we are first and foremost crazy about football. Every season, 100,000 of all Norway's five million inhabitants travel across the North Sea to watch live Premier League football.
Next summer however, it will be 18 years since we dusted off our plastic Viking helmets and packed our bags to watch our national team in a big tournament. This weekend's loss to Northern Ireland confirmed what we already knew; we won't be going to Russia either. The wait goes on.
During the memorable 90s, Norway surprised everyone.
Led by Egil 'Drillo' Olsen, a wholehearted proponent of zonal marking and direct football, we defeated England, Italy and Holland, qualifying for World Cups and European Championships in which we beat Brazil and Spain. At one point we were placed second in the Fifa rankings. Those days could not feel further away. They are steeped in nostalgia's sepia tone. Frozen in memory.
Now, after a horrendous run of results since the turn of the millennium, we are considered as the world's eighty-first best country, flanked in the rankings by Guinea-Bissau and Faroe Islands.
As recently as 2013 this was all supposed to change. We were promised a revolution when our federation hired the academic Per-Mathias Høgmo. The then-56-year-old was more known for practising poetry and mental exercises on his players than for his football philosophy. A few eyebrows were raised after his first words in charge promised fire: "You will see something you have never seen before [...] We want to attack like Manchester City and defend like Atletico Madrid".
The only thing we came close to was defending like Manchester City.
His reign hit its absolute nadir at Ullevaal Stadium in October 2016 when microstate San Marino equalised with their first away goal in 15 years. Høgmo had become a laughing stock. He eventually led the side to victory over San Marino, but after an underwhelming 2-1 loss in the Czech Republic, The Professor's days in the hot seat were numbered.
So, who do you call to rebuild the reputation and belief of a broken football nation?
The most attractive candidate, FC Copenhagen's (previously of Wolves) Ståle Solbakken, said no.
Inurgent need of aid the attention was turned across the eastern border.
Even though he had - after last summer's heroics with Iceland in the Euros - labelled himself "too old for a new adventure," Lars Lagerbäck came to our rescue.
The Swede came in with little charisma, but loads of experience and with a reputation of being ruthless towards big egos. He once kicked Zlatan Ibrahimovic out of his squad for returning late to the team hotel.
His football philosophy is about; 1) Strict zonal marking, 2) Low-risk play, 3) forward passing. These were exactly the keys to Drillo Olsens huge success about 20 years ago but also a formula used in the recent triumphs of Leicester, Atletico Madrid and, of course, Iceland. We apparently need a Swede to help us play our very own direct and effective football.
This past weekend the news broke that Icelandic maternity wards had to hand out a record amount of epidurals – coincidentally exactly nine months since Iceland's victory over England. It was also the weekend for Lagerbäck's Norwegian debut but hospitals in Oslo need not worry about a baby boom in the last days of December.
We lost 2-0 in Belfast.
It was a horrible game of football loaded with stray passes and missed long throw-ins. The in-form Bournemouth striker Joshua King should, with his physique and work-rate, suit a direct style of football. "It was so much room to play in. We hit too many long balls," was King's scathing post-match judgement.
But the most pressing concern is the terrible defending. Both full-backs who played against Northern Ireland used to be attacking players and the centre-halves are not any good. They are miles away from the quality and personality of former leaders such as Rune Bratseth, Ronny Johnsen and Brede Hangeland.
Many of us thought Håvard Nordtveit (now at West Ham) would be our future captain in the centre of defence – that's until he became a very average midfielder.
But while we simply don't produce good defenders anymore, it looks a lot better further up the pitch.
For obvious reasons most grass pitches in Norway have been replaced with artificial turf. Kids who grew up before the year 2000 had to do winter sports half the year and play football only from April to November. Now we can practice with the ball all year long.
Two children of the artificial pitch revolution are 1998-born pair Martin Ødegaard and Sander Berge. Wonderkid Ødegaard, who ran rings around defenders in the Norwegian Tippeligaen, has found life a bit more difficult after moving to Real Madrid (now on loan at Dutch side Heerenveen). Berge has done great at Belgian side Genk, and is a hot prospect. With the proper development he can, without a doubt, become a top-class central midfielder.
These youngsters are both elegant players. 12 months a year on brilliant pitches has made them excellent on the ball. But now we wonder if there is room for this kind of player in a Lars Lagerbäck team. Berge was supposed to start in Belfast, until Lagerbäck changed his mind at the final minute and went for the bang-average converted centre-back Nordtveit instead. Ødegaard was not even in the squad.
They and everyone else will simply have to follow orders to the letter if they are to win the heart of the new manager. We are not going to tiki-taka our way to victory – because to Lagerbäck "entertainment is not about ball possession, it's about winning football games".
With such a philosophy, gaining trust and belief from the players and fans of a football crazy nation requires good results in the first games.
The one on Sunday gave a few answers – but no good ones.
Join our new commenting forum
Join thought-provoking conversations, follow other Independent readers and see their replies