Rafael Benitez: Gerrard the gem must shine to foil Italy's diamond
The Rafael Benitez Column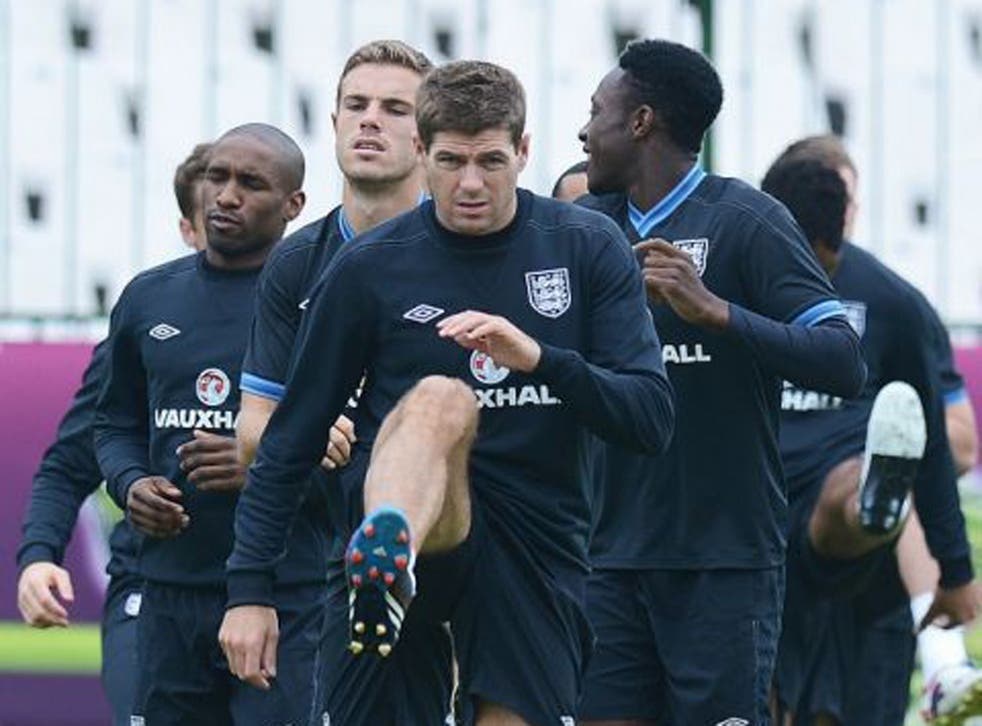 I said from the start that I didn't understand all the pessimism about England, because this squad, which is the most expensive one at the championships, should consider the semi-finals a minimum requirement. But the group stage opponents were one thing; Italy and that midfield they possess is something totally different.
It would be some result for England to beat their opponents tomorrow evening and while everyone has been talking about Andrea Pirlo, you should look out for Thiago Motta. Believe me, Motta can play.
There will probably be four Italians in the midfield, maybe operating in a diamond, against England in Kiev. Pirlo, Motta and Claudio Marchisio may be there and Daniele De Rossi is a player Cesare Prandelli will ideally want amongst them. Di Rossi has been used in the middle of a three at the back in this tournament, so we will see if he is needed there again. There is a way of dealing with this little group of four – but first let me talk about Motta. He played for me, when I was managing Internazionale, and against me, in Barcelona's team versus our Liverpool side in the game we won 2-1 in the Nou Camp on the way to the 2007 Champions League final. I'll never forget how Motta was substituted before an hour of that game had passed in Catalonia, because things were not so difficult for my own team in midfield after he had left the field.
Motta is left-footed, good in the air, not fast, but he passes the ball so very well. His left foot is really very, very good. I knew him from Barcelona when he was young, breaking into the team at the time when I was managing Valencia, and though he was born in Brazil he fitted in very well with the other players. You want to hear Pepe Reina talking about his time at the Barcelona academy, working with Motta, Andres Iniesta, Xavi and Mikel Arteta! When I first arrived at Inter, Motta was injured, but when he came back he did really well for us. He was a quality player in our midfield –our Pirlo, if you like.
Marchisio, the Juventus player, is very good at getting into the box and timing his runs and I must not overlook Pirlo himself, of course; he has all the top qualities and is able to pass the ball, move it and go. He can dictate the tempo of the game. The important point for England is that if Italy do play this diamond, then you are talking about four players who can all play football. The top of a diamond will be close to Steven Gerrard and Scott Parker, who will have a very big night. One option for England will be to ask their second striker – Wayne Rooney – to play a defensive role by helping the others to deal with the four (see graphic below). We know that Rooney likes to attack, but Roy Hodgson may ask him to show defensive discipline. It would be a weakness for England if Rooney dropped into the midfield to deal with the Italian threat but then, after a while, went forward again.
This option would be a 4-4-1-1 system, not a 4-4-2; it will be challenging for England, however they line up. They will need to do a lot of work.
I don't really see defence as a weak point with Italy, either. The wing backs have energy. I like Andrea Barzagli, who has experience, and I don't need to say much about Gianluigi Buffon's strength.
There are some things we may have to wait until Sunday to discover about Italy, such as whether Prandelli will go with three at the back again – as he did at the start of the tournament – or with four, like he did against Ireland. England's strategy is one we are now familiar with: two lines of four, looking to regain possession a nd then counter very fast. Gerrard is not only good with the crosses which have brought England three goals already; he is the only England player who can play the long balls to perfection. One of the memories I will keep from the game with Ukraine is how Steven was receiving the ball and finding Ashley Young so well. He is the one who can dictate the tempo and he is the one the English nation should be talking about when this tournament is over.
For England, the important thing is to strike a balance: the balance between defending well and getting people into the middle, as we have talked about, but also attacking. You want to see the team saying, "We are England, we will play our game" and having the belief. But if there is too much of that expression then it can be good for Italy, who will get the chance to capitalise.
Some people were surprised that Rooney played nearly 90 minutes in Donetsk but Hodgson did well to keep him on the field so long. In the first half against Ukraine, Rooney did not do really, really well but that goal gave him confidence. You need match fitness, competitive games. He needed every one of those 87 minutes.
Of course, people will be talking about Mario Balotelli and he was another player who was at Inter when I arrived there. We were already preparing to sell him to Manchester City at the time so he was not part of the plans.
We were trying to protect him for that transfer. But in the training sessions you could see the talent. Finding space, scoring goals, good in the air: these were the qualities I saw in him. He is a very special talent who – how can I put it? – needs a very special understanding from a manager. I think he will be fine tomorrow. Everyone in the Italy set-up will be talking about the risks that come for him and everybody will be looking out for him, to make sure he does not do something crazy on the pitch. Italy will be managing the situation, whether he starts the game or comes on from the bench.
Torres will be key as Spain deal with hype
England have managed to keep the expectations low and it is Spain who are now facing the worst of them.
Everybody is now expecting them to win by three or four goals and that is a big mistake.
Whoever Spain play now, that opposition has prepared a specific tactical plan to manage against them and perhaps the people who say Spain are not so good don't realise that.
Vicente del Bosque has one or two different options now. I have been in contact with Fernando Torres and he is feeling strong.
If teams play deep he will not have space. If they allow him the ball he will score.
He is training very well. You see in the little things – the way he drifts into small pockets of space and creates room to work in – that he is strong in his mind and is using the intelligence which is the quality which separates the very good players from the good ones.
I have a feeling we will continue to talk a lot about Fernando before this tournament is over.
Germany, meanwhile, are close to Spain's level and doing well but if Spain play with intensity, they remain my favourites. For England, the key is whether they can find the right balance between defence and attack, because at this stage of the tournament anything can happen.
Champions League Dreams' by Rafael Benitez, is published in September by Headline Books.
Rafael's website, rafabenitez.com, provides more tactical analysis and insight into Euro 2012 and wider football issues .
Join our new commenting forum
Join thought-provoking conversations, follow other Independent readers and see their replies