Ruben Loftus-Cheek's display against Germany the most positive thing to come from a shrug of an evening
The rangy midfielder was confident enough to try a few tricks and always seemed to know which pass to play, smartly picking out space and teammates when required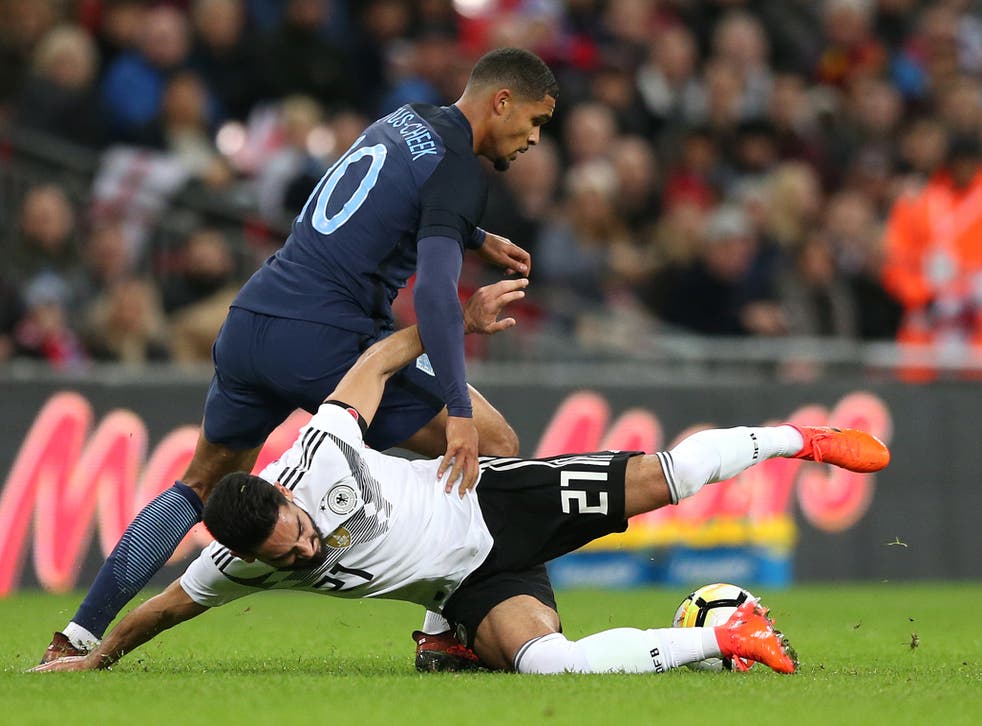 In England, we have reached a point where expectations have reached such a low point that basic competence has become impressive. So let us not go overboard about Ruben Loftus-Cheek's international debut against Germany: aside from beaten-down ennui, the other favourite trick of the English is to place too much pressure on promise.
But, with the requisite caution for expectation-loaded sentiments, Chelsea's rangey midfielder, currently on secondment to Crystal Palace's relegation scrap, was the most positive thing to come from a shrug of an evening at Wembley. Perhaps that's damning with faint praise: once again, the most exciting event for most of the crowd was apparently the sight of paper aeroplanes nearly making it onto the pitch.
Loftus-Cheek is one of the first graduates from England's all-conquering youth sides. He was player of the tournament and scorer of the decisive goal in the final at Toulon last year, where an England side managed by Southgate won the trophy they retained this summer. Of the starting XI from that final Loftus-Cheek, Jordan Pickford, James Ward-Prowse, Nathan Redmond and Nathaniel Chalobah have all since been called to the senior squad: the latter three might not make much impact at this level, but the former two might.
And probably should. Loftus-Cheek is 21, and it's perhaps a surprise that he has taken this long to play for England. A growth spurt as a teenager meant he missed long spells of football through injury, hampering his development not just in the games he was absent for, but also in building up the relevant match stamina required for a midfielder of his ilk. One of his key concerns in the last couple of years has been that ability to make it through 90 minutes, which was part of the motivation for leaving Chelsea on loan this season, despite the fact that he could well have played a semi-significant role in Antonio Conte's side if he wanted.
For what it's worth, he played the full 90 against Germany and was the most impressive player on the pitch for most of them. It's perhaps a little harsh to compare two young players making their international debuts, but the difference between he and his fellow Chelsea product Tammy Abraham, also making his international bow, was stark.
The striker seemed nervy, trying too hard, desperately attempting to make a decent impression in a manner which rarely succeeds. Midway through the first-half he collected the ball in the Germany half and had a choice between continuing the run, and picking a pass either left or right. Instead he aimlessly hoyed the ball into acres of space, nobody really sure of his intentions: not least him. His mind looked slightly scrambled by the whole thing.
Loftus-Cheek, on the other hand, appeared assured and assertive, confident enough to try a few tricks (an early nutmeg of Marcel Halstenberg was particularly delicious) but aware enough not to overdo it. He always seemed to know which pass to play, smartly picking out space and teammates when required.
There's also something about the way he receives the ball which is enough to inspire optimism. If Loftus-Cheek approached you in jeans and a t-shirt and asked you to guess what sort of sportsman he is, you'd probably guess rower. Tall with broad shoulders, it would be easy for his movement to be unwieldy, but he uses his size with grace. When he gets a pass he has a way of controlling it with his whole body, using his mighty frame to bring the ball in, shield it and buy time to assess his various options. It's not a static control either: he traps the ball and starts to move at the same time, helping him keep attacks moving that was in some contrast to his more experienced but limited midfield counterpart Jake Livermore.
"He's a player I've watched do that from under-16 level," said Southgate afterwards. "Despite his size and appearance and the way he plays, he's not hugely confident at times. It took him ten minutes to look around and think 'I can do this.' He's got so many top attributes, and that's why he's in the team. I don't think the wider public are quite aware of him yet, but we believe in him."
He's perhaps an ideal candidate to make Southgate's squad for next summer's World Cup. The England manager has emphasised positional flexibility in an era where that's becoming a necessity, and Loftus-Cheek has the ability to perform in a few different positions. Here he was a No.10, but for much of his youth career he was a deeper midfielder. He has the creativity and drive to play in both positions, which will make him particularly valuable.
England know by now not to get too excited by performances like this. Like the unlucky in love, they've been burned too many times before. But on an evening that didn't have a great deal else to recommend it, this was a sliver of positivity and promise.
Join our new commenting forum
Join thought-provoking conversations, follow other Independent readers and see their replies