The saddest man in Brazil: Germany defeat leaves fan mournfully embracing World Cup trophy
Please, make it stop.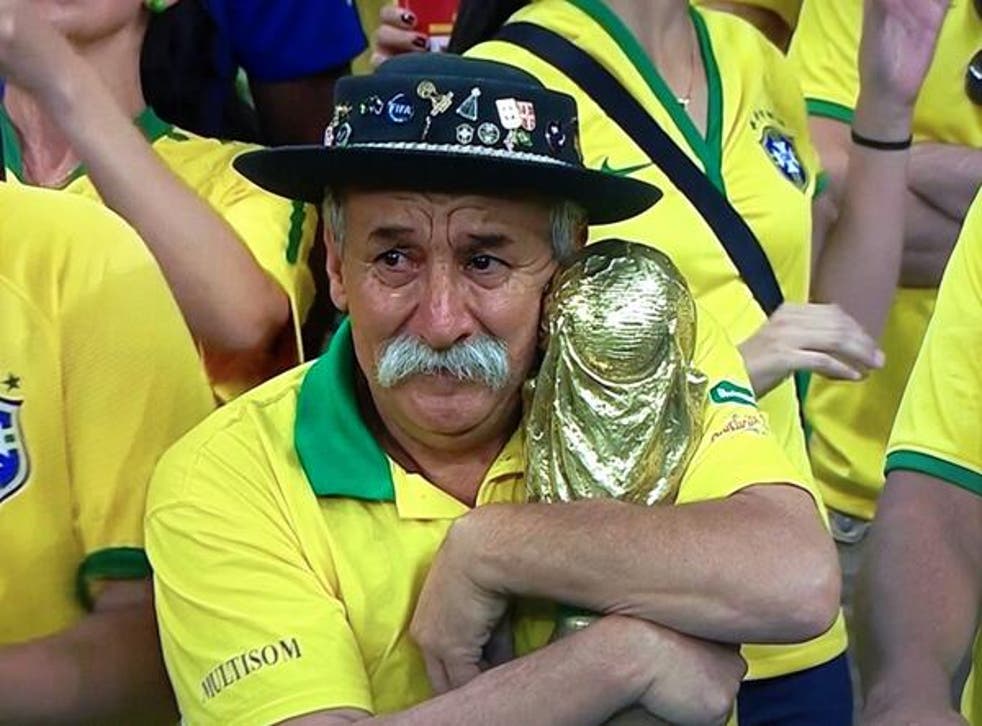 There were more probably more photos taken of sad Brazilians in Belo Horizonte last night than of the actual game, as Brazil's crushing 7-1 defeat at the boots of Germany in the World Cup semi-final left futbol fans in tears – but none were as sad as this man.
Scroll down for the video
Moustache limp, brow furrowed, he clutches a replica of the FIFA World Cup trophy close to his bosom and looks on at the horrors going down on the pitch, fear in his eyes as he tenses in anticipation of the lashing of yet another goal.
Update: 'Saddest man in Brazil' actually quite chipper, gives German fan trophy and tells nation they deserve it
The clip of him that aired during TV coverage was deftly looped by a viewer and set to Simon and Garfunkel's The Sound of Silence, creating a haunting vision of a nation's dreams in tatters.
There were close seconds in terms of football funnies from the semi-final, including goal highlights with WWE commentary from Jim Ross:
And an anti-gambling advert that has a darkly positive spin in light of Germany's triumph:
Farewell Brazil, your passion and intensity for the game has been second to none.
Join our new commenting forum
Join thought-provoking conversations, follow other Independent readers and see their replies