Sam Allardyce is wrong: the Wayne Rooney dropping deep issue must be addressed by England
New manager cannot just say that captain can play wherever he likes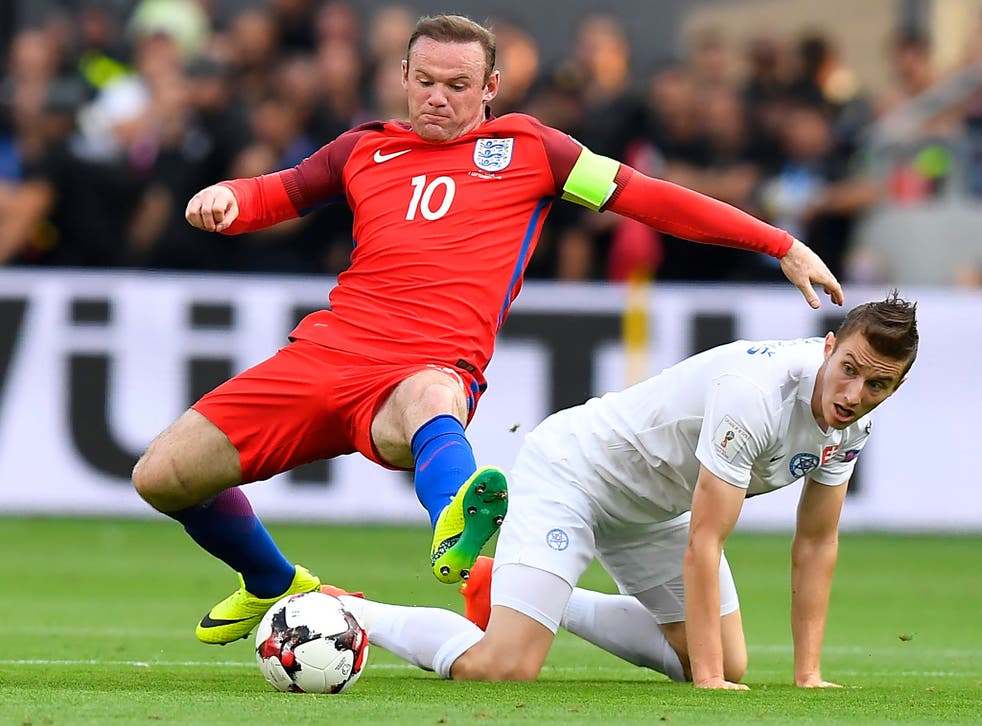 In the immediate aftermath of England's 1-0 victory over Slovakia on Sunday evening Sam Allardyce was asked about Wayne Rooney's positional play during in Trnava. Why had he dropped so deep, left Harry Kane in attack so isolated? The new manager said that Rooney can play wherever he wants and asked that is not become an issue, the centre of post-match attention.
But so pitiful was England's performance until Dele Alli came on that it was the talking point of the match – and Allardyce's request for it not to be discussed was naïve in the extreme. Adam Lallana's last-minute goal papered over a few cracks that were all too recognisable from the Euros but the biggest fissure was Rooney and his determination to drop deep into midfield.
It left Kane so lonely in attack he could have been on a singles holiday. He had no No 10 to link up with. As soon as Alli appeared, the game changed. True, Slovakia were down to 10 men at that point but Alli is a livewire always on the spin, always on the move, always looking for the ball. And doing so in dangerous areas: high up the pitch, in between the lines of the opponent's midfield and defence, near the No 9. In the 30 minutes he was on England created numerous chances and he was responsible for the majority.
Rooney has many qualities but his days of buzzing around in the No 10 spot appear to have gone. He slows the game down when he picks up the ball and was dropping so deep – at one point in the first half he was England's deepest player bar Joe Hart – that he is unable to influence the game.
Jose Mourinho knows that Rooney should be plying his trade in and around the penalty area – not near the halfway line – he made that clear at his first press conference as Manchester United manager. But Rooney should only be doing that for England if he is the best man for the job. He might be for United – although Juan Mata, Zlatan Ibrahimovich and others might disagree - but he doesn't compare with Alli in terms of wit and invention and quick feet.
Despite Allardyce saying Rooney dictated the pace of the game (as if that was some sort of positive thing – it wasn't: England played at walking pace until Alli came on) the captain conjured only one defence-splitting pass all night: through to Theo Walcott in the second half. Until then he had been spraying long balls in to touch or to players well marked.
Perhaps Allardyce is indulging Rooney at the beginning of his tenure as England manager as he knows he needs to keep Rooney onside (not that he could ever be offside if he is playing Trnava-deep) and is aware that the captain's is still an influential figure among the rest of the squad members.
But the Rooney conundrum that did for Roy Hodgson will not go away. Hodgson tried to squeeze Alli and Rooney into the same team and it failed. You can't have two No 10s and Rooney can't play deep alongside the natural holding midfielder Eric Dier in a 4-2-3-1. Well, actually he can against Malta at home but he can't when England are faced with serious opposition (at a World Cup for example) or it leaves Dier to exposed.
Allardyce may think he is being cute by indulging Rooney at the moment but it is a nettle that needs to be grasped not a topic to be dodged.
Join our new commenting forum
Join thought-provoking conversations, follow other Independent readers and see their replies