Sam Wallace comment: Wayne Rooney must play against Uruguay, now would be the perfect time to prove his worth
He is being asked to do everything apart from play in his favourite position on the pitch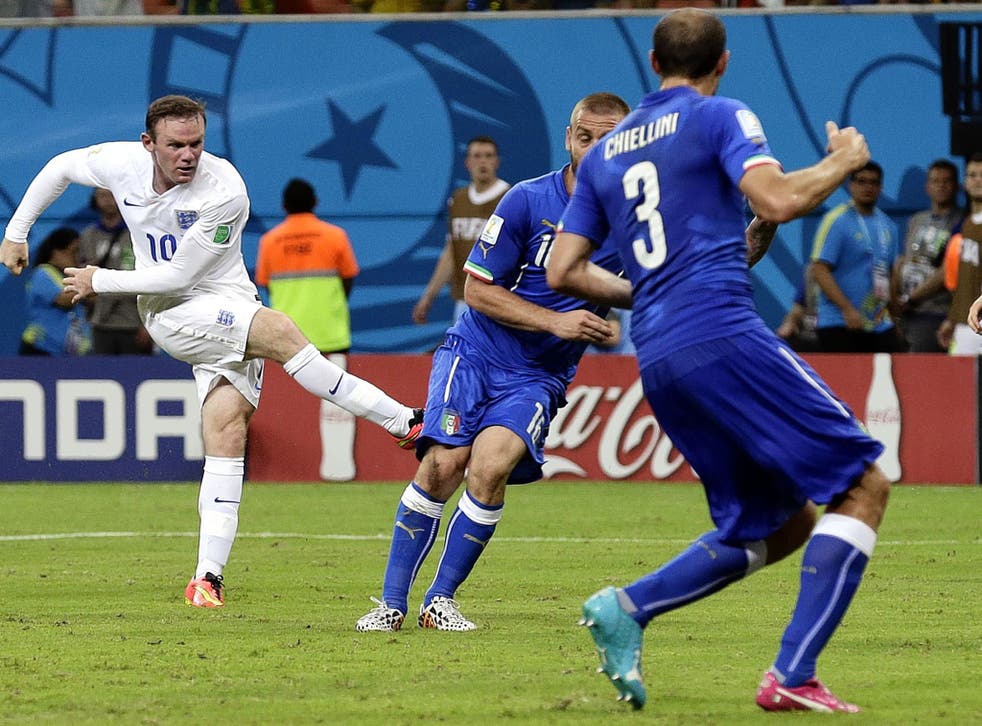 The question that made Wayne Rooney snap back in the aftermath of Saturday night, at the Arena Amazonia, was about his own future in the team. As delicately as possible, it was put to him that his place in the England side was by no means a certainty and in the general post-match fervour Rooney took that to mean that he was guilty of having assumed it always was.
It should be said that there has never been a time when Rooney has said that his place was guaranteed, not before he first played in that left-sided role against Ecuador 12 days ago and not afterwards. Before the Italy game he said that it did not matter where he played and a good job too, because he played one half on the left, the second on the right, but no significant amount of time where he prefers it most, through the middle.
It says a lot about the nature of the relationship English football has with Rooney that he has had to make it clear that he does not take his place in the England team for granted.
The "blame Rooney" campaign has started sooner than usual at this, his third World Cup. The contention being that the man who has scored 11 in 20 games for Roy Hodgson, who helped England through the tricky endgame of qualification with goals against Montenegro and Poland, should be kicked out. In the great lurch to extremes that exists in English football, this is the classic exorcism theory, as if getting rid of the player the country previously relied upon will magically open a new chapter.
Rooney has to play against Uruguay on Thursday. He has 39 goals for England, the same number, incidentally, as Luis Suarez has scored for Uruguay. It may be that this World Cup does not yield No 40, which would take him level fourth with Michael Owen in the all-time list, but it is not the time to abandon a player who still has it in him to win matches for England.
England 1 Italy 2 player ratings

Show all 22
Those who argue he did too little of note against Italy fall victim to the old syndrome of concentrating on what Rooney failed to do. Playing out of position, he crossed the ball for Daniel Sturridge to score England's only goal. It is not a bad starting point from which to analyse his contribution.
Having asked whether Hodgson has "the balls" to drop Rooney, Paul Scholes now wonders in his bookmakers' column why his former team-mate is not deployed in his favourite position. Jose Mourinho, in his sponsor's commitments, said that although the left side was not Rooney's best position, "many, many times players must do sacrifices for their team and I think Wayne did well."
Yet beyond that, Rooney is taking the usual buffeting. His shanked corner in the second half circulates on Vine, the right-foot shot dragged wide replays over and again. He is castigated for not covering Leighton Baines enough and then, at the other end, people ask why his touch map shows only two possession episodes in the Italy area.
He is being asked to do everything apart from play in his favourite position, which truthfully is the No 9 that Daniel Sturridge now occupies rather than the No 10 which Raheem Sterling played.
This, perhaps more than ever in his career, would be a magnificent moment for Rooney to turn it around.
The sense of drama of him finally hitting his first World Cup finals goal against Uruguay, and carrying the team into that last game against Costa Rica back in contention, would outstrip anything that has gone before in an England shirt.
It would be up there with his best for Everton or Manchester United, the goal against Arsenal at Goodison in 2002, the bicycle kick against Manchester City in 2011.
The English football public has always wanted to love Rooney, an everyman English figure who, in a parallel life, could so easily be driving a van and bossing the five-a-side with his mates on a Monday night. Failing that, it is more than prepared to hate him. Hate him for not proving that a bloke with many of the flaws of the Saturday-night-on-the-high-street Englishman can be capable of taking on and beating the best in the world.
Rooney brought the portcullis down on his emotions a long time ago when it came to interviews. Saturday's flash of anger was a rarity. As he walked out of the area of the stadium where players and journalists mix, he chatted cheerfully to a Football Association press officer. My suspicion is that he is in not such a bad place; that the commitment to "enjoy" this tournament is unwavering and whatever will be, will be.
Asked whether he felt the left side got the best out of him, he was phlegmatic. "I don't know. I enjoyed the game. Obviously we lost but I was involved in the game, could have scored, created the goal and felt I had an influence, although we lost the game."
The Fifa stats recorded that Rooney covered the most ground of any player on the pitch, which he said, not unreasonably, was testament to his devotion to the cause. Physically, he said he felt fine. "I've no problem doing that, as I've said before. I know I have run a lot in games."
Of course, he is a different player these days; different from the young man busting through opposition teams at Euro 2004.
He has played a lot of football in the intervening decade, with no big injuries to slow his match rate, apart from the occasional metatarsal fracture or ankle problem, and generally he has been rushed back from them. One day the likes of Sterling and Ross Barkley will be slower, more reliant on their experience.
"We want Wayne in the box and there's no question we will get him in the box," Hodgson said after the game when the question of Rooney's lack of meaningful touches in the area was raised.
The presumption is that Sterling will be moved to the left wing and Rooney will play in the No 10 role. "I have the opportunity to make changes," Hodgson said. "I would like to look at the game closely because you always get caught up in the emotions of the game."
It comes to the crunch again for Rooney. He is in a familiar position once more, embattled and the subject of doubt but capable of turning it around, as he has done so often in the past.
Join our new commenting forum
Join thought-provoking conversations, follow other Independent readers and see their replies