Sepp Blatter and Michel Platini banned: Fifa and Uefa presidents to appeal eight-year bans from football
Fifa's ethics committee announced the decision on Monday morning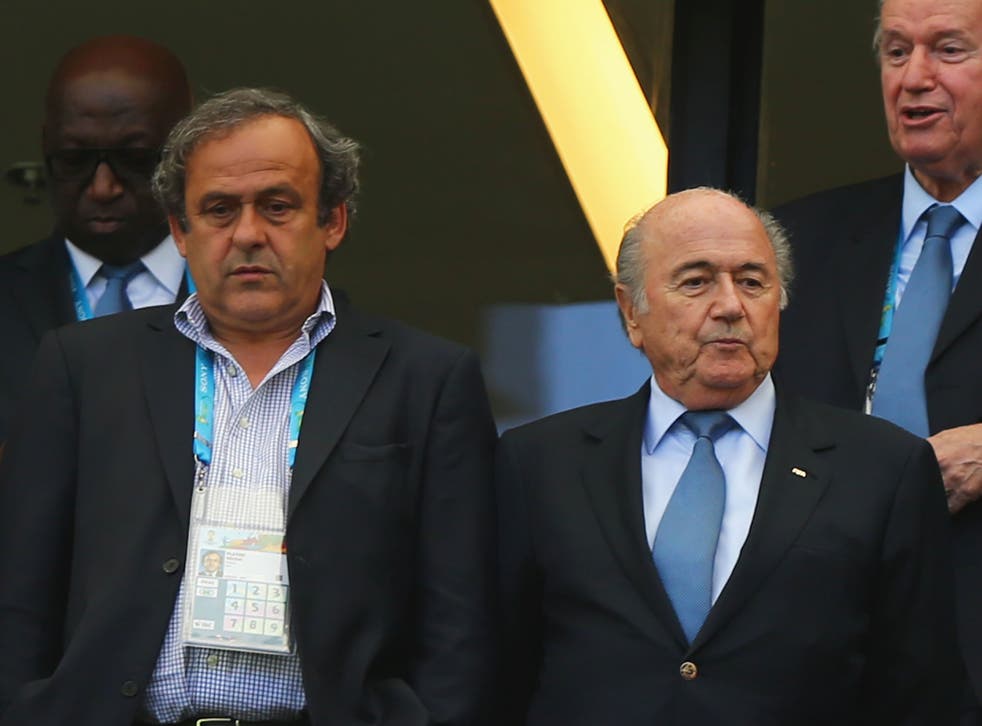 Fifa president Sepp Blatter has been banned from all football for eight years along with Uefa president Michel Platini, its ethics committee has announced.
Neither Blatter nor Platini attended the hearing in Zurich where they would learn their fate after an investigation into a payment of 2m Swiss Francs [£1.3m] from Blatter to Platini in 2011, which was said to have been for work carried out between 1998 and 2002, although their lawyers did attend the hearing.
However, the adjudicatory chamber of the Ethics Committee announced on Monday morning that Blatter and Platini had been banned from all football-related activities for eight years with immediate effect.
Fifa released a 40-page statement explaining the investigation. It read: "The adjudicatory chamber of the Ethics Committee chaired by Mr Hans-Joachim Eckert has banned Mr Joseph S. Blatter, President of Fifa, for eight years and Mr Michel Platini, Vice-President and member of the Executive Committee of Fifa and President of Uefa, for eight years from all football-related activities (administrative, sports or any other) on a national and international level. The bans come into force immediately.
Fifa Investigation Timeline
"The proceedings against Mr Blatter primarily related to a payment of CHF 2,000,000 [£.1.3m] transferred in February 2011 from Fifa to Mr Platini. Mr Blatter, in his position as President of Fifa, authorised the payment to Mr Platini which had no legal basis in the written agreement signed between both officials on 25 August 1999. Neither in his written statement nor in his personal hearing was Mr Blatter able to demonstrate another legal basis for this payment. His assertion of an oral agreement was determined as not convincing and was rejected by the chamber."
Six candidates hoping to be Fifa's next president

Show all 8
In addition to the lengthy bans, Blatter has been fined £33,000 and Platini has been fined £53,000, and the Frenchman will no longer be allowed to run for Fifa presidential candidacy in February when Blatter's replacement will be elected. The charges against them include offering and accepting gifts, conflict of interest and violating their fiduciary duty to Fifa.
Fifa confirmed that the explanation given by Blatter and Platini was deemed "not convincing", although they added that the evidence was not sufficient enough to secure charges of corruption.
Blatter had already announced his intention to step down after widespread corruption allegations were made against leading Fifa members as part of an investigation led by the FFBI and Swiss authorities.
Platini will also be forced to resign as Uefa president. Current Uefa general secretary Gianni Infantino will take his place among the seven Fifa presidential candidates.
A spokesman for Blatter confirmed that he will appeal the decision to the Court of Arbitration for Sport [Cas] and Blatter confirmed his intention to fight the ban in a press conference in Zurich earlier today. Platini has also since confirmed his desire to appeal his ban to the Cas.
Join our new commenting forum
Join thought-provoking conversations, follow other Independent readers and see their replies