Sepp Blatter will be arrested and forced out of Fifa in a 'couple of months', says Greg Dyke
The FA chairman also said England will not stage the 2018 or 2022 World Cups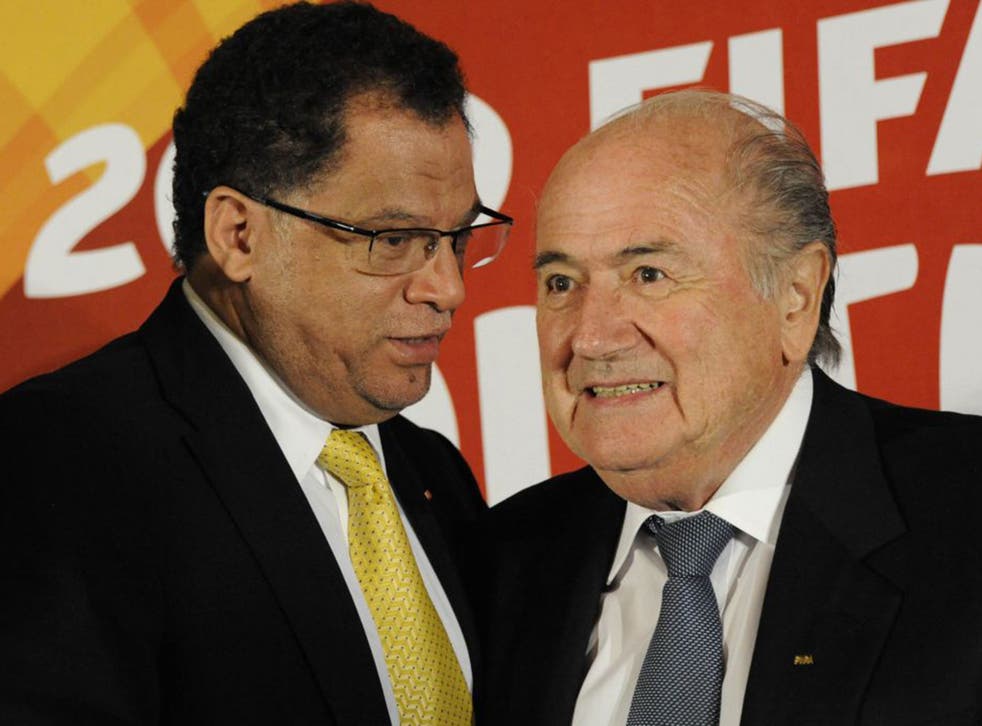 Greg Dyke, the Football Association chairman, has predicted that world football boss Sepp Blatter will be arrested and forced out of Fifa in a "couple of months".
He also said England would not stage the 2018 or the 2022 World Cups if they were taken away from Russia and Qatar should corruption allegations surrounding the awarding of either tournament be proven.
Asked whether, if he had to choose, he would bet on Mr Blatter being arrested, Mr Dyke replied: "Yes."
Mr Dyke also said there was a difference in "values" between Europe and Africa, in an interview with the Guardian.
"My experience in Africa is that when people go into politics in Africa, it's incumbent upon you as part of that to look after your family. That's just cultural; it's a cultural difference," he said.


Mr Dyke was speaking as pressure grew on Fifa regarding the corruption accusations made against it.
It has been claimed that Mr Blatter must have known about a $10m (£6.5m) payment sent from a Fifa bank account to former vice-president Jack Warner.
Lennart Johannson, the former European football boss who was beaten by Mr Blatter in the 1998 Fifa presidential election, said his old rival should quit Fifa straight away. "I think he must go immediately. The general secretary was sending away millions of dollars to America and then Blatter claims he didn't know. He knows everything that's going on so I don't believe that. The cash out [was] so much money and he who keeps everything under such tight control should know about it. This is nonsense."
Separately yesterday, Solly Malatsi, a South African MP, said Danny Jordaan – South Africa's 2010 bid chief – must give evidence before the parliament in Cape Town after a letter emerged in which Mr Jordaan called for the $10m payment to be made through an indirect route. It was also claimed yesterday that former President Thabo Mbeki signed off on the payment, which South Africa denies was a bribe to secure the 2010 World Cup.
Contenders to replace Sepp Blatter as Fifa president

Show all 6
Further allegations of corruption were made by Egypt, it was reported yesterday. Egypt refused to pay a $7m bribe to Jack Warner to help it secure the 2010 World Cup, according to a former sports minister, Aley Eddine Helal.
The Irish Premier, Enda Kenny, yesterday called on Irish football chief John Delaney to fully explain the circumstances of how Fifa paid the Irish FA €5m (£3.64m) not to start a legal case over a controversial World Cup play-off defeat against France in 2009. Ireland were eliminated by France through a goal scored after a blatant hand-ball by striker Thierry Henry.
David Cameron will today call on world leaders to tackle the "cancer" of global corruption that leads to scandals such as that enveloping world football.
Ahead of the G7 meeting in Germany the Prime Minister said: "In the last fortnight we have seen the stark truth about Fifa. The body governing football has faced appalling allegations that suggest it is absolutely riddled with corruption. And Blatter's resignation this week presents an opportunity to clean up the game we love."
Join our new commenting forum
Join thought-provoking conversations, follow other Independent readers and see their replies