Spain vs Czech Republic: David De Gea unflappable despite Manchester United goalkeeper's off-field problems
Spain's 'keeper put a difficult week behind him to deny the Czechs any joy in Toulouse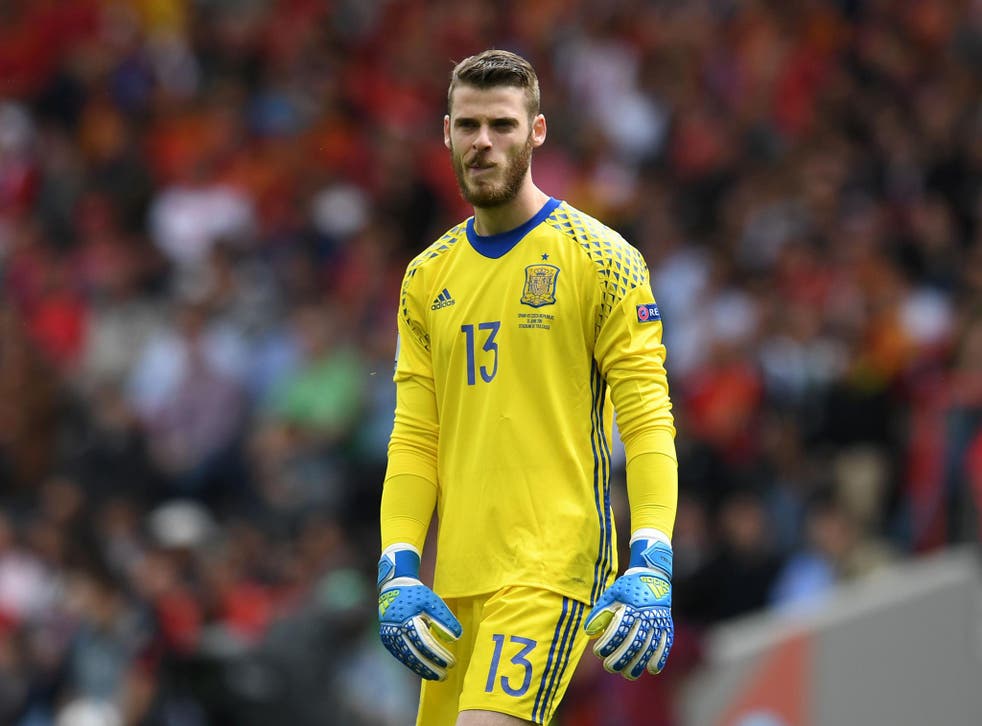 They needed a brilliant midfield display from Andres Iniesta, and they needed Gerard Pique to show their forwards how to finish with the late winner, but Spain also needed David de Gea to be at his best in order to beat the Czech Republic in Toulouse on Monday.
Pique's goal took them to the finish line but De Gea's late-late save from Vladimir Darida pushed them over the line. The confidence that came from him throughout the game was important too. He never lost his concentration during long spells when he had nothing to do as Spain dominated. Just as he had never lost his concentration in the days leading up to Spain's first game when off-the-field problems threatened to ruin his European Championship before it had even begun.
Back when Manchester United signed David de Gea, one of the men everyone wanted to talk to was Abel Resino who had kept goal for Atletico Madrid and been De Gea's coach at the same club. He knew everything about keeping, and everything about De Gea.
What Resino told most enquirers was that he had absolutely no doubt whatsoever that De Gea would be a success at Old Trafford for one reason above al others – nothing flustered him, nothing fazed him, he was unflappable to point of having, as the Spanish phrase goes, ice in his veins.
Del Bosque, is of the same vintage as Resino, and will have seen players fold under pressure, shrink because of off-the-field worries both those brought on by themselves and thrust upon them by circumstance. He will also have known players from that more exclusive club – those who have the same expression on their faces in training every day regardless of whether they are on top of the world or their world could be about to cave in. De Gea is from that latter group. He never flinched on Friday. He was always going to be ready to play this game.
Right from the moment he was disturbed while playing on his PlayStation in his hotel room and told that a breaking story back in Spain linked him to a criminal investigation that touched the murky depths of child prostitution, human trafficking and sexual abuse he seemed to be unaffected.
His first concern was his family who he immediately called so as to put their minds at rest.
He was then advised to give a press conference and team-mate Gerard Pique offered to sit next to him as he faced the world's press. De Gea said thanks but no thanks and faced questions for 15 minutes before going out and training as normal.
Del Bosque said that if he thought that events were affecting his goalkeeper he would consider pulling him out of the line of fire but it was never going to come to that.
That was for the best as far as Spain's goalkeeping options were concerned. Iker Casillas is now at the end of a glorious career that in terms of trophies will never be matched by another Spain goalkeeper. But he has started to look a little more like a man heading into the comforts of middle age after a life nicely set-up by the spectacular achievements of his youth, and less like the wiry feline foe of every forward in world football – none more than Arjen Robben in the 2010 World Cup final. With few alternatives Spain need De Gea more than at any other time in their recent history.
No matter how various text-messages and tweets seemed to at least link De Gea in some way to Ignacio Allende Fernandez, whose trial begins in Spain this week, it should be remembered that he is not accused of having broken any law.
His handling of his past may still be tested in the coming weeks. But his handling was impeccable during Spain's first game and a major reason why they picked up their first victory at Euro 2016.
Join our new commenting forum
Join thought-provoking conversations, follow other Independent readers and see their replies