Start of Kosovo's World Cup journey mired in confusion
Even at the 11th hour, disputed territory does not know who can and who can't represent it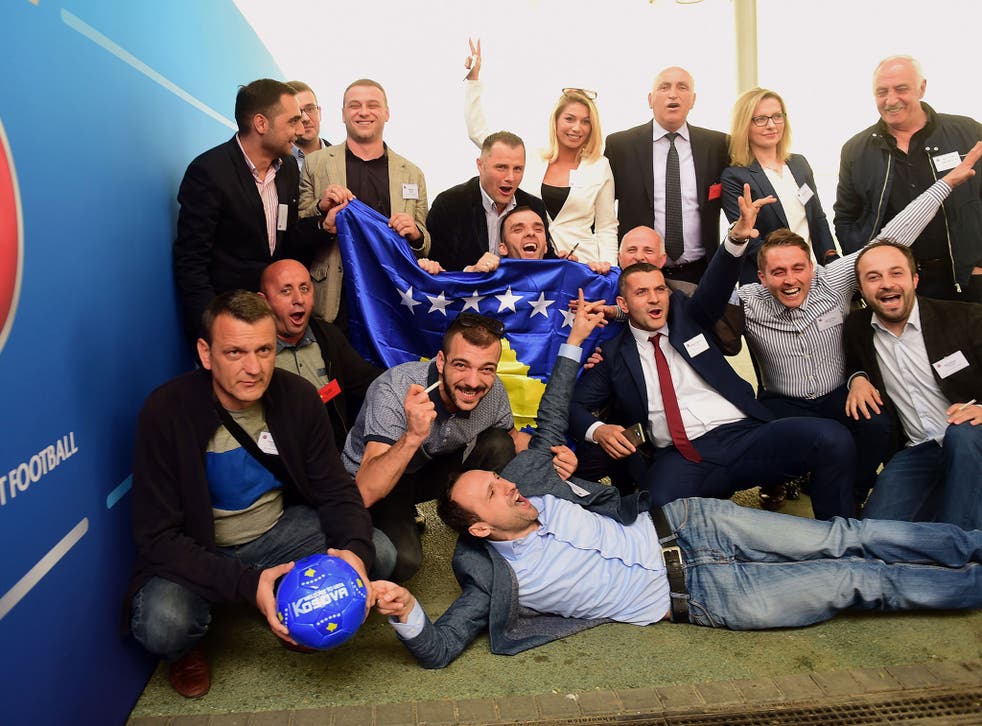 At the small home of FC Inter Turku, a few miles from the Baltic Sea, one of the most important football matches in modern Balkan history will be played on Monday night. Kosovo will play Finland in qualification for the 2018 World Cup, the first competitive match in the country's history.
It is the start of a campaign that could well see Kosovo take the field at the World Cup in Russia less than two years from now. It is also the culmination of years of hard work, climbing through levels of recognition and status, trying to build a team and a federation from scratch, despite virulent opposition from Serbia next door.
One of the most important stories of European football this decade has been the coming of age of the Kosovan diaspora, and their success in the national teams of the countries their families fled to. But now that Kosovo has a team of its own, many of these players want to return, in a footballing sense, and pull on the blue shirt of their homeland.
This has given Fifa a serious problem to solve. Football's governing body has to decide which players they allow to re-align themselves to Kosovo in time for Monday's game in Finland. The build-up to the match, then, has been dominated by the success or failure of Kosovans scattered all over Europe to come back into the fold.
When Switzerland played Albania in Lens in June, in the opening weekend of Euro 2016, it was a match that that was all about Kosovo, or specifically the Kosovan immigrant community in Switzerland. Seven of the Swiss squad were of Kosovan heritage, including Arsenal's Granit Xhaka. Eleven of the Albanian squad had been born or brought up in Switzerland, including Granit's brother Taulant. Kosovo had not been formally accepted into Uefa and Fifa until late May, a few days before that match in France. Kosovan players had to choose a national team, and most of them represented Switzerland or Albania.
This weekend that has all changed. With Kosovo playing full qualifiers, players who had to look elsewhere now want to come and play for Albert Bunjaki's side, starting on Monday. But while there are plenty of former Albania internationals in the squad, there is no one who played for Albania or Switzerland in France this summer.
Granit Xhaka published a heartfelt post on Instagram earlier this week saying that he wanted to play for Kosovo but that Fifa would not let him, because he had played for Switzerland at Euro 2016, after Kosovo had become a full member of Uefa and Fifa. That meant that Xhaka, along with Xherdan Shaqiri and Valon Behrami, three of the most important players in campaigning to create a Kosovan national team over the last few years, are blocked from playing for them.
But the Swiss football federation (ASF) has not been impressed with Kosovan attempts to persuade their senior players to switch allegiance. "The ASF regrets that the priority of Kosovo's leaders have been trying to recruit players, instead of consolidating the foundations of their federation," said a furious ASF statement. "This frantic search, which caused many emotional reactions, placed players and their families in a very difficult situation. The ASF strongly condemns these defamatory and disrespectful actions."
That is why there will be no Switzerland players in Monday's squad, although this matter still does not feel fully closed. For the same reason there will not be any players who were part of the impressive Albania squad at Euro 2016. But there are players who have played for Albania – or other countries – before Euro 2016, before Kosovan accession to Fifa. Those are the players Fifa is still deciding on this weekend.
The first player to be cleared to play is Sinan Bytyqi, the Manchester City youngster who has played for Austria Under-21s. Bytyqi will be partnering Bersant Celina, another Manchester City youngster, who is also on loan to the Dutch league this season. Vedat Muqiri, who has played for Albania Under-21s and is also eligible to play for Turkey, was cleared on Friday night.
But at the time of writing Fifa was still deliberating over six more cases. Samir Ujkani, the goalkeeper with 20 Albania caps, Milot Rashica, with two Albania caps, Herolind Shala and Alban Meha were all waiting on the rubber stamp. So was Valon Berisha, Red Bull Salzburg's Norway international, and an important part of Kosovo's plans.
Amir Rrahmani scored against Kosovo for Albania in last October's friendly, but now he is part of the Kosovan squad in Finland, waiting for official approval to play for them on Monday. It is a difficult issue which will not be resolved for some time. But before then, Kosovo have a game to play.
Join our new commenting forum
Join thought-provoking conversations, follow other Independent readers and see their replies