Ukraine will look to their Wayne Rooney clone, Roman Zozulya
He might look familiar as England play their crucial World Cup qualifier in Kiev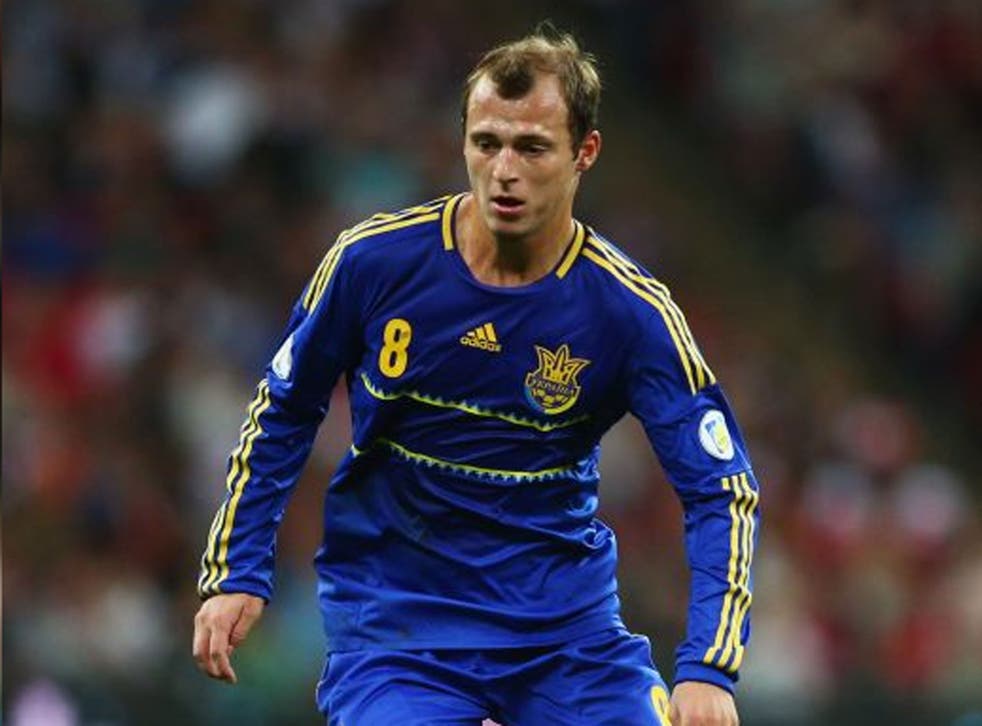 Wayne Rooney's gashed head means he will miss England's visit to Ukraine, but on the pitch there will at least be one a thickset, balding forward who combines muscularity with technical ability and got sent off against Montenegro. Roman Zozulya has been one of the keys to Ukraine's resurgence this year and he remains in a streak of exceptional form. When he scored twice and was fouled for a penalty in Dnipro Dnipropetrovsk's 3-1 win over Shakhtar Donetsk a fortnight ago, the former Ukraine coach Josef Szabo repeated his assertion that, "We have our own Rooney now."
Although the physical resemblance may not be as clear as Ukrainians make out, there is a similarity of style. Zozulya is an inch taller at 5ft 10in, but both are forwards who are better in the air than their height would suggest. Both are ruggedly physical.
Both can play anywhere across the front line and are happy dropping back to win the ball in midfield. Zozulya is four years younger than Rooney but, more importantly, he will be in the Olimpiskyi on Tuesday night and he is in a fine run of form. The double against Shakhtar was part of a run of five goals in four games for the Kiev-born graduate of the Dynamo youth system.
Against England, Zozulya will presumably play behind the awkward and angular Marko Devic, the striker whose shot crossed the line before John Terry hooked it clear when England beat Ukraine at Euro 2012. He had just moved to Shakhtar then, but never really settled, starting just 12 league games. Since joining Metalist Kharkiv earlier this year, though, the Belgrade-born 29-year-old has produced the best football of his career, rattling in 13 goals in 18 games, including eight in eight this season. So impressive has been his form that Metalist have felt secure enough to loan the forward Jonathan Cristaldo to Bologna.
Devic is likely to be the lone front man, with Zozulya behind him, leading the press on which Ukraine's coach Mykhaylo Fomenko is so insistent. Also key to that are the two hard-working wingers in the 4-2-3-1, Yevhen Konoplyanka and Andriy Yarmolenko. Konoplyanka has just signed up with a new agent, James Lippitt, and, perhaps not coincidentally, was heavily linked with Liverpool in the transfer window. He broke the deadlock when Ukraine beat Moldova in March but was especially impressive against Montenegro, when Ukraine overcame the dismissal of Zozulya with the score at 0-0 to win 4-0. That he is angling for a move to England is no secret. Yarmolenko perhaps hasn't quite reached the levels he hit before the Euros – and to an extent is suffering the general malaise at Dynamo – but his work-rate and willingness to drop back into midfield makes him a vital component of Fomenko's system.
Fomenko's reign so far has been an astonishing success. Ukraine drew their first game in qualifying – against England – at which Oleh Blokhin departed to take over at Dynamo Kiev. Andriy Bal took over as caretaker and took a single point from a game in Moldova and a home fixture against Montenegro. Fomenko, yet another former Valeriy Lobanovskyi player – and then a coach with him at Dynamo, took over with many assuming the campaign was as good as over, but a 3-1 win in Poland restored hope. Victory over San Marino was their fifth in a row and now there is a realistic expectation of taking a play-off spot and perhaps even pipping England to win the group.
In achieving that, of course, Tuesday's game is vital. "Would I settle for a draw with England?" Fomenko asked. "I'll answer that question on October 15." He was at pains, though, to make clear that what happened in Lviv on Friday, when Ukraine peppered the San Marino goal with set-plays and racked up nine goals, has very little bearing on what will happen in Kiev on Tuesday. "We should forget this game as soon as possible and think about England. It's good that no one has been injured. We are already living the game against England and that match [against San Marino] helped us prepare well. They beat Moldova with ease and that means something."
What it means is that qualifying automatically comes down to this game: win and Ukraine, with Poland at home and San Marino away still to play, are in charge of the group; lose, and England are all but home and dry. Draw and Ukraine are left hoping for an England wobble at home to Montenegro or Poland.
Why England should be wary in the Ukraine
Konoplyanka's corners
Of the nine goals Ukraine scored against San Marino on Friday, four came from corners from Yevheniy Konoplyanka, which is how the centre-back Yevhen Khacheridi came to be the only player to score twice.
Olimpiskyi atmosphere
There is belief now among Ukrainian fans that they will qualify for the World Cup for the second time and that should mean that the stadium is packed and rocking.
Devic's revenge
When Ukraine lost to England at the Euros, they were left with a dreadful sense of injustice. Marko Devic's should had clearly crossed the line before John Terry cleared it. That Devic had been offside but hadn't been flagged has been conveniently overlooked in the bid to set the record straight.
A sense of momentum
After Shevchenko, after Blokhin, this is a young Ukraine side, playing largely without pressure but, having won four in a row, with a tremendous sense that things are swinging their way.
Join our new commenting forum
Join thought-provoking conversations, follow other Independent readers and see their replies