Vicente Del Bosque must find a way to take Spain forward - but he faces some hard choices over how to replace the old guard
All-conquering Spain were swept aside in Brazil and now must decide at what pace they bring in their young players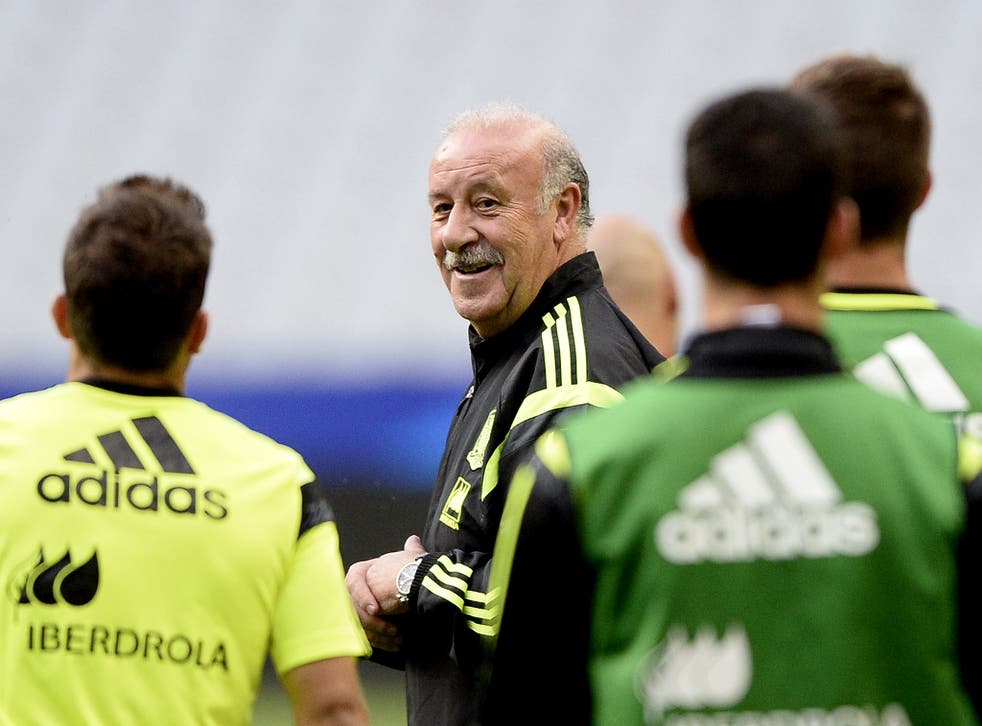 It is a question that many managers would like to face: how many World Cup and double-European Championship winners to include in your side?
But this is precisely what Vicente del Bosque has been battling with as he prepares his Spain side – so emphatically knocked off their perch in Brazil in June – for the start of their Euro 2016 qualifying campaign. Spain host Macedonia in Valencia on Monday night but first they play France in Paris in a friendly on Thursday.
Del Bosque's task is to find a balance between the players who won so much and the next generation who will follow them. The evidence of the World Cup, where Spain were routed by the Netherlands and beaten by Chile, shows that the old guard cannot deliver in the same way any more.
Xavi, the heartbeat of the treble-trophy team, is sadly finished at the top level and has retired from the Spain side. Xabi Alonso still has more left to give – he has just signed for Bayern Munich – but he has retired from the international game too, depriving Spain of both sides of their brain. David Villa has hung up his Spain boots, while Fernando Torres and Gerard Pique are not fully fit.
This is a real change but many of the old players are there too: Andres Iniesta, David Silva and Cesc Fabregas keep their creative responsibilities. Iker Casillas, as obviously finished as any Spain player in Brazil, hangs on in goal.
The task for Del Bosque, then, is to keep those veteran players good enough to make Spain competitive again at Euro 2016 while bringing in enough youngsters to re-energise them. The public clamour is for more change, not less, especially after a World Cup in which youngsters like Koke and Isco were not used as much as they might have been.
While Koke is likely to start in midfield – along with Fabregas and Sergio Busquets – Del Bosque's instincts are conservative. "We don't have too many players to do that revolution," he said yesterday when asked about changes. Paco Alcacer, Valencia's exciting 21-year-old striker, is in the squad too, to provide an alternative to Diego Costa, and there are other players who are not exactly youngsters but are inexperienced at this level: Raul Garcia, Ander Iturraspe and Mikel San Jose.
It is certainly a strong squad, with added amounts of inexperience and youth. Whether they can rediscover the unity and balance of the previous years remains to be seen.
Spain will be facing a France side who are hoping to continue their steady growth of the last few years. Didier Deschamps took his young team to the quarter-finals in Brazil, where they ran out of steam against Germany. So while Spain ponder revolution before tonight's friendly, France are focused on continuity. As Euro 2016 hosts they do not need formally to qualify, so their friendly with Spain is followed by another in Serbia, with Deschamps hoping to field a similar team in both games.
Of Spain's growing pains, Deschamps said: "Of course some players have stopped, notably in the heart of their game. The whole of their game depended on them. They're quality players who were used to playing with each other. I don't know what Vicente del Bosque plans to do. The worry the new generation might have is that those who were there before them played in all of the games, so they have few caps between them. They're going to have a more important role to play now."
Thursday's other major game between Europe's biggest is Italy against the Netherlands in Bari. Both sides come with new managers, Guus Hiddink having returned to the role to replace Louis van Gaal while Antonio Conte has stepped straight from his acrimonious Juventus departure into the role Cesare Prandelli vacated in June.
Hiddink reached the quarter-finals of Euro '96 and the semi-finals of France '98 as Dutch manager and will be desperate to atone for the first of those disappointments, 20 years on. The squad is not as good as it was then but Hiddink hopes to continue Van Gaal's good work. "It was a very realistic approach in Brazil," he said, "that policy will be continued."
Join our new commenting forum
Join thought-provoking conversations, follow other Independent readers and see their replies