View from a sofa: Even dull Phil Neville couldn't suck all the joy out of a day-long feast of sporting thrills
How to fit 15 hours of sport into one day...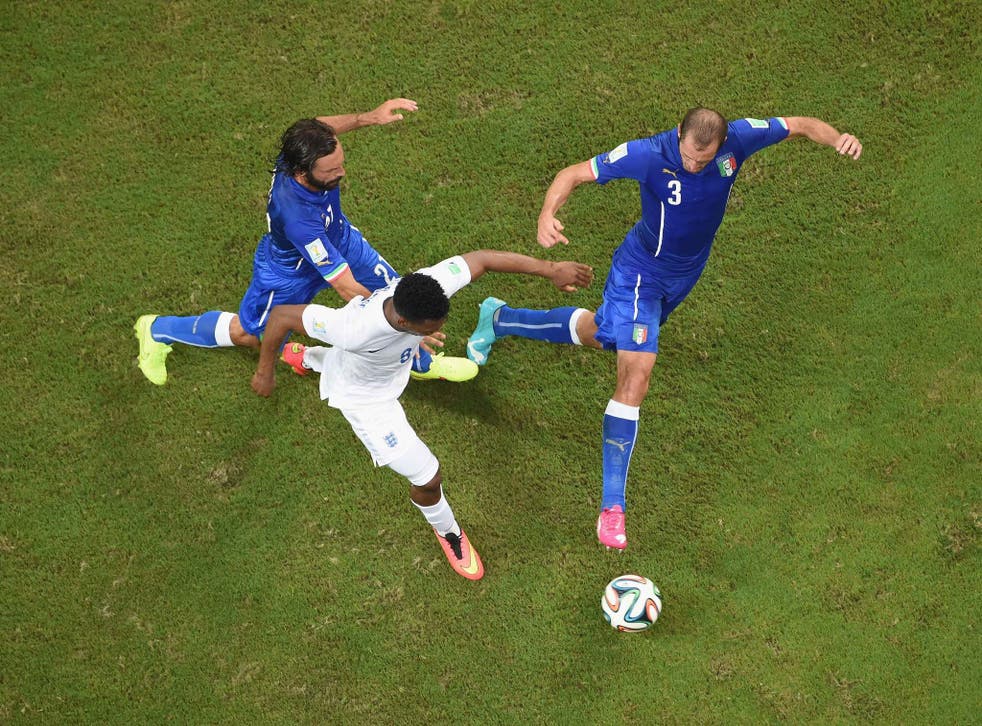 How do you tackle a 15-hour sporting endurance test, over 17 time zones and involving four different sports? The simple answer is, if you have a life, you don't. But such was the feast of ball games on offer on Saturday, from international rugby union in the morning to World Cup football in the witching hour, it would have been rude not to give it a very good go.
In the middle there was Test cricket and a golf major to tackle, plus, for me at least, the duties of hosting a fifth birthday party and pouring gins for in-laws. What fun it was going to be.
Maybe it is through my upbringing on the other side of the world (my first World Cup memory was from 1982, getting up at 5am to watch Zico score a blinder against New Zealand), but there are few better experiences than watching or listening to high-quality sport at odd hours.
For breakfast, there was the rugby. And as it was broadcast at the very time that Ben and Holly's Little Kingdom was on, I turned to the radio.
There is a lot to be said about sport on radio because, for all of Sky Sports' high definition bells and whistles, it is only through radio that you can follow England falling agonisingly short against the All Blacks while at the same time making an espresso to plaster yourself to the ceiling.
Ian Robertson, the BBC Radio 5 Live commentator, was flanked by Murray Mexted, a former All Black No 8, and James Haskell, a current England flanker.
It was a good combination. Mexted was even-handed to a fault, while being interesting and knowledgeable. Haskell, on the other hand, was in awe of the All Blacks. He had spent a season playing in New Zealand and he spoke like a gap-year student who had spent the year bungee jumping. No wonder he failed to make the England bench, given his hero worship of the men in black.
"When you come up against the All Blacks, they are awesome," Haskell said early in the game. "I played with Ben Smith at Otago and he is incredible," he added later on. "Julian Savea is just dreamy," he might have cooed towards full-time.
The game's highlight was when a streaker appeared. "Oooh, a streaker," Robertson said nervously. "A very well-endowed streaker," Mexted said gruffly. You wouldn't have got that on Sky.
We wanted to know more. But then Robertson, in a bid to destroy the picture in our collective mind's eye, said: "He or she is being led away." And no more mention was made of the genderless, nude person.
After the breakneck pace of the rugby, the prosaic plodding of Sri Lanka batting at Lord's against England was frankly a letdown. It turns out I had tuned in at exactly the wrong time, with Kumar Sangakkara building towards his century. Yes, yes, it filled a gap in his cricketing CV, but we wanted action.
England 1 Italy 2 player ratings

Show all 22
And a couple of hours later, action was what I got. The children's party meant I missed out on the US Open golf, but then again, the Second Butler Rule of Majors dictates that they only get interesting on the final day. The first rule, since you ask, is that golf is not a sport.
While I failed to see the golf, I did get to witness another side of the human condition. Just as sport can unify people towards a common cause, 30 children in a ball-pit can expose all that is rotten with the human psyche.
After a lie down in a dark room, it was time for the curtain-raiser to England's main event: Uruguay v Costa Rica on ITV, whose commentator, Clive Tyldesley, demonstrated he has long ago fallen into self-parody.
"This is Group D, for difficult," he barked before kick-off. Presumably he had a brightly coloured crib sheet for every group. A for amazing, B for beautiful...
The studio team of Lee Dixon, Gus Poyet and Fabio Cannavaro lacked something: a curmudgeonly pundit. Cannavaro seemed as if he was more concerned with the camera catching his best angle than saying anything interesting, while Poyet only did benign or fuming – especially after his beloved Uruguay had lost to lowly Costa Rica. Dixon manfully tried to be tactically astute, while all the impact of Adrian Chiles, the host, was lost by the way he had to sit sideways in his chair to face his pundits. Roy Keane, you are sorely missed.
Chiles set up the England match – and gave a grim portrayal of the nation's mood, when he signed off in a Vincent Price voice: "It's less than an hour until England face Italy..." The hooded eyebrows were chilling.
It was down to the BBC to keep the mood of foreboding, and in Phil Neville, Auntie has unearthed a Dr Death of a co-commentator. He was Guy Mowbray's summariser and instead of providing a foil to Mowbray, he merely described exactly what was happening, in a monotone voice that even Michael Owen would be shocked to hear.
"He's kicked the ball into the box there," he said after Wayne Rooney had kicked the ball into the box. "He's run back and got the ball," he said after Glen Johnson had run back and got the ball. "He's gone through the middle there," he said when – you get the picture.
Then it was over. England had lost twice, but had made up ground in the cricket after Sangakkara had been dispensed with. And apparently a German golfer with golf sticks had hit a golf ball around a golf course quite well.
We were knackered. And as our eyes started to close, it was down to Gary Lineker, hosting coverage of England v Italy, to sum up the day: "It was not the most depressing defeat." He was right, the whole day was very enjoyable. Except the ball-pit.
Join our new commenting forum
Join thought-provoking conversations, follow other Independent readers and see their replies