Wilfried Zaha and Nathan Chalobah join up with England Under-21 squad for European Championships
Duo provide much needed reinforcement to the squad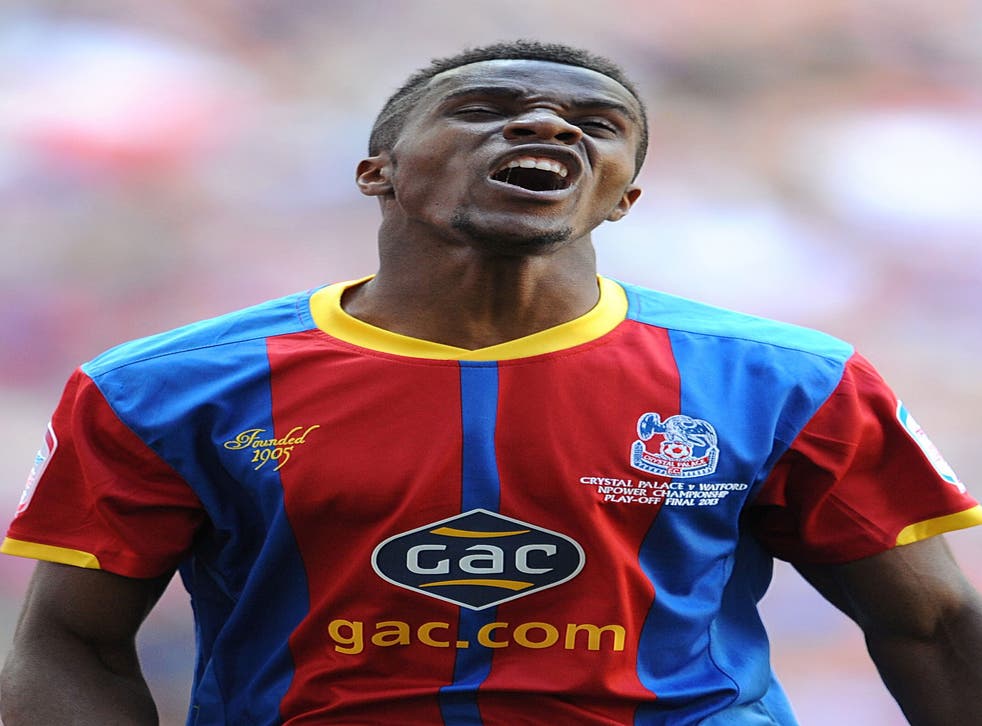 Manchester United's Wilfried Zaha and Chelsea's Nathan Chalobah eased the England Under-21 squad's habitual pre-tournament personnel problems when they arrived in Israel yesterday after joining up with the rest of the players.
Having been on loan to Crystal Palace and Watford respectively, the pair were involved in last weekend's Championship play-off final and did not take part in the week's warm-weather training in Turkey. Zaha, who won the penalty that enabled Palace to win the game at Wembley, had taken a knock to the ankle but is expected to be fit for the Under-21s' opening Euro 2013 game against Italy on Wednesday.
It is the fourth successive tournament for which England have qualified under Stuart Pearce but there have always been problems of injury and unavailability. Two years ago it was Jack Wilshere and Andy Carroll who did not make it. This time Liverpool's Raheem Sterling was declared unfit before the squad was named, since when Callum McManaman of Wigan, Tottenham's Andros Townsend and Southampton's Luke Shaw have all withdrawn. In addition, a number of players still eligible for the Under-21s, such as Alex Oxlade-Chamerlain, went with the senior side to Brazil instead.
Pearce and his coaches have nevertheless expressed themselves satisfied with the preparations for Israel, where temperatures have been in the 80s Fahrenheit. "Stuart has been very careful with the players in terms of not pushing them too much as most of them are coming back from a bit of a break at the end of the season," his assistant Brian Eastick said.
"We train for an hour and a half in the morning, working on things specific to prepare for the first game. The players then have the afternoon to themselves to relax. It's been terrific; the facilities here are top drawer, two pitches are in excellent condition, so it's been an enjoyable few days."
After the Italy game, England, who have not conceded a goal in winning their last nine games, play Norway on Saturday and Israel tomorrow week. The favourites and holders Spain are in the other group with Germany, the Netherlands and Russia.
More England action this summer
So that's it? The final whistle in Rio means an end to England action until August? Far from. Three England teams are in tournament action this summer, all on television.
Under-21s European Championship (Israel, 5-18 June, 8 teams)
Group stage fixtures
v Italy (Tel Aviv, 5 June, 7.30pm)
v Norway (Petah Tikva, 8 June, 5pm)
v Israel (Jerusalem, 11 June, 5pm).
TV: Sky Sports
The seniors will still be unpacking from their trip to Brazil when the under-21s open their European Championship campaign against Italy on Wednesday. Some of the younger brethren will hope to be in Brazil next summer and know this is an excellent opportunity to make their case.
Ten of the squad knocked out of this competition at the group stage in Denmark two years ago are now full internationals including Phil Jones, Danny Welbeck and Daniel Sturridge while first regulars Joe Hart, James Milner and Theo Walcott were in the party that reached the 2009 final before being thrashed by a German team which featured Manuel Neuer, Mats Hummels, Sami Khedira and Mesut Ozil.
England flew out yesterday to Israel, without the likes of Welbeck, Jack Wilshere, Raheem Sterling and Alex Oxlade-Chamberlain, all eligible but either injured or on senior duty, but with Wilfried Zaha who passed a fitness test to travel. The Manchester United winger is one of five capped players in Stuart Pearce's party along with Jack Butland, Stephen Caulker and Jordan Henderson.
This is the fourth successive finals England have reached under Stuart Pearce, an impressive record, but Prearce is moving on with no one at the FA seemingly inclined to keep him. That may be because once qualified England rarely produce performances that hint of a brighter future at senior level.
'Under-21' is an elastic concept with West Brom's Craig Dawson is the oldest player at 23, Chelsea's Nathaniel Chalobah the youngest at 18. Those with most to gain – apart from Pearce who seeks a return to the club game but went unmentioned when vacancies cropped up from Stoke to Wolves – are Zaha, Caulker and Henderson though there will also be much interested in the performances of Tom Ince and Josh McEachran.
England arrive in superb form with nine straight wins without conceding a goal and expect to reach the last four. There, however, they are likely to face either Germany, Netherlands or defending champions Spain.
Under-20s World Cup (Turkey, 21 June-13 July, 24 teams)
Group stage fixtures
v Iraq (Antalya, 23 June, 7pm)
v Chile (Antalya, 26 June, 4pm)
v Egypt (Bursa, 29 June, 7pm)
TV: Eurosport
England's main aim in Turkey will be to avoid ignominy as the FA are under pressure to treat this Fifa-sanctioned competition with respect after sending weak teams in 2009 and 2011. However, reaching the Under-21 finals has been a mixed blessing for the dual commitment means they are struggling to raise a competitive team.
Peter Taylor, a proven coach of young players, has been drafted in to lead a party that includes Everton's Ross Barkley and James Ward-Prowse of Southampton but precious little top-flight experience. Sam Byram (Leeds), Luke Williams (Middlesbrough) and Harry Kane (Tottenham) will be worth keeping an eye on along with Eric Dier who has been living in Portugal since he was ten and plays for Sporting Lisbon.
England came bottom of the group four years ago with the squad's most successful graduates being Liverpool's Martin Kelly and Gary Gardner of Aston Villa. As an indication of the strength of some opponents also playing in 2009 were Spain's Cezar Azpilicueta (Chelsea) and Jordi Alba (Barcelona), Germany's Lewis Holtby (Tottenham), and Lars and Sven Bender (Borussia Dortmund), and Uruguay's Gaston Ramirez (Southampton). England went out in the round of 16 in 2011 with a team whose leading lights since are Nathan Baker, Callum McManaman and Jack Butland.
Women European Championships (Sweden, 10-28 July, 12 teams)
Group stage fixtures
v Spain (Linkoping, 12 July, 7.30pm)
v Russia (Linkoping, 15 July, 5pm)
v France (Linkoping, 18 July, 7.30pm)
TV: BBC
The FA, making up for decades of neglect preceded by outright resistance, have pumped significant sums into the women's game in recent years and expect to see progress. England now have elite players on central contracts and a semi-professional league for them to play in. But attendances in the FA Womens Super League remain poor so there is pressure on the senior team to lead the way.
Four years ago England reached the European Championship final, their best performance since 1984. This achievement was barely diminished by being thrashed 6-2 by Germany, winners of every Euros since 1995. England then reached the 2011 World Cup quarter-finals going out on penalties to France. The French are England's last group opponents in Sweden and while England should be qualified by then as Spain and Russia are weaker the group runners-up are in line to face Germany in the last eight. The group winners are, though, scheduled to meet the Germans in the semi-finals while being one of the best third-placed teams should mean avoiding Germany until the final. That happened for England in 2009, but is tricky to play for.
All kick-off times BST
Join our new commenting forum
Join thought-provoking conversations, follow other Independent readers and see their replies