Women's World Cup 2015: Attendance record broken in Canada as tournament begins with victory for hosts
A late, somewhat dubious, penalty was needed for victory over China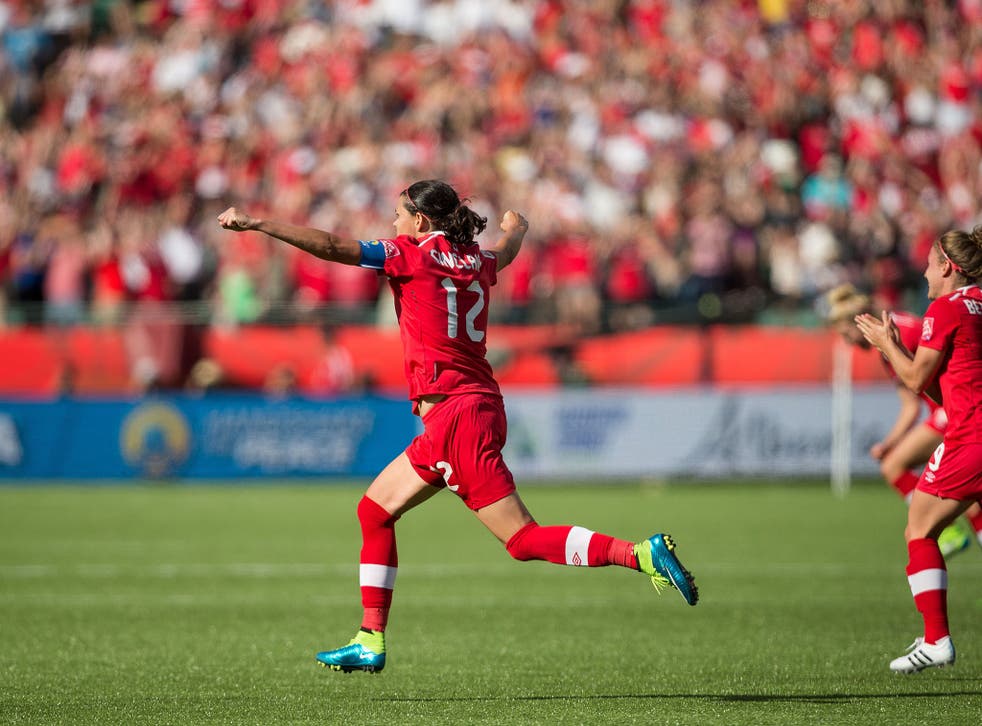 One year on from Fred falling to the ground and winning hosts Brazil a soft penalty to win the opening game of the men's World Cup the women's equivalent opened in similar fashion in Edmonton at the weekend.
Canada had huffed, puffed and dominated possession against China in Edmonton but created few genuine chances. Josee Belanger had hit the post in the first-half, but so had Wang Lisi, actually hitting both posts with a free-kick. Then, in injury-time, substitute Adriana Leon tried to pounce on a loose ball in the box, ran into Zhao Rong's outstretched arm, and fell. It was less of a dive than Fred's sudden collapse when marked by Dejan Lovren, and there had been more contact, but the contact seemed largely accidental.
Nevertheless, Ukrainian referee Natalia Rachynska, who was well placed, gave the penalty. Christine Sinclair, Canada's veteran star player, who had been kept relatively quiet in the game, stepped up. Chinese 'keeper Wang Fei had been excellent but Sinclair rolled in the perfect kick, off the inside of the post to score.
"The first thing that went through my mind is, 'I'm taking this. I've been practising my whole life for that moment,"' said Sinclair. "Then the next thing through my head was, 'the crowd's very loud right now. Then it was a matter of focus and it went quiet." Sinclair, 32 on Friday, has now scored 154 goals in 224 internationals.
The result brought joy to a crowd officially stated as 53,058, a Canadian national team record beating the 51,936 who saw their men play Brazil in the same venue 21 years ago, though to judge from the empty seats this was tickets sold, not seats filled. The real gate looked 5,000 less, though it is still impressive.
Many stayed to watch the next match, also in Group A, won by the Netherlands with an excellent strike from Lieke Martens after 33 minutes. New Zealand ought to have had a late penalty when Hannah Wilkinson was tripped in the area - but they did not have nearly 50,000 voices on their side.
Join our new commenting forum
Join thought-provoking conversations, follow other Independent readers and see their replies