Women's World Cup 2015: Laura Bassett shrugs off unpunished flying elbow by France's Camille Abily
The vivid black eye she is sporting as she says it suggests few would have blamed the England defender if she had stayed down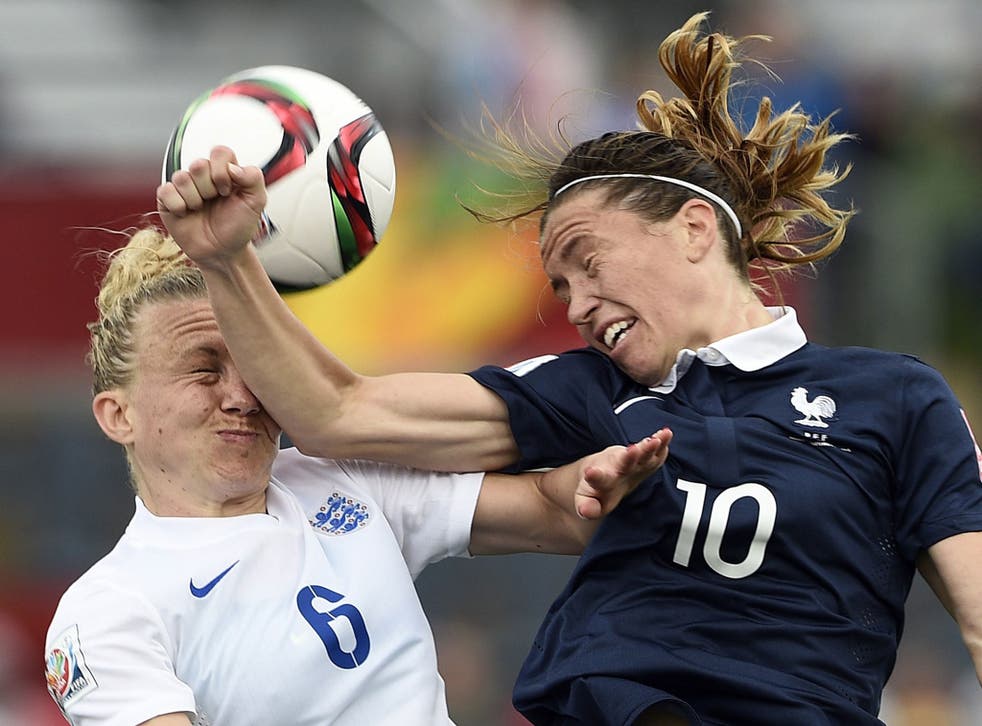 "If you are not hurt you don't stay down," said Laura Bassett yesterday, describing her response to being smashed in the face by an opponent's forearm in the Women's World Cup. The vivid black eye she is sporting as she says it suggests few would have blamed the England defender if she had stayed down.
The honesty of the players is one of the aspects of women's football that appeals to new viewers. No diving, no dissent, no rolling around faking injury. One of many to praise the behaviour of the players at the Women's World Cup was ex-player turned pundit Stan Collymore who compared them with the 'charlatans' of the men's game.
However, there are times when the stoicism, the determination to 'get on with the game' means justice is not done. So it was on Tuesday when England's Laura Bassett took a forearm in the face from French midfielder Camille Abily during their World Cup opener here.
Bassett needed treatment, but there was no crowding of Greek referee Efthalia Mitsi, no waving of imaginary red cards, no rolling around in agony. Long may this continue, but Fifa, and the Football Association, have to protect players in such circumstances. Otherwise players will start 'helping the referee to make a decision', as gamesmanship such as diving and rolling around in agony is sometimes euphemistically called.
In the past Fifa have suspended players based on video evidence - which in this case seems damning. However, the FA made no formal complaint, despite the anger of manager Mark Sampson who said at the time, "We have been let down and so has Laura Bassett."
Fifa's Disciplinary Committee also decided not to pursue the matter. A Fifa spokesperson said: "We can confirm that no complaint has been received and upon review of the matter it was determined that there are no grounds to open proceedings." It is not known whether referee Mitsi said she saw the incident but the Fifa spokesperson stressed "decisions of the referee regarding facts connected with play are final".
The Notts County defender was sanguine. "It is out of my control. [The FA] have got to do what they deem best. I just hope no one else in the tournament is on the receiving end of this and if it does happen again it is not missed."
Recounting the incident, which happened with 20 minutes remaining and England trailing 1-0, Bassett said: "I was concentrating on the ball then I felt something hurt my check. I thought 'that's not the ball'. I didn't know what it was. I went down. I could feel something getting warmer and warmer, 'I thought what the hell is this?'."
It was a bump that was swiftly growing. Bassett continued: "I thought, 'Am I ok?' I realised I was. That is when I got back up. I didn't have a clue what had happened around me. Jill Scott came up to me. I said 'I need a drink'. She said, 'OK, but do you want me to put water on it [the bump]?' I was like, 'what?'
"She said she got scared because she could see this thing growing and growing. I didn't have a clue what had happened, but I knew it was not the ball that had done the damage. Then the ref tried to tell me to go off the pitch for having treatment but it was Steph [Houghton, who had clashed heads separately] who had treatment.
"Then when I realised nothing had happened [no yellow or red card] I was just trying to switch myself back on to stay in the game. I wasn't that happy with the contact. I think you can tell by my reaction on the video. I went to the referee and [indicating the bump] said, 'what's this? what's happened here?' "
Was it deliberate or careless? "I don't know," said Bassett. "You can see me looking at the ball. I think she jumps higher but her elbow does make contact with my cheek, so…"
It is a reasonable bet that if this had happened in a men's game there would have been rather more reaction from the injured player, but Bassett added, "If you are not hurt you don't stay down. I don't think [faking injury] has ever been part of our game. I don't think we're that good actresses. I think we should stick to playing football. We're here to do a job and hopefully deliver it."
It was a bruising way for Bassett to mark her 50th cap. The 31-year-old, first capped in 2003 but never such a regular in the team as she is under Sampson, said: 'Apart from the result I was really pleased, my mum and dad were in the crowd and my boyfriend watching back home so it was really special." Not that having family present meant extra sympathy. "My mum said 'it just looks like you can't apply your make-up'."
Join our new commenting forum
Join thought-provoking conversations, follow other Independent readers and see their replies