World Cup 2014: Brazil's build-up to tournament hit by strikes and unrest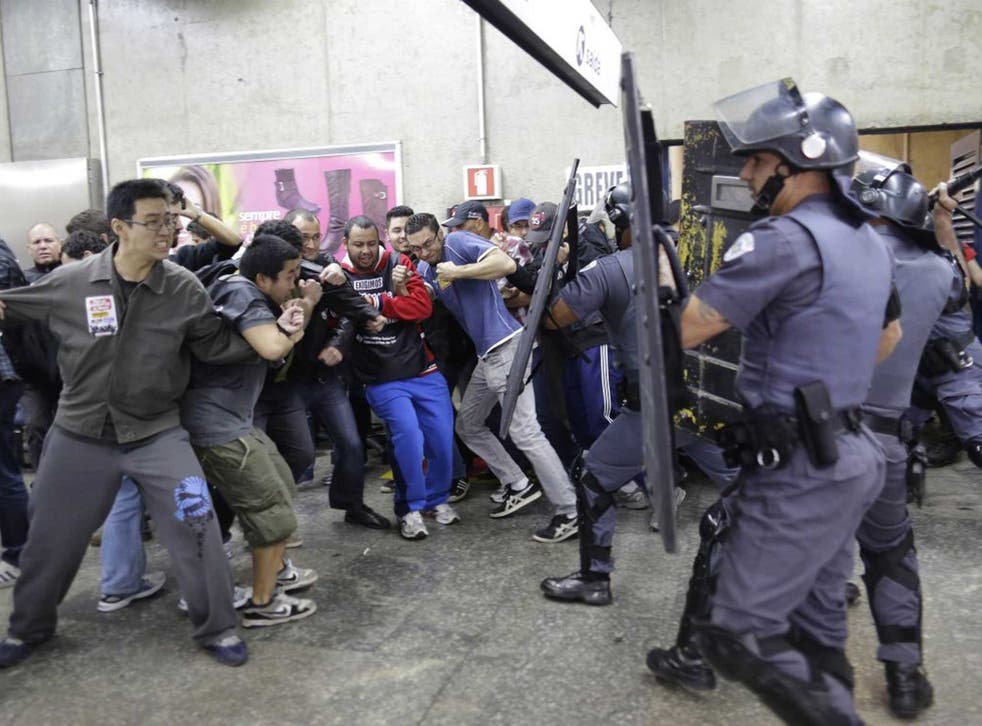 The world eagerly awaits Brazil's turn to host the Fifa World Cup in four days' time. Tales of dangerous streets and unprepared cities will doubtless be forgotten, replaced by samba music, a carnival atmosphere and the world's most enthusiastic football fans.
Until then, however, events continue to threaten the goodwill of Brazilians towards their World Cup. Organisers were already facing heavy criticism after it emerged that the Arena de Sao Paulo, which will host the opening match between Brazil and Croatia on Thursday evening, will have a temporary stand for the game because the stadium is still not finished.
Public-sector strikes – like last year's Confederations Cup protests where police fought with demonstrators – have been a setback for the government, eager to portray a picture of unity and contentment. And on Friday, three people were injured in Sao Paulo as police clashed with striking workers inside a metro station. Unions are reportedly seeking to use the World Cup as leverage for pay hikes. Almost three million tickets have been sold for this year's tournament and close to 800,000 people are expected to come from abroad.
Brazil's signature World Cup project in public transportation was to be Latin America's first "bullet train", a $16bn high-speed rail service linking Rio de Janeiro and Sao Paulo. It never made it off the drawing board. "The jump to modernity never happened, and the stadiums are a herd of white elephants," said Gil Castello Branco of Contas Abertas, a private group that monitors government spending.
In the world's biggest Roman Catholic country, preparations have angered the Catholic church, Brazil's bishops' conference urged the government to respect people's right to demonstrate against the tournament. "The church wants to contribute to the public debate and express its concern with the inversion of priorities in the use of public money that should go to health, education, basic sanitation, transportation and security," it said.
However, the Brazilian justice minister, Jose Eduardo Cardozo, recently issued a rallying cry to the people of Brazil. He said: "We want to feel proud of our country. On and off the pitch, we must show what we are capable of."
Join our new commenting forum
Join thought-provoking conversations, follow other Independent readers and see their replies