World Cup 2014: Fears grow over Sao Paulo stadium being ready in time for opening match of the tournament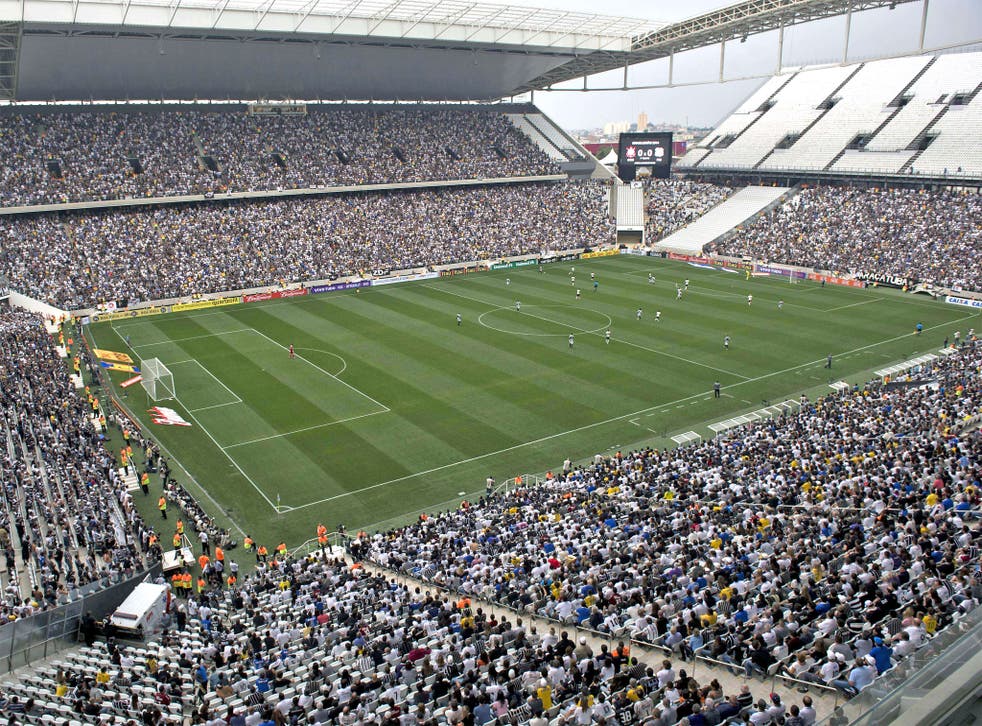 The readiness of the Sao Paulo stadium to host the opening match of the World Cup has been called into further doubt after Fifa announced it was delaying the final test event. It will now not take place until a week on Sunday – just 11 days before Brazil are scheduled to begin the tournament against Croatia.
The Arena de Sao Paulo has long been behind its construction schedule. Its first test event took place on Monday with a club match between Corinthians and Figueirense in front of a 40,000 crowd. None of the 28,000 temporary seats were used and Fifa is insisting another match must be staged using them – a crowd of 50,000-plus is required to test the stadium and its facilities fully ahead of the World Cup.
Fifa had hoped to hold the game on 28 May but that has now been pushed back to 1 June amid concerns over whether the local transport system would be able to cope with the extra demand of supporters heading for the ground on a weekday. Today Sao Paulo was brought to a virtual standstill by a second day of strikes by local bus drivers. Brazil play Croatia on a Thursday evening.
Jérôme Valcke, Fifa's chief executive, who is already in Brazil, tweeted: "The second test event ahead of the opening World Cup match will be staged at Arena de Sao Paulo on 1 June. CBF to reallocate League match. It is vital for us that all facilities will be tested under full match conditions in the temporary seats and associated facilities."
A number of the temporary seats had not been properly installed for the first test match. Valcke tweeted on Monday that if the stadium is to be ready it "still needs 100% from everybody to guarantee necessary structures are in place for the opener".
The CBF, Brazil's governing body, has rescheduled a league match between Corinthians and Cruzeiro to act as the extra fixture. Should the game reveal any further problems, it leaves little time to correct them.
The organisers have already abandoned the original plans to put a roof on the temporary seats in a project that has been beset by difficulties, with three workers killed during its construction.
There has been widespread concern among Fifa officials about Brazil's preparedness to host the tournament. Valcke said recently that there was not a "minute to waste". Upgrades to airports will not be ready, although the Brazilian government insists the transport infrastructure will cope. The bus strike in Sao Paulo will only add to the organisers' long worry list, on which the prospect of widespread protests occupies a prominent position.
Fifa was also forced to defend kick-off times for the tournament in response to a lawsuit filed by the Brazilian players' union. The union claims that 1pm local kick-off times will be a danger to players' health because of the heat and humidity. Fifa denies that.
Join our new commenting forum
Join thought-provoking conversations, follow other Independent readers and see their replies