World Cup 2014: Fingers crossed, Alex Oxlade-Chamberlain will be able to share the load
Arsenal man's tournament looked to have been wrecked by an injury in a warm-up game, but he's on the mend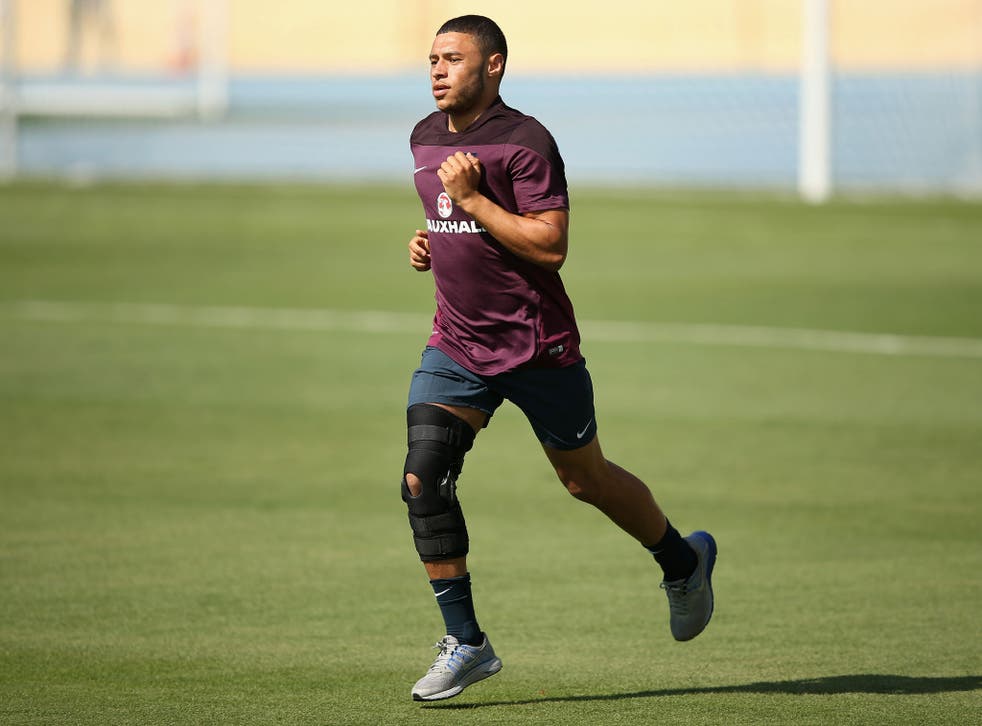 Alone in the MRI scanner 10 days ago, Alex Oxlade-Chamberlain contemplated the end of his World Cup finals. His right knee had been badly twisted in the friendly in Miami against Ecuador when the midfielder Carlos Gruezo first tackled him and then rolled over on to his leg. England had not even made it to Brazil and already there was the possibility that the Arsenal man would be on his way home.
"I actually sat in the scanner with the fingers crossed on both my hands for the whole 25 minutes," Oxlade-Chamberlain says of the experience. "At the end I couldn't feel my fingers! When I came out, our doc saw the scan results and was pretty happy with them, considering what they'd feared. They'd thought it could have been a lot worst than it was. I was obviously a bit worried."
The only player in Roy Hodgson's squad carrying an injury presented himself for interview at the team's hotel in Manaus on Friday, bright and breezy and optimistic that he will play some role in the World Cup finals. Later on in the day he was able to strike a ball in training at the Arena da Amazonias in Manaus while his team-mates prepared for last night's game.
Could he back in time for Thursday's game against Uruguay in Sao Paulo? "We are not sure about timescales we are hopeful that would be realistic but there is nothing set in stone. I can't say whether I will definitely be back or not. We just know we are very positive about it We are going to keep pushing and keep working towards it."
The injury was done, Oxlade-Chamberlain explains, as Gruezo "rolled over into the side of my leg and my knee collapsed inwards". He says he was not expecting the impact and could not adjust his body in time. He has already missed five months of the season with a knee injury picked up on the first day of Arsenal's season against Aston Villa. He missed the closing stages, including the FA Cup final, with a groin injury.
What did he feel this time? "Pain. I didn't feel anything pop, and the scan showed that. It opened up the ligament into a position where your knee shouldn't really go. That's where the damage happened.
"In the first 10 seconds you try and figure out how painful it is, and how bad it could be. You get up straight away to try to walk it off, and if you can't walk it off you panic a bit more. But I walked off the pitch. That was obviously a positive step. From my previous experience with my knee I could gauge it wasn't as bad as that. I just kept my fingers crossed and tried to keep positive about it."
He had been playing so well, in what was already his 15th cap with his 21st birthday not until August. The best of the man they call the Ox is when he runs with the ball, a pocket rocket with great strength and technique who is capable of putting opposition defences on the back foot. Would he be able to hit the ground running again in a tournament? Oxlade-Chamberlain thinks so. "Before the Ecuador game I hadn't played since the semi-final of the FA Cup. The way we train, it's so sharp it's like a match anyway. If you're getting through training alright you can take it into a game. Obviously it's not the exact same situation in terms of sharpness, but I think I can."
For one so young, he has always been a composed young man, comfortable with the spotlight his career has thrust him into. It must help to have a dad who was an England international, although Alex already has seven more caps than his father Mark Chamberlain. Alex jokes that because this is his second tournament he hardly gets a mention when people talk about the new young generation of Raheem Sterling, Ross Barkley and Luke Shaw.
What is his best position? "Erm, I get asked that all the time and to be honest I don't know. When I play in midfield that's my favourite position. When I play out wide that's my favourite position. And when I played in goal at Stamford Bridge I realised that's not my best position! I don't really know. I just enjoy playing football. As long as I am given a licence to have the ball and play my game then it doesn't matter where I am playing."
Join our new commenting forum
Join thought-provoking conversations, follow other Independent readers and see their replies