World Cup 2014: Much to chew over after latest Luis Suarez outburst
Fifa considers a ban on Uruguay's biting striker as sponsors distance themselves from a damaged career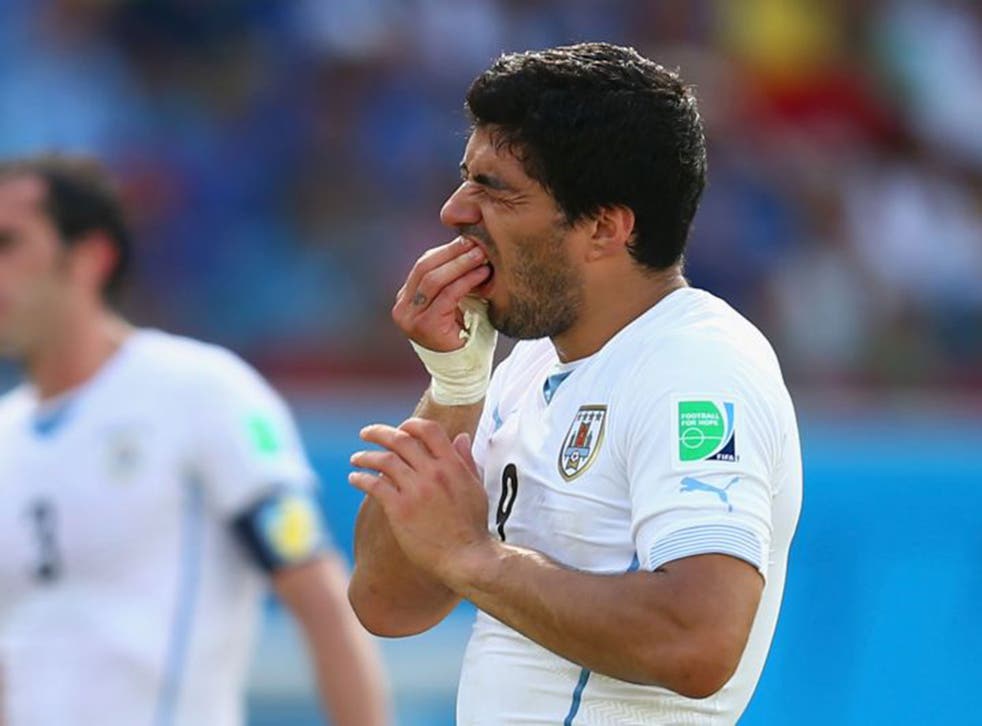 Luis Suarez is in familiar territory. As the Uruguay and Liverpool striker waited to learn his fate – after cameras showed him apparently biting an opponent for the third time in his career on Tuesday night – Fifa, fans and sponsors were considering the complicated psychology of one of the world's most talented footballers – and of the act of biting itself.
Steve Peters had flown to Brazil with England to lend his expertise as a sports psychiatrist. But as the team limped home in disgrace, Peters might have considered delaying his return. "I would think Liverpool Football Club would be on the phone to him [Peters] saying, get over to the Uruguay team right now," says Tom Fawcett, a lecturer in sport psychology at the University of Salford.
Peters, a key part of Team GB's Olympic cycling success, had worked with Suarez at Liverpool, helping him come back saner after serving bans for biting, as well as racial abuse. The psychiatrist is best known for his book The Chimp Paradox, which he explains that the key to anger management is controlling the animal part of the brain – our "inner chimp". "Liverpool have said how much he's changed, but in difficult circumstances on a world stage, he was very much open to relapse," added Fawcett.
The animal in Suarez spilt out as he tangled with Giorgio Chiellini in a tense qualifying match against Italy. The referee took no action after the incident, which left marks on the Italian's left shoulder and Suarez clutching his teeth. Fifa was yesterday considering its response, which is likely to include a lengthy ban.
However, that moment may cost Suarez much more than a string of games. Gambling site 888poker opportunistically announced it was "reviewing its relationship" with the player. More seriously, Adidas was reportedly meeting to discuss the incident.
Footballers are prone to lashing out under pressure, but what goes through the mind of a player who bites? "Very little," Fawcett said. "It was an impulsive behaviour fuelled by emotions set by circumstances. Wound up by Italy, having to win the game, under-performing, the thought of being a failure – it was a recipe for an explosive event."
The psychology of biting is under-researched, as David Webb found when he co-authored a paper on it. Do we know any more today? "I'm afraid not," the psychologist said. "It's still considered a behaviour babies and toddlers exhibit as part of their development and grow out of."
He identified types of biter: "The frustrated biter is driven by a lack of the skills necessary to cope with social situations such as the desire for attention. The threatened biter also tends to be overwhelmed by their surroundings and bites as a means of regaining control. The power biter is driven by a strong need for autonomy ...."
Statistics are scant on biting, away from the football pitch and boxing ring ("I guess any part of the body is up for eating," Evander Holyfield, the boxer whose ear was beaten in the ring by Mike Tyson, tweeted) but a local investigation last October suggested teeth are often used as weapons. Kent Police revealed, after a freedom of information request, that they had recorded 262 biting crimes in six months, or almost a dozen a week.
Chiellini survived relatively unscathed but despite Uruguay's win, Suarez's career will take longer to heal. "When teammates were celebrating, Suarez was a lone figure," said Fawcett. "Introspective, solemn and dejected, he knew what the consequences of his ludicrous relapse would be."
Join our new commenting forum
Join thought-provoking conversations, follow other Independent readers and see their replies