The Independent's journalism is supported by our readers. When you purchase through links on our site, we may earn commission.
England v Italy: Manaus groundsman admits 'Frankly, Manaus is in bad shape'
But Fifa is 'satisfied it will be ready' for Italy clash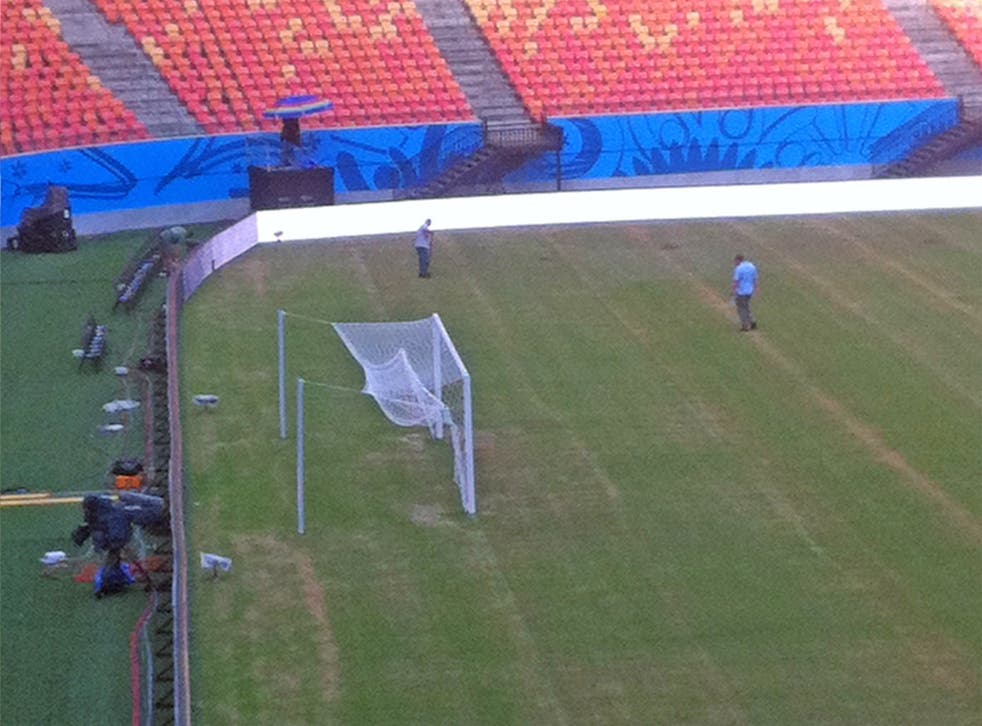 England are due to open their World Cup campaign against Italy on Saturday on a threadbare, sand-strewn pitch which the Football Association will send an official to examine.
Today the head groundsman for the turf provider confirmed: "Frankly, Manaus is in bad shape."
He added that there was "an emergency plan to try to save the field and improve it as much as possible, but I don't think it'll be in good condition" by the weekend.
The Arena da Amazonia surface is very dry, which is a surprise given the amount of rain that authorities in Manaus blame for delaying stadium construction work, which was still going on today.
The pitch is reportedly one of seven at World Cup venues that Fifa, the governing body, has expressed its dissatisfaction with, although it is the only one where England are due to play a group game.
Sources at Fifa claim that the stadium managers at Manaus ignored requests to use artificial lighting at night to improve the growth of the Bermuda grass. That type of grass is ideally suited to Manaus's climate, although its growth is stunted by shade and it was pointed out that the shadow cast by the arena roof would cause problems.
After bare patches appeared in the goalmouth, the surface was treated with chemical crystals and the head of Brazil's World Cup management unit, Miguel Copobiango, said the surface had been "match ready since December". England manager Roy Hodgson inspected it himself in February. Today Fifa passed it.
A Fifa spokeswoman said: "Pitch experts from Fifa and the local operating committee are satisfied the pitch will be ready for the matches."
The governor of Amazonas state, Jose Melo, said: "We have had several teams come to play and they have been amazed by the pitch. Fifa have complimented us on the quality of the grass and in May we had Santos come and play here and they offered only praise. Everything will be fine."
Join our new commenting forum
Join thought-provoking conversations, follow other Independent readers and see their replies