USA vs Germany World Cup 2014: Signed Jurgen Klinsmann note urges bosses to give employees day off to support US 'soccer' team
The 'doctor's sick note'-style letter is addressed 'to whom it may concern', and signed off 'Go USA!'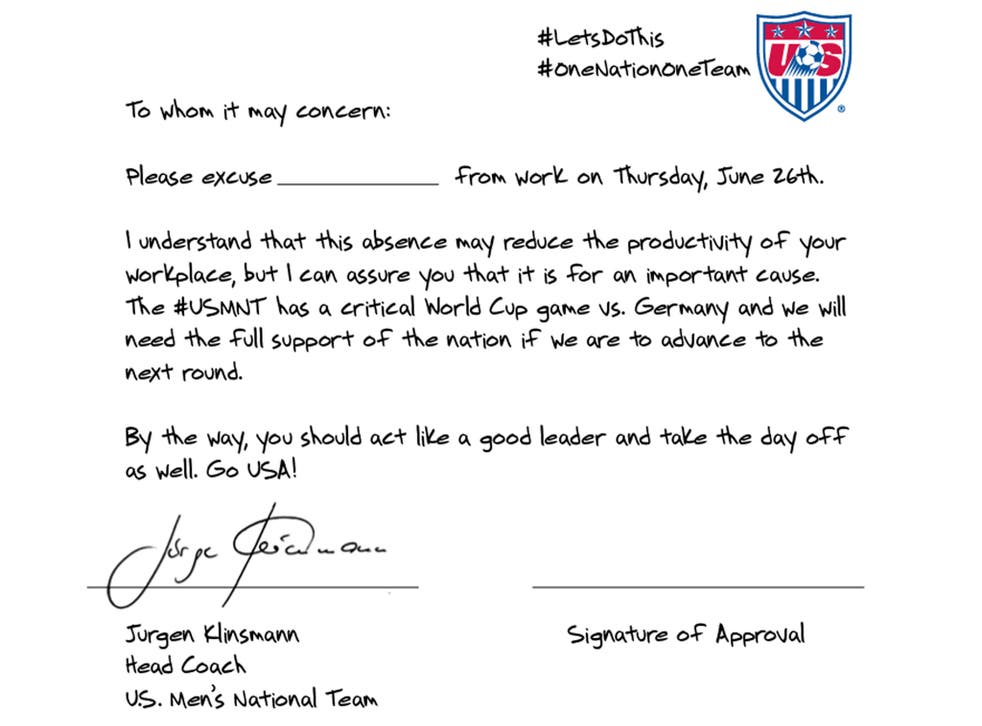 Sports fans in the US have got behind "soccer" for this year's World Cup like never before – and as a result will have been devastated to discover that their team's crucial final group stage match against Germany will take place during office hours.
With kick-off scheduled for noon, Eastern Seaboard Time, those who would ordinarily support the "#USMNT" (US Men's National Team) many will be stuck sneaking the occasional score update at their desks.
Now, though, they may have been given the ultimate excuse to skip work and watch the game, after the team's head coach Jurgen Klinsmann penned a "doctor's note"-style letter urging bosses to let them have time off.
The signed letter, which was distributed by the official US Soccer Twitter feed and then shared again by Klinsmann himself, even suggests managers "act like a good leader and take the day off as well" to back the team.
"I understand that this absence may reduce the productivity of your workplace, but I can assure you that it is for an important cause," Klinsmann wrote.
"The #USMNT has a critical World Cup game vs Germany and we will need the full support of the nation if we are to advance to the next round.
USA fans watch United States vs Portugal

Show all 14
"By the way, you should act like a good leader and take the day off as well. Go USA! Signed Jurgen Klinsmann, Head Coach, US National team."
Interest in Klinsmann's team and the World Cup in general has reached new heights in the States with record television audiences and widespread media coverage.
Last night in Recife fans were met with appearances on stage from the US Soccer president Sunil Gulati, the "national hero" and look-alike Teddy Goalsevelt and the Anchorman star Will Ferrell, who said he was willing to "bite every German player" if he had to for the US to win.
Today's match is of particular significance for Klinsmann, who received 108 caps for Germany and West Germany in the 1980s and '90s, scoring 47 goals.
A draw against the strong German team will be enough to see the US through to the knockout stages, but if they lose a big win for either Ghana or Portugal in the other game could see them knocked out.
Join our new commenting forum
Join thought-provoking conversations, follow other Independent readers and see their replies