World Cup 2014: Soccer becomes the 'second most popular' sport in the USA (if you look at TV figures)
Record viewing figures see football become 'second most popular' sport stateside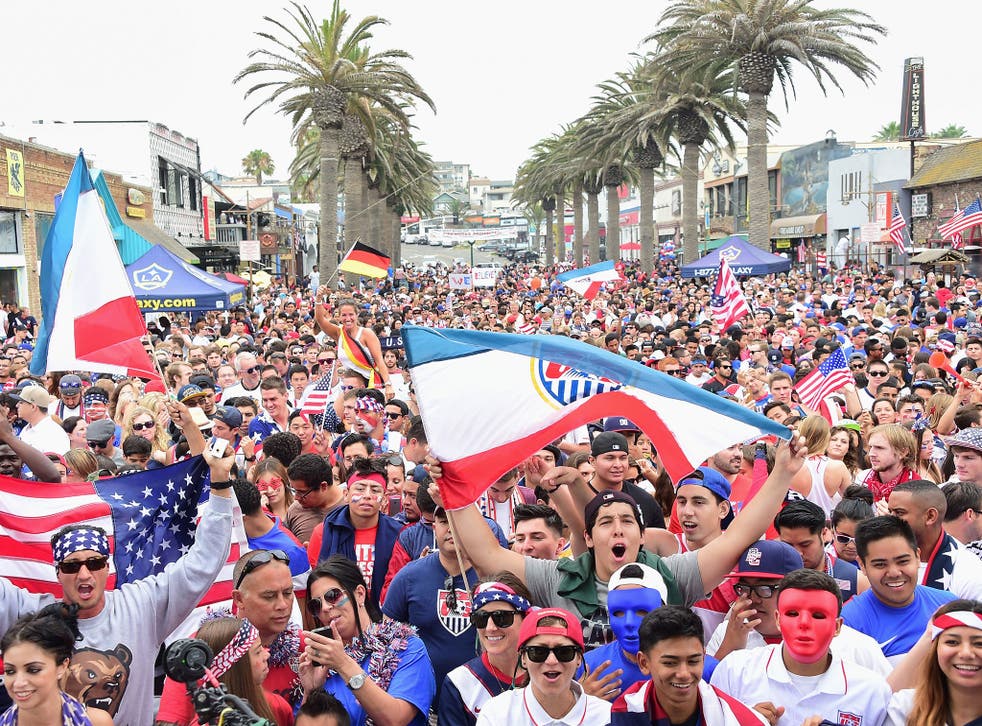 The United States of America has been gripped by 'soccer' fever.
Not even when they hosted the tournament in 1994 has the sport been this popular across the pond.
Jurgen Klinsmann's side face Belgium in the last-16 tonight with real hope, not only of making it to the quarter-final, but of making a long-lasting impression on the American public.
Their performances in Brazil have already gained the attention of the watching public across the pond.
USA fans watch United States vs Portugal

Show all 14
According to CNN, the 2-2 draw against Portugal became the most-watched match in American history with more than 25m tuning in, based on Neilsen figures.
To put that massive number into perspective, the 2013 baseball World Series, won by the Boston Red Sox, averaged 15m, while the San Antonio Spurs' 4-1 win over the Miami Heat in the NBA Finals also averaged about 15m.
That figure means matches including Klinsmann's men trail only NFL and college football in the most-watched stakes.
Since the 2010 World Cup the tournament's other matches have also seen a boost, with average viewing figures going up from 2.8m to 4.3m and America are the second-best supported club in Brazil, behind only the hosts.
American supporters bought 196,838 tickets for the World Cup, trailing only fans from Brazil.
Unofficial supporters' group the American Outlaws expect this trend to carry on.
"In 2010 we had 25 official chapters (groups across America) and 10,000 members. Currently we're up to 143 chapters and 25,000 members ... and 7,000 members joined in the last two weeks," member Daniel Wiersema told CNN.
He added: "Only around 50 people came to South Africa with us, it was basically one coach-load. This year we arranged travel packages and accommodation for 530 members ... despite the large distances that need to be covered in Brazil, so it's changing."
In the digital world, Brazil's match against Chile became the most-Tweeted about event ever on Twitter, with 389,000 messages-per-minute. That beat the previous mark which was set by Super Bowl XLVIII.
Facebook said the tournament will be the first event to generate 1bn engagements - posts, comments and likes - with 220m users taking part.
Join our new commenting forum
Join thought-provoking conversations, follow other Independent readers and see their replies