What do Argentina have to do to qualify for the 2018 World Cup?
Lionel Messi and co are on the verge of missing out on a place at the 2018 World Cup next summer after a disappointing goalless draw with Peru. Here's what they need to do to qualify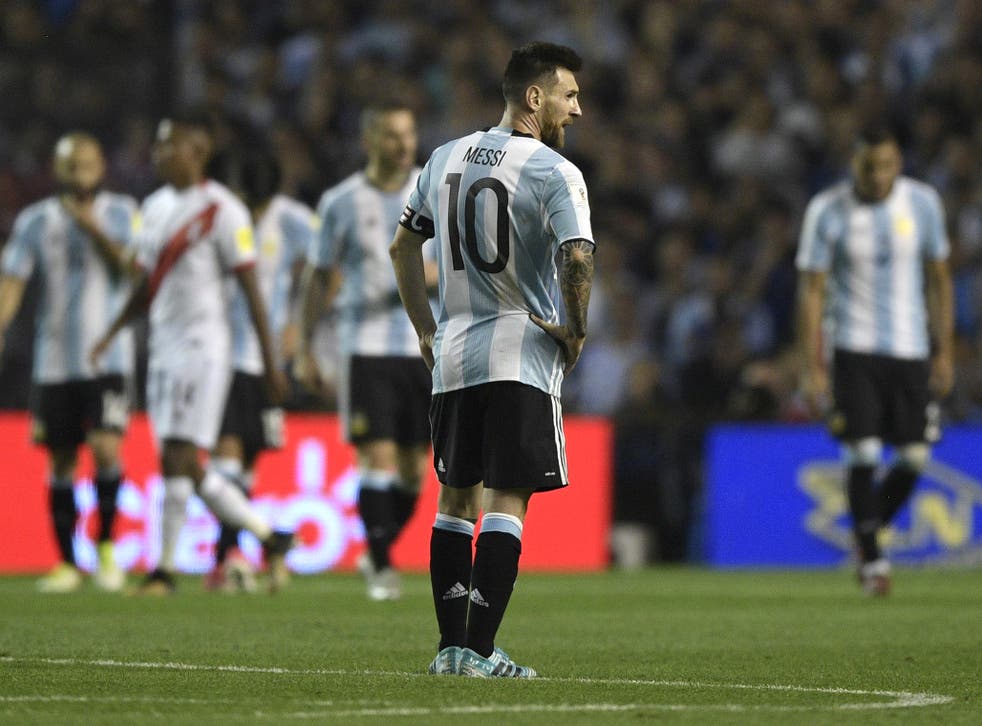 Argentina are in peril of missing their first World Cup since 1970 after they were held to a 0-0 draw against Peru.
Even a sell-out home crowd in Buenos Aires' La Bombonera was not enough to rally Lionel Messi's side, who slipped further from qualifying places.
Manager Jorge Sampaoli granted Boca Juniors striker Dario Benedetto his first full debut alongside Papu Gomez up front, although still it was not enough to invigorate the struggling team.
Their World Cup fate is now out of their hands and they now need other results to go their way if they are to book their place in Russia next summer.
There is one final round of qualifying left for CONMEBOL teams – and here is how it all breaks down.
2018 World Cup group-by-group guide

Show all 33
Already qualified: Brazil
Places to be decided: 3 automatic, 1 intercontinental playoff
Eliminated: Ecuador, Bolivia, Venezuela
1. Brazil, 38 points (next match at home to Chile)
Brazil have been on fire and they top the group with 38 points, having secured qualification some six months ago. Their final match is against Chile, who incidentally are the only team to beat them in the whole of qualifying.
2. Uruguay, 28 points (h. Bolivia)
Uruguay have all but secured their place in Russia. They play 9th-place Bolivia at home on the final day, needing only a point to make certain of qualification. And even if they lose, their goal difference is good enough to virtually guarantee them a place at the World Cup next summer.
3. Chile, 26 points (a. Brazil)
Alexis Sanchez was Chile's hero as they left it late against Ecuador. Their win shoots them up from sixth to third and places their World Cup fate in their own hands. But it's still going to be difficult. A win in Brazil would see them go through. A draw would more than likely give them a playoff place. But if they lose, they will fail to qualify if both Argentina and Paraguay win.
4. Colombia, 26 points (a.Peru)
Colombia looked to be heading to Russia before they slipped to a late loss against Paraguay. But their fate remains in their own hands: if they beat Peru they will qualify. If they draw, they are out if both Argentina and Paraguay win.
Here's where it gets confusing. They can still lose to Peru and qualify if Chile lose more heavily to Brazil, if Argentina lose or draw and if Paraguay fail to beat Venezuela.
5. Peru, 25 points (h. Colombia)
Peru's goalless draw with Argentina means if they beat Colombia at home on the final day of qualification, they will soon be heading to their first World Cup since 1982. A draw would also be good enough – if Brazil beat Chile by more than one goal and if Argentina draw and Paraguay fail to win.
If they lose, they will only reach the playoffs if Argentina lose and Paraguay fail to beat Venezuela.
6. Argentina, 25 points (a. Ecuador)
Argentina have it all to do in their final match, against Ecuador. If they win their final match they are guaranteed a playoff space, and would go through automatically if their rivals Brazil avoid defeat to Chile. A draw would also be good enough to go straight through if there is a winner in the Peru match, Chile lose by two or Paraguay fail to win.
Argentina can still lose and reach the playoffs, providing Peru suffer an even heavier defeat and Paraguay fail to win.
7. Paraguay, 24 points (h. Venezuela)
Paraguay need to beat Venezuela and hope other results go in their favour. Only a win will do.
Join our new commenting forum
Join thought-provoking conversations, follow other Independent readers and see their replies