Michel Platini to consider pulling England and other Uefa members out of the World Cup if Sepp Blatter wins Fifa election
Fifa is currently in a crisis after 14 current and former members were arrested on corruption charges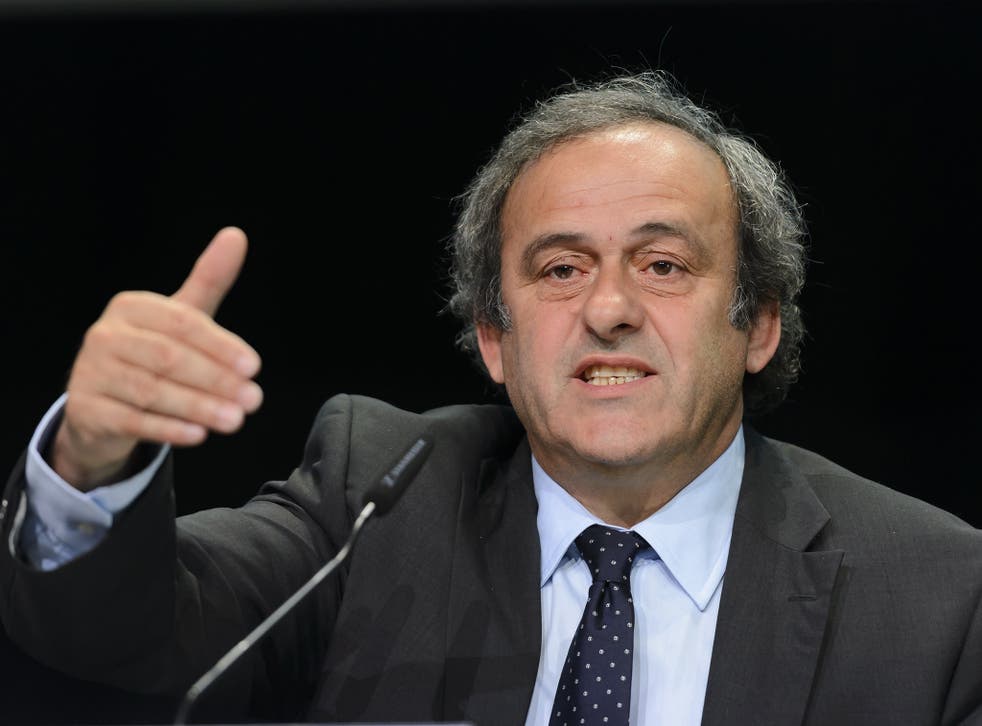 Michel Platini has said that Uefa will reconsider its relationship with Fifa if Sepp Blatter retains the presidency - in a move which could see England being pulled from the next World Cup.
Mr Platini was speaking at a news conference to confirm that football's European governing body has given its support to Blatter's presidency rival, Prince Ali bin al-Hussein, ahead of the disgraced organisation's leadership vote on Friday.
The Uefa chief also revealed that he had asked Mr Blatter to resign "as a friend", but that the under-fire Fifa head had refused to quit.
"So many scandals have shaken Fifa," Mr Platini told the press conference. "Fifa does not deserve to be treated like this.
"I have had enough - enough is enough, too much is too much. I am the first to be disgusted.
"I told Mr Blatter 'we started together and now I am asking you to step down as we cannot continue this way'.
"He told me 'it's too late, I can't today all of sudden leave when Congress starts this afternoon'."
It means that Mr Platini could consider pulling out the 54 Uefa members – which includes England – from the World Cup should Mr Blatter win tomorrow's vote.
When pushed further on the prospect of England and the other 53 members that fall under Uefa's confederation, Mr Platini said: "There may be proposals. I honestly don't wish that."
The Fifa bigwigs facing charges

Show all 14
The 59-year-old Frenchman also said that Mr Blatter "was affected when I spoke to him, because I spoke to him like a friend".
Mr Platini added: "If Mr Blatter wins, Uefa will meet in Berlin to discuss the future of our relations with Fifa. A very, very big majority of Uefa associations will vote for Prince Ali - a minimum of 45 or 46 [out of 53], and I try to convince more.
Mr Platini also stressed that should Mr Blatter win a fifth term as Fifa's president, it will demonstrate a worrying state of affairs where Mr Blatter still holds a majority stranglehold over the globe's football officials.
"If he has decided to stay on, it means he is still strong," he said.
"But there's a renewal of democracy in the African zone to vote freely. As I said to Europe, vote freely - but vote for Prince Ali."
Mr Platini's comments come after the Football Association vice-chairman David Gill told Uefa members that he will not take up his role on the Fifa executive committee if Mr Blatter wins tomorrow's election.
He told Uefa's member associations at a meeting in Zurich that he will reject the place, according to the chief executive of the Football Association of Ireland John Delaney.
"David Gill stood up and said he won't take up his seat, that was the big thing," revealed Delaney. "I think it was very brave and very honest of him and there was a good round of applause, people thought 'that's a man of honour'.
"From his own personal perspective he doesn't want to serve under Mr Blatter and you have to respect that position.
"There wasn't a vote taken but Michel Platini will tell you UEFA is unified, whether all 53 transfer their votes over I don't know, I think one or two will be lost along the way."
Prince Ali is the only other candidate who is going up against Mr Blatter, who won the Fifa presidency in 1998 and is running for a fifth term as the head of football's world governing body.
Join our new commenting forum
Join thought-provoking conversations, follow other Independent readers and see their replies