Manchester City vs Newcastle LIVE: Premier League result and final score after Sterling goal wraps up big win
Pep Guardiola's side are looking to bounce back from the crushing Champions League semi-final defeat to Real Madrid midweek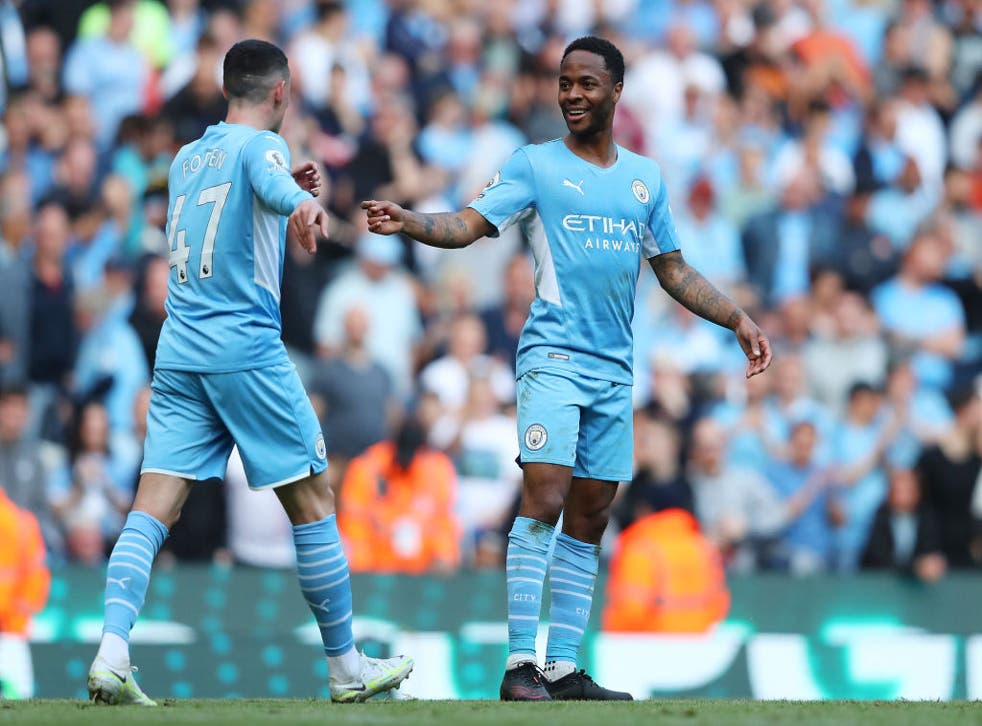 Follow live reaction as Manchester City returned to the top of the Premier League table and opened up a three-point lead over Liverpool in the title race thanks to victory over Newcastle.
City were looking to bounce back from their shock elimination from the Champions League on Wednesday and Raheem Sterling's 18th-minute header put Pep Guardiola's side back on track as they returned to their title bid.
It was quickly followed by a second from Aymeric Laporte - turned over the line after Newcastle goalkeeper Martin Dubravka spilled the ball in the box - before Rodri scored City's third from another corner in the second half.
Newcastle had a good chance to open the scoring after Chris Wood was allowed a free header from six yards out, and it wasn't until the match was put beyond them that Newcastle showed some life again.
But Phil Foden added a fouth and Sterling scored his second as City wrapped up a huge victory in stoppage time. Liverpool can close the gap when they travel to Aston Villa on Tuesday, before City face Wolves at Molineux on Wednesday. Relive Manchester City's comfortable win over Newcastle, below:
1652033189
Manchester City bounce back in style to thrash Newcastle and open up title lead over Liverpool
Advantage Manchester City. It always has been, of course - this Premier League title defence has remained within their own hands throughout this run-in - but there have been times over the past few days when you would not have known it. And if Pep Guardiola's side needed a reminder that their destiny is in their own control, this emphatic 5-0 win over Newcastle United was it.
Manchester City 5-0 Newcastle: There was no evidence of a Champions League hangover as the Premier League leaders cruised to a five-star win
Jamie Braidwood
8 May 2022 19:06
1652030825
Full-time! Manchester City secure huge win over Newcastle United
And that's it! The glut of goals may have come late on but five is nothing fewer than Manchester City deserved for a terrific performance.
Raheem Sterling score dthe opener as he nodded home after a superb pass from Ilkay Gundogan found Joao Cancelo, before Aymeric Laporte scrambled home a second after Martin Dubravka spilled the ball into his path.
In the second-half, Rodri headed home Kevin de Bruyne's corner for three before a couple of scintillating moves ended with fine finishes from Pfil Foden and Sterling again for five.
City now lead Liverpool by three points, and have goal difference advantage of four.
Dan Austin
8 May 2022 18:27
1652030623
GOAL! Sterling scores again for City
93' Manchester City 5-0 Newcastle United
This a rout now and it's everythign Manchester City deserve for a marvellous performance.
It's Jack Grealish with superb work on the left again as he beats Trippier and finds Foden in the penalty area. Foden replies with a sumptuous backheel before the unmarked Sterling arrives in the middle of the box and slams home a great finish past Martin Dubaravka.
What a performance, what a result, and what a response to the heartbreak in Madrid in midweek.
Dan Austin
8 May 2022 18:23
1652030389
GOAL! Foden scores fourth for Man City
91' Manchester City 4-0 Newcastle United
Phil Foden scores a fourth for Manchester City!
Jack Grealish beats Keiran Trippier with a burst of pace down the left-hand side and cuts the ball back towards Kevin de Bruyne just inside the box.
The Belgian drags the ball towards goal and his cross/shot is swept home by susbtitute Foden on the turn.
That takes City three ahead of Liverpool on goal difference now.
Dan Austin
8 May 2022 18:19
1652030260
Manchester City make final change as Laporte goes off
88' Manchester City 3-0 Newcastle United
Aymeric Laporte has been withdrawn by Pep Guardiola in the final stages of this game as 19-year-old Conrad Egan-Riley comes on to partner Fernandinho in the final moments.
Still no words on whether Ruben Dias was taken off at half-time because of injury, but Nathan Aké must be sat on the ebnch wondering what has to happen for him to get on the pitch...
Dan Austin
8 May 2022 18:17
1652030035
Wilson misses big Newcastle chance
84' Manchester City 3-0 Newcastle United
Newcastle United have their first real opprtunity since the opening minutes of the game but Callum Wilson has spurned it.
The returning striker did well to win a header thirty yards from goal and nodded the ball down to Jacob Murphy, who then released Wilson with a through ball which took the flat-footed Fernandinho out of the equation.
Wilson carries the ball into the penalty area but is Ederson is quick off his line and the forward hits the ball directly at him.
Dan Austin
8 May 2022 18:13
1652029811
Jacob Murphy on for Newcastle
80' Manchester City 3-0 Newcastle United
Jacob Murphy is Ncewastle's final change as he comes on to replace Miguel Almiron.
In the past ten minutes or so the game has petered out a little as both sides seem quite content to shake hands on 3-0. One or two more for City though could potentially prove pivotal if they lost a game beofre the end of the campaign and ended up on the same points total as Liverpool.
Dan Austin
8 May 2022 18:10
1652029527
Booking for De Bruyne
75' Manchester City 3-0 Newcastle United
Kevin de Bruyne's name has gone into the referee's book for a cynical foul on Allan Saint-Maximin as the Frenchman dribbled towards goal inside the City half.
It's clever play from De Bruyne, in truth. The counter-attack is prevented and City's goal difference advantage over LIverpool is maintained.
Dan Austin
8 May 2022 18:05
1652029135
Zinchenko hits crossbar for City
69' Manchester City 3-0 Newcastle United Manchester City almost have a fourth as Oleksandr Zinechko meets Jack Grealish's cut-back to the egde of the box with his in-step and hits a wicked shot which Martin Dubravka tips onto the top of the crossbar.
The Ukranian has never scored in the Premier League but camer might close, there. That was an excellent stop from Dubravka.
Now the returnign Callum Wilson and Kieran Trippier are on for Newcastle, in place of Chris Wood and Emil Krafth.
Dan Austin
8 May 2022 17:58
1652028846
Foden replaces Jesus for City
65' Manchester City 3-0 Newcastle United
Manchester City are making their second subsitution of the afternoon as Gabriel Jesus is replaced by Phil Foden.
Jesus came close to getting on the end of a couple of cutbacks in the first-half but was probably the quietest of all six of City's midfield and forward players this afternoon.
Pep Guardiola's men have now scored as many goals as Liverpool this season, and are three points ahead with a goal difference advantage of two.
Dan Austin
8 May 2022 17:54
Register for free to continue reading
Registration is a free and easy way to support our truly independent journalism
By registering, you will also enjoy limited access to Premium articles, exclusive newsletters, commenting, and virtual events with our leading journalists
Already have an account? sign in
Register for free to continue reading
Registration is a free and easy way to support our truly independent journalism
By registering, you will also enjoy limited access to Premium articles, exclusive newsletters, commenting, and virtual events with our leading journalists
Already have an account? sign in
Join our new commenting forum
Join thought-provoking conversations, follow other Independent readers and see their replies