Alan Pardew World Cup 2014 column: Italy deserved to beat England - now Roy Hodgson must make a decision on Wayne Rooney
The Newcastle manager reveals why he would drop Iker Casillas, and picks the team he thinks will come out on top when Germany play Uruguay
Alan Pardew
Sunday 15 June 2014 20:48 Comments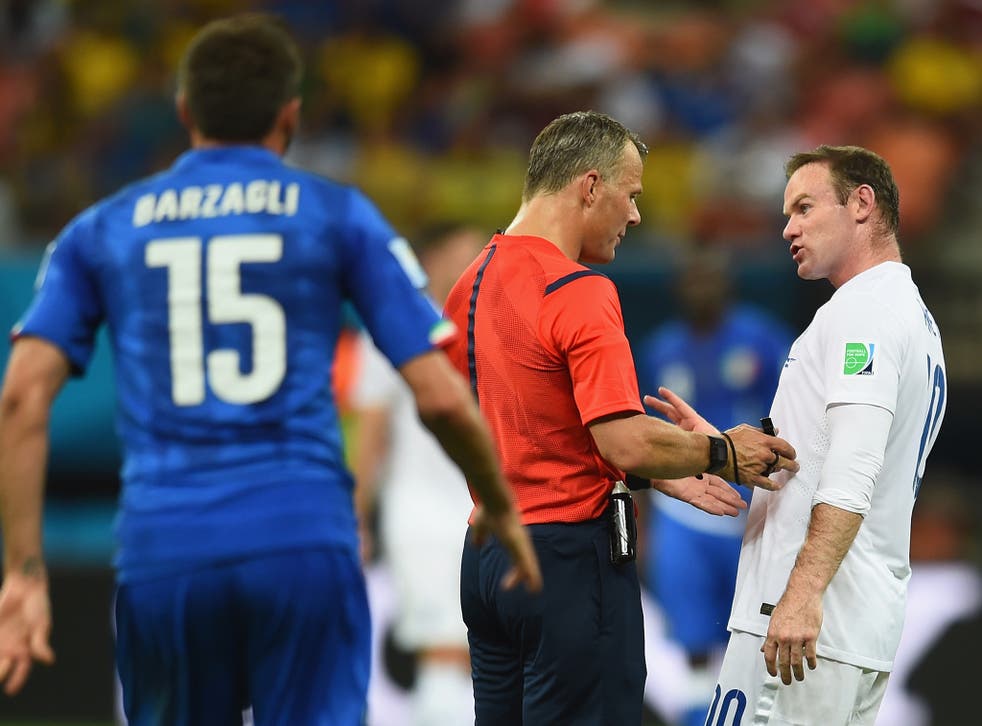 No complaints from this quarter about the result in Manaus. The best team won and deserved to.
Once again England were unable to subdue Andrea Pirlo, who was the thorn in their side. Specifically, we were unable to control their right-side, with Wayne Rooney not looking comfortable in that role and Leighton Baines finding it all the harder behind him. That was one of the reasons I said in this column last week that I would have played Adam Lallana, who would definitely have helped Baines more.
I'm afraid that position doesn't suit Wayne, who was then pushed out wide on the right for a spell in the second half. Now Roy Hodgson must make a decision: either play him in his proper number 10 role just behind Daniel Sturridge or leave him out.
Uruguay's shock defeat by Costa Rica means they probably need to win both remaining games and makes Thursday's match a real tough one for England with the pressure they've now put on themselves. Even the Costa Rica game is not a gimme because they looked a half-decent outfit.
There were one or two bright spots for England, like Raheem Sterling's performance but there were flaws too for the media to get their teeth into and if the pressure wasn't on before, it certainly is now.
Suarez is the foe we know – but will that be any help?
England will be delighted if Luis Suarez is not considered fit enough to start Thursday's game against them for Uruguay, but it seems likely they will have to cope with him at some stage.
My experience is that you can't man-mark him, as he is so clever at drifting wide or deep.
The team have to be geared to crowding him out, getting to him quickly and having back-up close by. Above all, never show him inside, because then he can kill you. At least the defenders will all have come up against him before in Liverpool colours and will be aware of what he can do.
How much that helps we will see in Sao Paulo.
Blatter is right about coaches' challenges
Sepp Blatter and Fifa would not win many popularity contests at the moment but with refereeing controversies threatening to become one of the talking points of this World Cup, I can see plenty of managers loving the idea he suddenly came up with of being allowed to challenge two decisions per game. He has certainly come a long way very quickly from being opposed to all technology and insisting that anything introduced should be the same at every level of football.
Of course, the technicalities of it would have to be carefully tested but what people may not realise is that we are already not that far away. Clubs these days have their own video analysts sitting in the stand with laptops and can tell a manager within 20 seconds whether a decision was correct or not. There have also been trials in Holland where the referee is linked directly to a video referee with access to replays.
I believe referees would even come to appreciate it, because they're honest guys who don't want to get things wrong, as they often emphasise to us after a game. Goalline technology and even something as simple as the spray for marking 10 yards at free-kicks have worked brilliantly and can only help them do a very difficult job.
Look at the penalty that Brazil were awarded in the opening game against Croatia. It was simply a wrong decision. Frankly, their striker Fred conned the referee and if players knew that a debatable decision was open to challenge maybe it would stop that sort of borderline cheating. Anyway, at least a debate about it has started and I hope that referees would join in without feeling they were under threat.
I'll look forward to seeing Howard Webb in action in Brazil. There was a feeling among some managers and critics last season that with the World Cup coming up he was possibly shying away from big decisions that might have involved him in controversy, but I like Howard and his assistants Darren Cann and Mike Mullarkey. My big complaint is that with so much money available in the Premier League those teams, including a fourth official, should work together at all games and should be full-time, which the assistants are not.
They should be accountable as a group and if a linesman for instance keeps making mistakes he should be replaced.
Casillas is rusty and so I would drop him
Howard and his team no doubt looked at that sensational game between Spain and Holland on Friday night and wished that the World Cup final they were in control of between those teams could have been as notable for the football as some of the other stuff they had to deal with.
They might have disallowed one of the Dutch goals for the push by Robin van Persie but nobody was talking about the officials afterwards.
What struck me most was the heart, or lack of it, in the Spanish team. Their spirit has always been strong in the recent successful years, which is partly why they have conceded so few goals and won so many games – often by a single goal. But there was something missing on Friday, reminding me of France when they were defending the trophy in 2002.
As a manager, I definitely wouldn't play Iker Casillas in the next game, which is a huge one against Chile, the other real contenders in that group, on Wednesday. He's missed so many games for Real Madrid going back over the past year or more since Jose Mourinho first dropped him and he just didn't look up to it. At club level, if one of my best players misses even three matches I always worry about the first game back, because the level is so high.
Diego Costa, for all his talent and his great season, didn't look a natural fit for their quick, short passing game and the Spanish media will be asking questions about that. Maybe that Confederations Cup defeat, 3-0 by Brazil, a year ago, did more damage than we thought. But still, don't write them off quite yet.
Germans look far too strong for Ronaldo
Of the group games in the next couple of days, one that jumps is out is between Germany and Portugal tomorrow. The Germans look very quick on the break, with the ability to open a team up, which makes them very dangerous. For me they're a level above Portugal, who I've seen two or three times and don't look a top side.
Of course they have Cristiano Ronaldo, whose fitness is absolutely crucial to them because without him I don't think they'd even be here. I was at both their play-off games against Sweden when he was the difference, although even in the first one at home he was becoming a little frustrated until he scored. That could happen again.
There will be comparisons throughout the tournament no doubt with Lionel Messi, who plays for Argentina against Bosnia-Herzegovina and Edin Dzeko late tonight. I've named Argentina as my favourites so it will be interesting to see how quickly they come out of the blocks and whether Messi looks as though he can really make an impression at a World Cup. He's almost 27 now and in four years' time you would expect him to be past his peak. This should be his time.
Argentina have great attacking options, which is one reason they couldn't fit in Carlos Tevez, even though he had a fine season for Juventus. People often ask me about him from our few months together at West Ham and I can only say that although he wasn't match fit through not having played, I found him a top person to work with and above all a winner.
Howay Les Bleus – I'll back the ex-Magpies
Club managers, and supporters, will naturally be keeping a close eye on players past and present from their own clubs. From Newcastle's point of view, we will be watching France's opening game against Honduras this evening with special interest, as will a number of other clubs, with so many Premier League players involved.
There's a lot of talent, especially young talent, in the French squad. They will miss Franck Ribéry, of course, but they have a real goal-scorer in Karim Benzema, possibly alongside Olivier Giroud. Loïc Remy and our former midfielder Yohan Cabaye will both be hoping to figure, Mathieu Debuchy should be first-choice right-back and Moussa Sissoko could have an impact from the bench. Vive la France!
Newcastle United manager Alan Pardew will be writing a column for the The Independent on Sunday throughout the World Cup.
Register for free to continue reading
Registration is a free and easy way to support our truly independent journalism
By registering, you will also enjoy limited access to Premium articles, exclusive newsletters, commenting, and virtual events with our leading journalists
Already have an account? sign in
Join our new commenting forum
Join thought-provoking conversations, follow other Independent readers and see their replies