Alex Ferguson resolves 'Kick It Out' dispute with Rio Ferdinand and is ready to offer defender new contract at Manchester United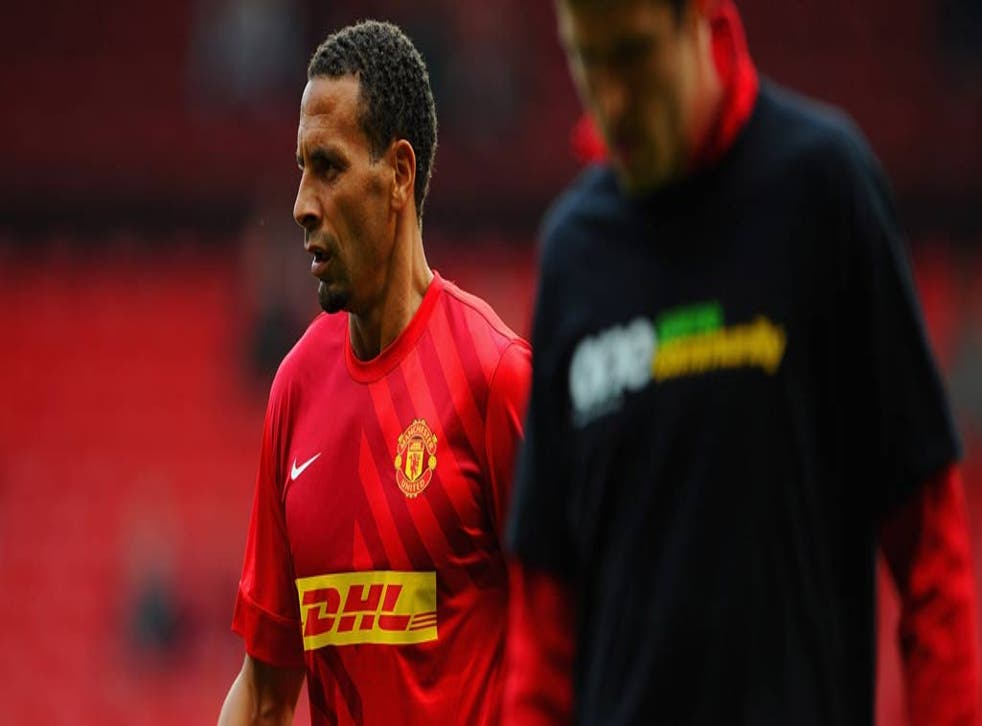 Sir Alex Ferguson says his dispute with Rio Ferdinand has been resolved and went on to suggest the defender will be offered a new contract during a press conference today.
The pair were set on a collision course after Ferdinand opted not to wear a T-shirt carrying the name of anti-racism campaign group Kick It Out.
Ferdinand's decision was seemingly a protest at how racism in football is currently being dealt with, including the case involving his brother Anton and John Terry, for which the latter was found guilty of racial abuse.
Before the weekend's matches, Ferguson had said he thought all players should wear the T-shirts, and fully expected his players to conform.
Yet ahead of Manchester United's home match against Stoke, Ferdinand opted not to wear it, the only United player to do so.
After the match, a visibly angry Ferguson said he had been embarrassed by Ferdinand's actions and the player would be "dealt with".
Yet Ferguson said today: "The issue is pretty simple. There was a communication problem.
"He felt I should have spoken to him on Friday and I didn't anticipate there would be any problem in the dressing room as far as the T-shirt was concerned.
"I have listened to the conviction of Rio and I think it is quite compelling. I can understand his stance.
"But I think you are always stronger as a union. There's more solidarity than as a single unit.
"The advice I would give is that he should take it up with the proper authorities. It is only through that he will make his voice heard.
"Obviously as the manager of the club when you lay down policy you don't want to see it being ignored. That's where my anger came on Saturday.
"But we have resolved the situation, there are no lingering problems and we move on. That is the end of the matter."
The two met yesterday after Ferdinand had arrived for a training session, when the United manager explained that it was the lack of advance notice from the player of his intention to boycott the anti-racism campaign which had angered him. The 33-year-old has apologised to Ferguson for that but has not voiced any contrition for the act itself.
Ferguson went on to suggest that Ferdinand, who is in the last year of his contract, will be offered a new deal at Old Trafford.
"Rio can play for two or three years," said Ferguson.
"He has different issues from Paul (Scholes) or Ryan (Giggs) in terms of injuries over the last couple of years.
"He is not as quick as he was but that is not a big problem because his experience is important.
"He is still a great footballer and, even at 33, there is no reason why he can't stay on."
Ferdinand has been linked with a lucrative switch to the United States where the Chicago Fire would relish the chance of signing him – or alternatively China or Russia.
Ferguson continued: "We have always adopted that policy of offering one-year contracts, so we will see as the season progresses.
"I didn't even realise his contract was up. You are making me panic."
Ferdinand's boycott at the weekend was not staged lightly and he was undecided throughout Friday about the merits of rejecting a T-shirt. It is understood that his boycott was substantially motivated by the personal indignation he felt about comments made by the chairman of Kick It Out, Lord Ouseley, on Friday afternoon, six hours after Ferguson had stated that all his players would wear the T-shirts.
Lord Ouseley told the BBC that he had "no intention of speaking for black footballers who are very wealthy and earning a lot of money" who "have to be organised and speak for themselves". Ferdinand does not feel that, after his tough upbringing in Peckham, south London, that he needs to be told by Lord Ouseley how he should be dealing with racism in the game.
There is a view among many within the game that Ferguson was too quick to make his attack on Jason Roberts, who was the first black player to come out and say he would refuse to wear the shirt. Ferguson made his comments during a press conference on Friday, instead of waiting to discuss the issue with his players as some other managers had done.
Roberts, who also thought deeply about his decision not to wear a Kick It Out shirt, will this week offer to meet the organisation to discuss how he can help it to make more of an impact in counteracting the racism which still permeates the game. Since Kick It Out operates with five staff and a budget of only £300,000, lobbying for more realistic funding is part of the battle.
Join our new commenting forum
Join thought-provoking conversations, follow other Independent readers and see their replies