Arsenal 2 Hull City 0: Do the Gunners even need to sign a striker in January?
Wenger tried to bring Suarez and Higuain to the Emirates this summer, but with his midfielders in fine goalscoring form he may wish to strengthen elsewhere if at all following an impressive start to the season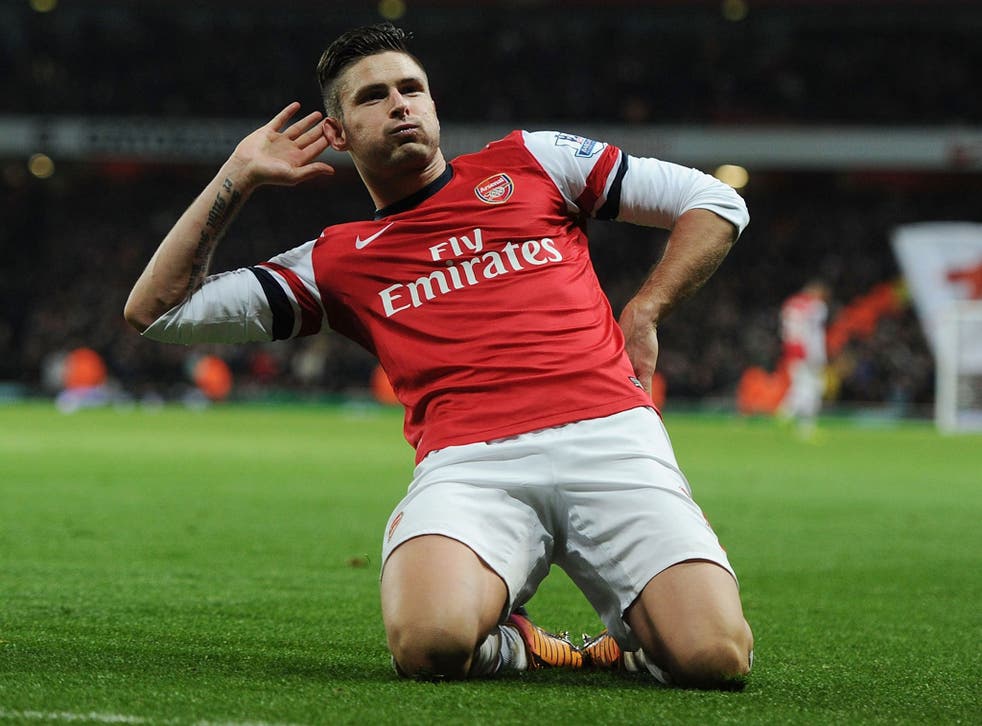 Arsenal are flying high at the summit both at home and in Europe after an impressive start to the season. Arsène Wenger's squad seems to be stronger and able to cope with injuries more so than in recent years with the likes of Theo Walcott, Santi Cazorla, Mikel Arteta, Alex Oxlade-Chamberlain and Lukas Podolski facing spells out this season.
The outstanding Aaron Ramsey has already scored 13 goals this season in all competitions whilst Olivier Giroud (10), Jack Wilshere (4) and Mesut Özil (4) have also contributed with Podolski, Cazorla, Walcott and Tomáš Rosický likely to chip in with a few this season. Nicklas Bendtner, looking to impress future employers, could also be useful this season providing he does not leave in January. If he does, then Podolski, Walcott or the unproven Yaya Sanogo will be the only striking options available if Giroud suffers an injury.
The Gunners have arguably the best midfield in the Premier League and have been transformed since Mathieu Flamini returned, Özil arrived and Aaron Ramsey hit form to repay Wenger's faith in him. Özil has helped Wenger to reacquire a transfer market reputation following the sales of Cesc Fàbregas, Samir Nasri and Robin van Persie – to be replaced by seemingly inferior players.
Former Manchester United manager Sir Alex Ferguson criticised Wenger's transfer policy in his new autobiography recently: "Rosický becomes available, so Arsène takes him, because he's his type of player. [Andrey] Arshavin becomes available, so in he comes. When you acquire a lot of those players, they are almost clones."
One of these 'clones' has become a fan favourite at the Emirates and rivals Özil as Arsenal's most intelligent footballer. Rosický adds depth and quality to an already impressive midfield. The Ramsey- Flamini pairing in the middle of the park, selected when Arteta is rested or injured, has transformed Arsenal's passing whilst Özil has helped Giroud become a serious goal threat.
Wenger tried to bring Luis Suarez and Gonzalo Higuain to the Emirates this summer but Giroud has responded to the pursuit of other strikers by improving in almost every aspect of his game after scoring 17 goals in his debut season.
Wenger can also be pleased with his full-backs this season. Bacary Sagna, seeking a new contract, has been impressive with Carl Jenkinson an able replacement as he showed last night with a good performance and an assist for the opening goal against Hull. In Nacho Monreal the Gunners have arguably the best reserve left-back in Europe. Kieran Gibbs has finally overcome his injury jinx this season to challenge Leighton Baines as the best left-back in the Premier League.
The real issue to resolve in January will be in central defence. Bench warmer and club captain Thomas Vermaelen is the only option at centre-back if Per Mertesacker or Laurent Koscielny suffer an injury. Wenger said recently that it was difficult to leave the Belgian out of his starting line-up because "of his quality, because of his attitude and because of his influence at the club," and claimed the defender "suffers but he handles it with great dignity and great professionalism."
Wenger does not believe Vermaelen will agitate for a move during the upcoming transfer window but the fear remains that he will do so and leave Arsenal with just two senior centre-backs in the first team squad.
Join our new commenting forum
Join thought-provoking conversations, follow other Independent readers and see their replies