Arsenal AGM: Chips are down for a board that appears out of touch with fans
On the pitch, Arsenal have for years been multi-ethnic and diverse, but the profile of the club's boardroom has barely changed from when Arsene Wenger took over as manager in 1996 - or long before that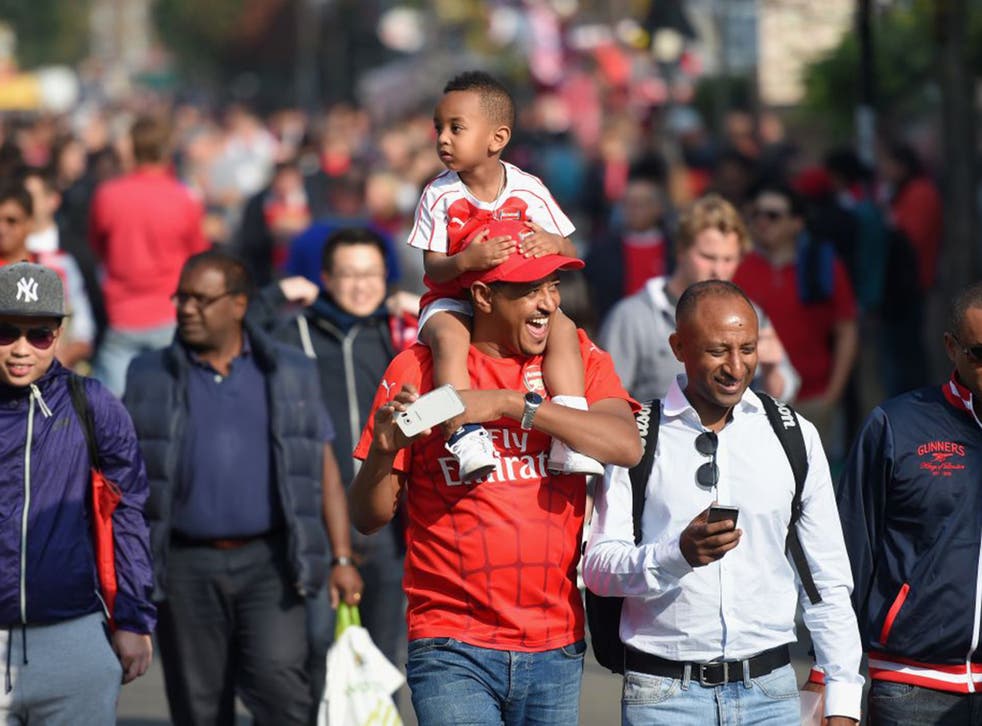 Arsène Wenger began his speech to Arsenal's AGM by telling his audience how much the club had changed and grown over his 19-year tenure. When he arrived, Arsenal had 80 employees and the share price was £400. Now, they employ 550 people and one share – Wenger did not know the precise price – would cost roughly £15,000.
The meeting was a celebration of how far Arsenal have come, of the size of the globally recognised brand and their plans to push on into the future. Chief executive Ivan Gazidis spoke about the £30million investment in the Colney and Hale End training grounds, with a new player performance centre at Colney set to open in 2017. Commercial revenue is growing and even the wage bill – £192m this year, £164m last year – was held up as proof of the club's expanding muscle.
And yet the occasion descended into a demonstration of how much further the club needs to go. Football clubs are about representation, about fans and communities seeing themselves in the body that means so much to them.
On the pitch, Arsenal have for years been multi-ethnic and diverse, fittingly so for a club based in Holloway. But the profile of Arsenal's boardroom has barely changed from when Wenger took over in 1996, or long before that. Here the club was represented on stage only by white men, and it took Josh Kroenke – Stan's son – to drag the average age down. Arsenal know that is a problem and Gazidis spoke of Arsenal's commitment to diversity, recognising, as he put it, "the need for change at board level". He pointed to the fact that Arsenal were the first football club to receive the Advanced Standard for equality and diversity from 'Kick It Out'.
Even chairman Sir Chips Keswick, the embodiment of the old-school director, said that he was "very conscious of the need to regenerate the existing board," which, he said, was, "well aware of our responsibilities regarding diversity. It is something we take seriously."
But in how he conducted the AGM, and spoke to shareholders, Keswick betrayed very little obvious sense of what an inclusive, approachable, engaged football club ought to look like. He was strikingly dismissive of legitimate questions, describing one as "just noise", another as "not sensible" and not exactly sounding enthusiastic when the issue of the London living wage came up. At one point Keswick threatened to end the meeting. The club might be grateful if none of this appears on Vine.
Most of the acrimony concerned the £3m payment to KSE and Keswick was asked by one shareholder if it was a Fifa-style stitch-up. Anyone who has to clarify, "I am not Mr Platini, I am not Mr Blatter" has already lost the PR battle. The failure to deal with that particular issue coloured the whole afternoon and it is not difficult to imagine that, had Gazidis, club secretary David Miles, defender Per Mertesacker or almost anyone else been in the chair, it would have been handled better.
Of course, many clubs do not even have an AGM and there is some democratic value in angry fans being able to shout questions at the board. But it would be rather better if the chairman gave the impression of valuing their concerns or even of understanding them.
Wealth, age, whiteness and even a knighthood should certainly not be a bar to holding a big position at a big football club. But an English millionaire brusquely defending the silence of an American billionaire, sat two seats to his left, is not a good look.
Join our new commenting forum
Join thought-provoking conversations, follow other Independent readers and see their replies