Arsenal ban BBC drama By Any Means from using official kit after storyline insulted club and depicted fans as criminals
Episode, watched by 4 million viewers, split North London's football fans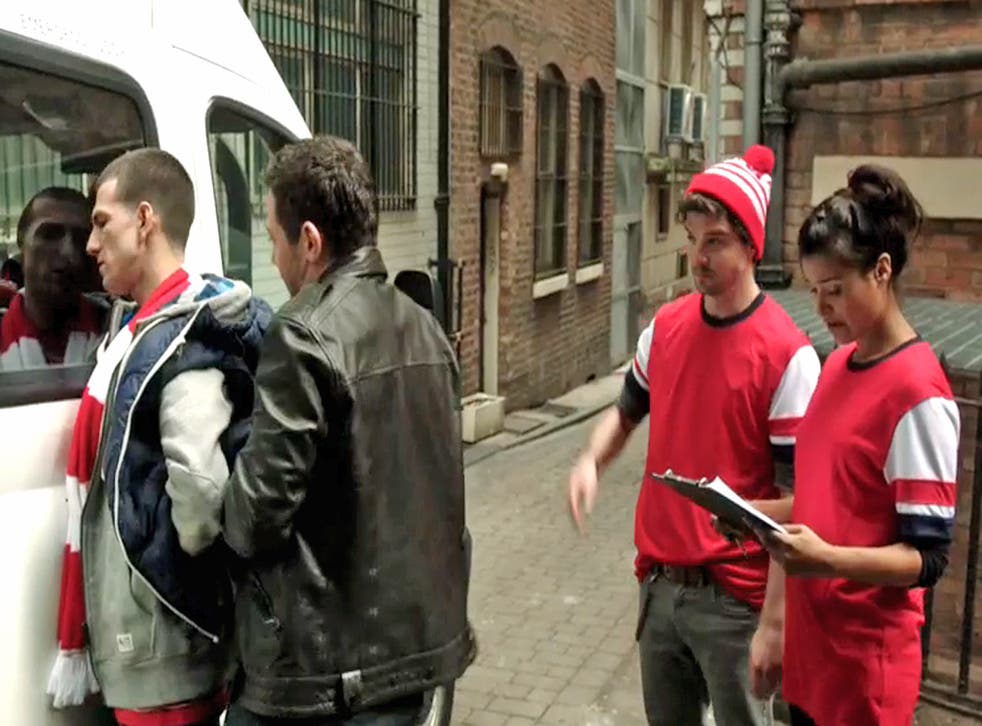 Arsenal FC banned a BBC drama from using the club's branded shirts in an episode because the storyline insulted the club and depicted its fans as criminals.
Fans of the Gunners were outraged the opening scenes of By Any Means, BBC1's new Sunday night series about an elite police unit.
The detectives, led by Warren Brown and Shelley Conn, trick a half-witted Arsenal fan, who has skipped bail on robbery charges, by inviting him to attend an exclusive tour of the Emirates stadium.
He arrives at an office covered in stickers saying "Arsenal" and "Emirates". He meets two undercover detectives, who are decked head-to-toe in the north London club's famous red-and-white colours, like the suspect.
The suspect heads to the bus for his dream trip but is instead arrested by Brown's Jack Quinn and told "You are under arrest for being an Arsenal fan…anything you do say will be ignored."
When Quinn is asked if the scam was ethical, he says they're aren't just crooks: "It's worse than that, they're Gooners."
However Arsenal failed to see the funny side of the episode, which depicts the fan as an idiot, asking "We're not going to Emirates izzit?" after he's loaded on a bus to the police station with other criminally-minded Gooners who also fell for the deception.
When Arsenal became aware of the storyline, the club refused permission for the producers to use real club shirts and logos. Producers Red Planet mocked up shirts, hats and scarves in Arsenal colours for the actors to wear, without the identifying logos.
A spokesman for Red Planet Pictures, the series producers, said: "Arsenal FC declined permission to use their branded shirts within the context of the script so production decided, on advice, to use shirts in a similar style instead."
It was "common practice" to seek permission from clubs to use official merchandise, the producers said. "As this was refused the production team at Red Planet Pictures took the decision to use generic tops which did not feature logos," the spokesman said.
The episode, watched by 4 million viewers, split North London's football fans. One furious Arsenal viewer tweeted: "Right, that's 'By Any Means' boycotted." Spurs fans however hailed the episode and called the arrest scene "priceless".
The incident demonstrates how Premier League clubs, now marketing themselves to a global audience, are increasingly protective of their "brand".
Last year Arsenal sued China's trademark watchdog for copyright infringement after it registered a trademark for a company called Daguangming Glasses Company, based in Hangzhou, to produce glasses using the club name and logo.
The BBC said dropping the official shirts was a decision for Red Planet Pictures and that it planned to continue using branded club merchandise where relevant in programming.
Join our new commenting forum
Join thought-provoking conversations, follow other Independent readers and see their replies