Arsenal v Liverpool: English footballers are as skilful as Brazilians, claims Brendan Rodgers
'It's a load of tosh' that Spaniards or South Americans are technically superior, says Liverpool manager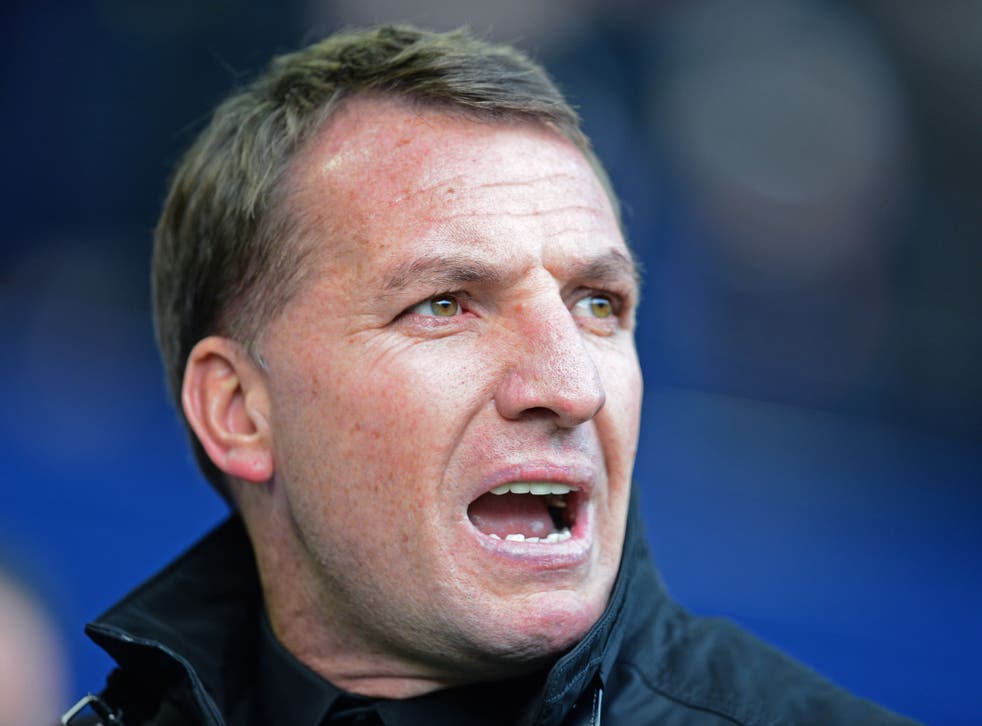 Brendan Rodgers says it is "tosh" to suggest England produce technically inferior footballers to those in Europe and South America.
With the World Cup looming, the Liverpool manager last night argued that English players are suffering from a wholly unwarranted inferiority complex – a myth which Liverpool's performances should have helped explode.
Had Steven Gerrard's brilliant pass that curled between two Fulham defenders to set up Daniel Sturridge's equaliser on Wednesday been made in the Nou Camp rather than at Craven Cottage, it would have been hailed as typical of Barcelona. It also demonstrated the kind of technique Roy Hodgson's side are not supposed to be taking to Brazil.
"My life's work has been trying to show that British players can play," said Rodgers. "I grew up being told English players weren't technically as good as Europeans, which was the biggest load of tosh I'd ever heard.Spanish players are born the same as British players. We have an inferiority complex, absolutely. I have worked with kids from five years of age through to some of the biggest players in the world. I have a decent idea of what technique looks like.
"John Terry is a tactically brilliant centre-half. Frank Lampard has wonderful qualities. Steven Gerrard is the best player I have worked with for tempo and technique.
"You look at an England team with Gerrard, Lampard and Paul Scholes in midfield, they would have dominated games."
The Gerrard, Lampard, Scholes combination was selected for only one major tournament, the 2004 European Championship in Portugal, which was the last competition England looked like they might win.
The Liverpool players who ripped Arsenal apart 5-1 at Anfield last Saturday and who will face them in the FA Cup this afternoon are mostly English – talents like Jordan Henderson, Daniel Sturridge, Raheem Sterling and Gerrard.
"Look at Jon Flanagan," said Rodgers of his young full-back. "At one point, we didn't have any clubs who even wanted him on loan. Everyone is talking about how good Jordan Henderson is tactically. We can do that in this country but they need to be encouraged and have the confidence and will to do it."
It was, however, a Brazilian, Philippe Coutinho, who contributed most to Arsenal's annihilation at Anfield. He is Liverpool's Juan Mata or Mesut Özil, although he cost the club less than a quarter of the fees that David Moyes or Arsène Wenger paid out.
"He is a snip," said Rodgers. "We have got the best passer in the Premier League, a technician who can thread the ball through and a runner who can penetrate and run without the ball.
"When I worked at Chelsea, I used to watch Deco. He was a bit older than Philippe but I still remember his first training session when he got a round of applause. It was just pure quality and that is what Coutinho has. He is a little street footballer with a wonderful vision."
The vision of being 4-0 up after 20 minutes against Arsenal still lingers at the club's training ground at Melwood. "That game was as good as it gets," added Rodgers.
"I can only remember being involved in one game like it, when I was a coach at Chelsea and we went 3-0 up against Barcelona in the opening period at Stamford Bridge.
"You couldn't believe it. The win over Arsenal was at that level but it was different for me because I was the manager. Seeing your work bear fruit against a team that is winning the League, was very satisfying."
It led Rodgers' former boss, Jose Mourinho, to comment that Liverpool were now genuine title contenders. "Go back to September 2012 and look at what Jose said when I came here," said Rodgers. "He said the club was not set up to win the League and it would be a miracle if I did it here. I take it as an incredible compliment that we are now being talked about in that way."
Register for free to continue reading
Registration is a free and easy way to support our truly independent journalism
By registering, you will also enjoy limited access to Premium articles, exclusive newsletters, commenting, and virtual events with our leading journalists
Already have an account? sign in
Join our new commenting forum
Join thought-provoking conversations, follow other Independent readers and see their replies