Comment: Brazil has accelerated efforts to be ready to stage the 2014 World Cup, but the human cost is mounting
How many more deaths will it take for Fifa to get this World Cup in Brazil on in time?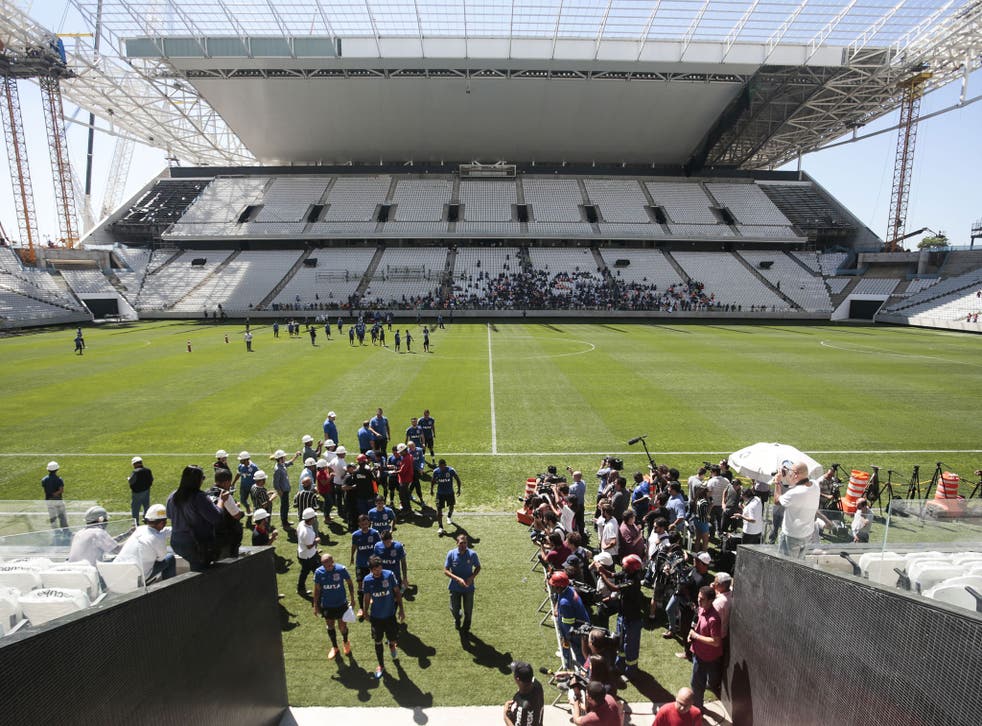 It is a story rarely told that, when Bobby Robson's England team played in Santiago in 1984, members of the squad were sent letters from the families of those who had died under the Pinochet regime asking them not to come to Chile. The game was to be played in the national stadium, where the regime executed so-called opponents by firing squad.
The match, a 0-0 draw, was the third game in that summer's tour of South America, which included John Barnes' famous goal in the Maracana. When I discussed that tour once with Clive Allen, he said it was always the Chile game that stood out in his mind, not least for the letters he received and the eeriness of having to play in that stadium.
For all the joy and excitement that a great football stadium encompasses over its history, there are some parts of its history that are impossible to overlook.
The Football Association got lucky at Wembley's first FA Cup final in 1923 when its failure to make the game all-ticket – the only such Wembley cup final in history – meant a crowd of around 200,000 turned up. The white police horse Billie gets the credit but many thought that a major factor in preventing a riot was the presence of a bemused King George V and the deference he attracted from the crowd, gawd bless 'im.
In Pictures: Rio's Favelas ahead of the World Cup

Show all 7
As for Brazil and its World Cup, almost a century on from the building of the Empire Stadium, what are we to make of the shocking deaths that keep occurring on the unfinished stadiums of this £6.6bn developing world tournament? They are an utter disgrace, of course, to the desperate mismanagement by local committees and to Fifa, football's world governing body, which urges this struggling country on in pursuit of those all-important deadlines.
On Saturday it was the fate of Fabio Hamilton da Cruz to be the wrong man in the wrong Fifa World Cup stadium at the wrong time. He fell 25 feet to his death at the Corinthians Arena in Sao Paulo, which will host the first game between Brazil and Croatia on 12 June. It truly is a dangerous place. It was there in November two workers were killed when a crane collapsed on to the roof.
Certainly, any reliance on the classic World Cup "group of death" cliché should be studiously ignored in the coverage of Brazil 2014, when death has played such a part in the building of stadiums before a ball has even been kicked in the tournament.
Hamilton da Cruz is the second man to die this year on World Cup projects. Antonio Jose Pita Martins was killed in Manaus last month, the third worker to die in the building of the Amazonia Arena which will host England's first game against Italy on 14 June. In all, seven people have died in building Brazil's World Cup stadiums, five since November, when the pace of building work was stepped up.
As with Martins' death, this latest bereaved family at least got a tweet of condolence from Fifa's general secretary, Jérôme Valcke, on Saturday evening. What a tonic that must be when your family's main breadwinner has just died so that Fifa's temporary seating requirements can be fulfilled.
It has cost Brazil the equivalent of more than £2bn to rebuild or renovate its 12 World Cup venues, of which three are still not finished. Pictures tweeted a week ago today by the Bloomberg reporter Tariq Panja showed the Corinthians Arena in an extraordinary state of unreadiness. Panja also described "loose wires hanging in some areas and white seats piled up at the stadium's entrance".
Even if the contractors were to complete in time, Fifa requires 90 days to get its temporary facilities in place, which in the case of the Corinthians Arena include a third of the stadium's seating as well as media and VIP facilities. At the Porto Alegre stadium, work on a television compound could not begin because 140,000 square metres outside remained unpaved.
If it was not obvious before it is surely impossible to ignore now: Fifa has asked too much of Brazil. It has conceded as much itself, with Valcke admitting last week that things will be different when it is Russia's turn in 2018. No doubt that there will be elements of this summer's tournament that are wonderful and it will probably look as seductive as ever on television, but the human cost has already been far too high. How many more deaths will it take for Fifa to get this World Cup on in time for broadcasters, sponsors and fans? Ten? Twenty? More than that? After every stadium-building site fatality, Fifa trots out the same line about the safety of workers being its priority, but it does not look that way. It looks like finishing the stadiums as soon as possible is the priority.
Early reports of the death of Hamilton da Cruz were that he was installing temporary seating. "The biggest challenge is to make sure that all what we call these temporary facilities can be in place," Valcke said this month. At least the Fifa general secretary can be sure his message is getting across, although there is very little else he will be celebrating this morning.
The Corinthians Arena alone has cost Brazil £213m, before you take into consideration the human toll. It would be remiss not to point out at this stage that the last reports of Fifa's cash reserve were that it stood at $1bn (£600m), and that its profits for 2013 alone were £43m.
Being in charge of the sport of football is a wonderful position to be in and, truly, business is booming. Not so great if you happen to be one of the poor souls building the stadiums, and we have not even mentioned Qatar 2022 yet. Of course, Fifa will say that, ultimately, Brazil wanted to stage the World Cup finals, that it knew what would be required in terms of stadiums and infrastructure, and that a contract is a contract.
You do wonder if they ever crack a secret smile of disbelief at Fifa House at all this power and so little responsibility. In Brazil this morning, another worker's shift will begin on the unfinished stadiums that already have their own bloody histories.
The show must go on and the profits keep rolling in. It seems no matter what, Fifa will have its tournament come 12 June and Brazil will be required to put its best foot forward. As we all know, there is no major country in the world that would turn down the chance to host a Fifa World Cup finals, this one included. In Brazil, one might even say that people were dying for it.
'Moyes out' fly-past protest a waste of time and energy
A final thought on the much-derided anti-David Moyes aeroplane banner that purported to speak on behalf of "a significant proportion" of Manchester United fans but was booed when it flew within sight of Old Trafford on Saturday.
It is not about the right to have an opinion, which is the argument that so many of these discussions dissolve into. It is about taking responsibility for that opinion.
An anonymous group of anonymous individuals claiming to represent the mood has no currency. In fact, as the reaction at Old Trafford demonstrated, it is likely to achieve the opposite of its stated intention.
Join our new commenting forum
Join thought-provoking conversations, follow other Independent readers and see their replies