Comment: Chris Hughton sacking by Norwich leaves English football looking 'hideously white'
As of this week there is not a single black manager in the top five tiers of English football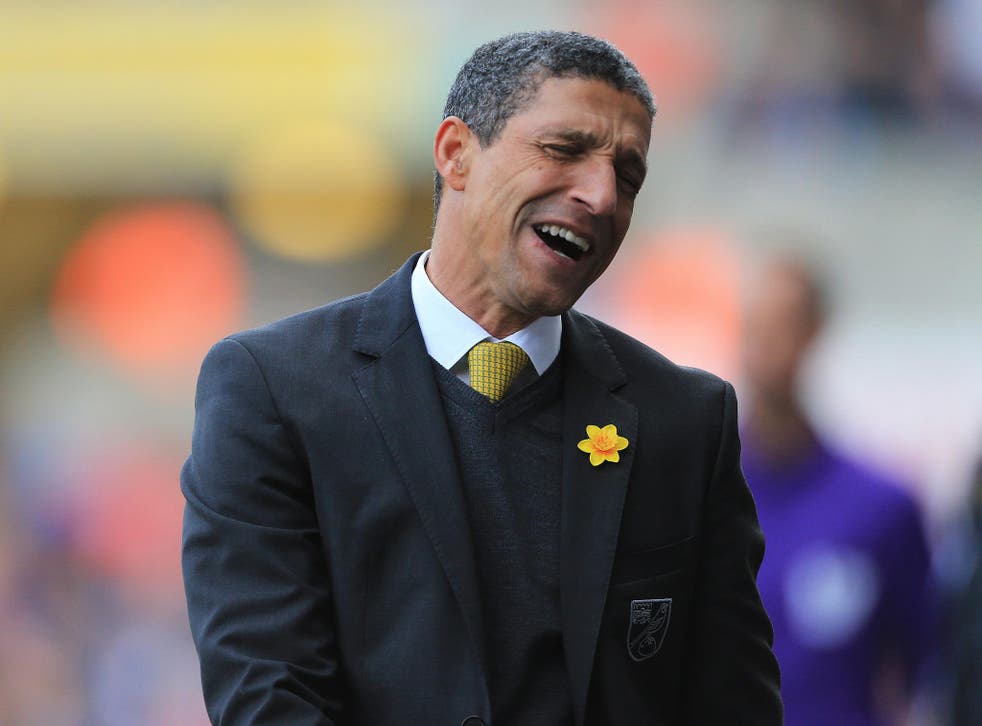 On the eve of this year's Super Bowl, John Wooten, a former NFL player, posed a question as to when he and his fellow advocates and supporters of the Rooney Rule would accept their work was done. It was posed so he could answer it himself. "When," he said, "the front office and the coaching staff look just like the sideline."
What Wooten meant is cast your eye over a team, acknowledge its racial mix and then see if that same mix applies elsewhere in NFL clubs. What then would Wooten make of professional football in England? As of this week there is not a single black manager in the top five tiers of English football, a sport in which around a quarter of its players are black.
A year ago there were five. A month ago it was one when Chris Powell was dismissed by Charlton. On Sunday evening it hit zero with Chris Hughton's sacking by Norwich City. There was no racial element to Hughton's exit but its outcome should cause overdue alarm around the offices of the Football Association, the Premier League and the Football League. It is time to introduce the Rooney Rule to English football.
A quarter of the 92 Premier League and Football League clubs is 23. It is, of course, simplistic to suggest there should be an equivalent number of black and ethnic minority managers. Yet that the number of black and ethnic minority managers sits at zero is a pretty straightforward indication of a problem for the English game.
In the 80 years prior to the implementation of the Rooney Rule there were seven black or ethnic minority coaches in the NFL – for 60 years there were none. Since Rooney, which requires one minority candidate to be interviewed for each vacant head coach or general manager position in the NFL, there have been 13. This is not tokenism, it is due opportunity. For seven successive years before 2014 there was a black head coach or general manager at the Super Bowl.
The Professional Footballers' Association is supportive of such a scheme but progress has been slow. There are many black people who reject the idea of any sort of positive discrimination. This, though, would be a levelling of the playing field; there is no requirement to appoint a Paul Ince ahead of a Ryan Giggs. It would also require a greater openness among clubs when looking for a new manager and that is no bad side-effect either.
The managerial sack race - 2013/14

Show all 38
Norwich's search for a new manager will depend on what Neil Adams, their novice stand-in, achieves over the next month. The decision to sack Hughton smacks of bad management itself. Five points is a significant breathing space over the oxygen-starved occupants of the bottom three. It is a Corporal Jones moment. Compare it to West Ham's decision to stick with Sam Allardyce in January, when they were actually in the drop zone, and Cardiff turning to another relative novice in Ole Gunnar Solskjaer. It can take relative courage to ignore supporters marshalled by angry phone-ins and the bandwagon of social media. It takes even greater courage and leadership from those running the people's game to make a real difference.
Greg Dyke once described the BBC as "hideously white". "You can have all the equal opportunities policies you like, but if the gateman doesn't let blacks through the gates, you've got a problem, haven't you?" he said while the corporation's director general. As FA chairman he could now help push open those gates to football management by using the Rooney Rule.
Join our new commenting forum
Join thought-provoking conversations, follow other Independent readers and see their replies