Comment: England again suffer from Sunday league ball retention in World Cup qualifier against Ukraine
Old problems continue to plague Roy Hodgson's side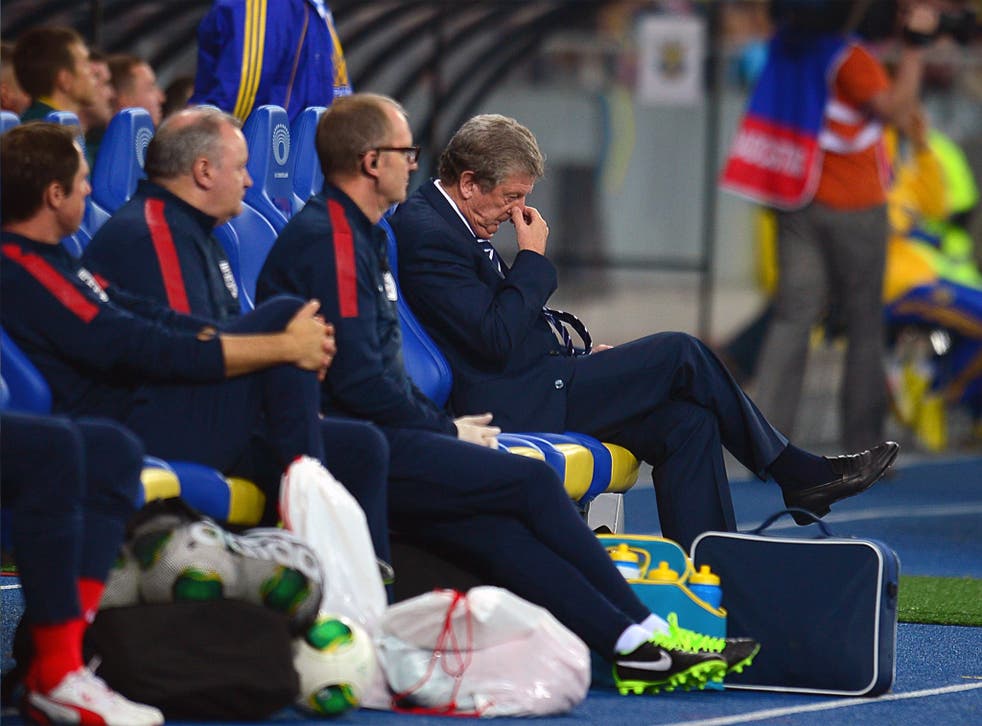 England's players will pick up the papers this morning, dip into Twitter, listen to the pundts, and curse. "What do they know about it, the idiots?" will be the cry, except it will be expressed in language not fit for a family newspaper.
When the final whistle blew, the players were elated. They had travelled to a difficult venue, with a depleted squad, absorbed a lot of pressure, and secured what was in many respects a fairly comfortable point. Footballers love that kind of result, especially English ones. It is all about heart, grit, digging deep and every other cliché we have heard for decades. Moreover, progress to the World Cup finals is still in their own hands. A brace of home wins against Montenegro and Poland and England are off to Rio.
However, based on tonight's performance there is no guarantee England will achieve those wins. And if they do get to Brazil they could tank as they did in South Africa.
For the players, tonight was all about the result, and they got one. The next match is the next match – they can worry about that in the future, celebrate the here and now, crack open a beer (not many, not these days) on the return flight and savour the feeling of standing up to be counted.
It was a tough task and the players have every right to feel pleased, but for those who follow England, professionally or personally, there is a bigger picture. England rarely looked like losing tonight, but they rarely looked like winning either. Creatively they were dire, ball retention was of the level of Sunday morning parks football. The cry on Twitter was for Michael Carrick, probably the best rotator of possession in England, but it should be remembered he was part of the midfield collapse to Montenegro in Podgorica.
Not that this is anything new. It is nearly 20 years since Terry Venables held court in the old Red Bar at Wembley and explained how he was trying to drill into his players the need to retain possession. But Venables, like Roy Hodgson, and everyone from Glenn Hoddle to Fabio Capello in between, can only play with the hand they are dealt. Decades of poor coaching theory and practice, and a cultural aversion to patient football, have left England bereft of players who are comfortable on the ball – the basic requirement to succeed in international football.
But it could have been worse. Kiev has not joined Belo Horizonte, Katowice, Turin, Rotterdam, Saitama and Bloemfontein in the location list of English football's defeats and disasters: a worldwide travelogue of despair, each with its own painful memory.
This is not to forget England exited Euro 2012 in the same arena 15 months ago. But that was in the 12-yard lottery to Italy and no one expected much of Hodgson or his team back then. Having been summoned to the colours with a 999 call just weeks before the finals it was an achievement reaching that quarter-final.
This time, however, responsibility lay heavily on England's shoulders, the burden exacerbated by the usual crop of withdrawals.
The bitterest blow was losing Daniel Sturridge, in fine form for Liverpool. Hodgson, pointedly, mentioned after the Moldova match on Friday night that Sturridge had managed to play with his injury against Manchester United last weekend, having suffered it a few days earlier against Notts County, according to Hodgson, who then ruminated that "perhaps he'll be able to do the same for us". He did not, of course, and Hodgson will doubtless take a keen interest in whether his absent striker appears for Liverpool against Swansea on Monday.
Shorn of Sturridge, Wayne Rooney, Danny Welbeck and Andy Carroll too, Hodgson sent Rickie Lambert into the fray, a veteran footballer but an international ingénue. Lambert has settled well at this level but found it tough as he was left far too isolated and too often fed on a diet of long-ball scraps. Fortunately for England, Ukraine were nervous and just as poor offensively.
England's sorties behind the old Iron Curtain, in desperate search of a result, had not always ended in tears and recriminations. Ron Greenwood was on the brink of resigning when England stunned Hungary 3-1 in Budapest in 1981. Just five years ago Capello shattered Croatia's hold over England with a 4-1 win in Zagreb, Theo Walcott's finest 90 minutes. Perhaps most impressively in 1987 Bobby Robson's England went to Belgrade needing a win to reach the European Championship and scored four times in the opening 25 minutes.
After that victory the Mirror declared: "England are on the march", adding they "can overwhelm the cream of Europe" at Euro 88 with "a shining trophy within England's grasp". Come the finals England lost all three matches. There will be no such tub-thumping should England qualify this time, and with reason.
Join our new commenting forum
Join thought-provoking conversations, follow other Independent readers and see their replies