Comment: With the Gareth Bale fee already spent, Andre Villas-Boas must get new Tottenham team to gel
Derby defeat shows the Spurs manager must quickly integrate his seven new signings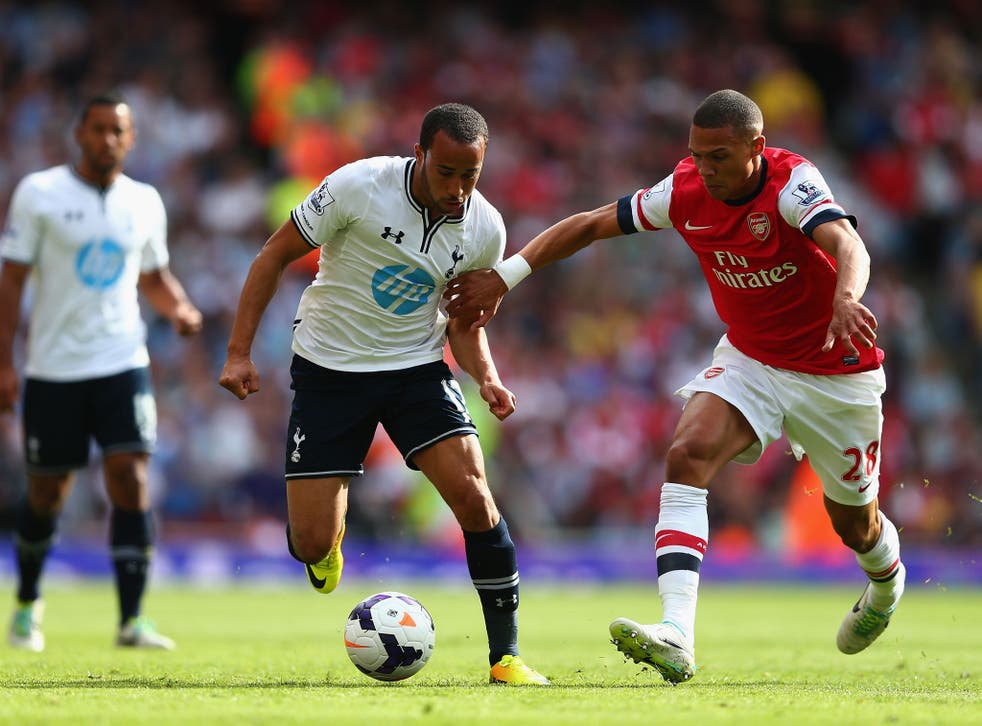 With the money in the bank, the man in Madrid and the replacements bought, the long hard road of work can now begin at Tottenham Hotspur.
The Gareth Bale sale was a historic moment, and it might even be seen one day as a necessary step in the club's journey. Spurs have done the first part as well as they possibly could, spending almost all of the fee on seven excellent replacements. The next task, the longer task, which will decide if it was worth it, is whether their manager, Andre Villas-Boas, can mould them into a better team.
Sunday evening cannot have been much fun for Spurs fans. In isolation the Bale news might have mattered less, but it came immediately after something far less enjoyable and – in terms of emotion and meaning – more important: the 1-0 north London derby defeat at Arsenal. It was, entirely understandably, a disjointed and patchy performance from Tottenham and one that showed just how much they now need to do.
After the thrill of an ambitious August, this was the realisation that in September Spurs will be measured only on the pitch, where they have some improving to do. Sunday was Spurs' third Premier League game of the season, after 1-0 wins over Crystal Palace and Swansea City, and they looked no closer to scoring their first goal from open play of the season.
In their first two matches Spurs won thanks to Roberto Soldado penalties but at the Emirates, for all Villas-Boas's post-match enthusiasm – "the second half was all ours" – they created almost nothing of note at all.
Spurs were playing the same system that beat Swansea, a 4-3-3 with a very muscular imposing midfield of Etienne Capoue, Paulinho and Mousa Dembélé. Nacer Chadli and Andros Townsend were either side of Soldado.
The midfield was strong – but too often overrun by Arsenal's quicker, nimbler arrangement. There was more of a problem, though, going forward, where there was very little linking between the lines. Soldado was frozen out of the game, Chadli was quiet and the only opportunities seemed to come from Townsend taking on Kieran Gibbs, cutting inside and shooting.
It was the sort of closed game which, so often last season, Bale would have broken open. Last season, on his miracle run which earned him his €100m move, he scored Spurs' only goal in 1-0 wins over Sunderland, Southampton and West Bromwich Albion, and in the 1-1 draw at Norwich City, which started it all.
But now Bale is gone and so Spurs will have to find a different way of playing. Villas-Boas said after the game that the 4-3-3 system was "more or less the way we want to go forward this season". This will have to work better in future. Paulinho and Dembélé, in time, will get better at picking their runs forward while Erik Lamela, the talented winger, could be darting in from the right wing when he adjusts to the pace of the Premier League.
There is another option too, which is moving to a 4-2-3-1 system which was more successful last year, with Lewis Holtby, Gylfi Sigurdsson or – most likely – Christian Eriksen in the No 10 role. "He is a wonderful creative player, a good solution for our No 10 position," said Villas-Boas (below). Spurs might even pair Soldado and Jermain Defoe up front in a 4-4-2 system. "In between those systems we will fall," the manager added.
These are both promising approaches, and Spurs have far more depth than they did last year. It was Arsenal's options from the bench that were so important in the spring – as they brought Lukasz Fabianski, Aaron Ramsey and Laurent Koscielny into the team to turn around results. This year, in defence and midfield especially, Tottenham have the better reserves, and their bench was far superior to Arsenal's on Sunday.
But these things take time, as Villas-Boas accepted. "I am not concerned," he said. "It is not a concern, it is something that we have to work on. It is very, very difficult, with stops for international duty, but I think it will come through time and through matches."
It will have to. Spurs have moved on before, after the sales of Dimitar Berbatov and Luka Modric up the food chain in the last few years. Bale did, of course, cost more than Berbatov and Modric combined, and was probably more important to Spurs. But he is playing in a different white shirt now and Tottenham, having done the right things with their rewards, will now need to make the most of them.
Join our new commenting forum
Join thought-provoking conversations, follow other Independent readers and see their replies