Corinthian-Casuals to play Corinthians in front of 48,000 - last week they played in front of 127
Non-League side will play a friendly with Brazilian giants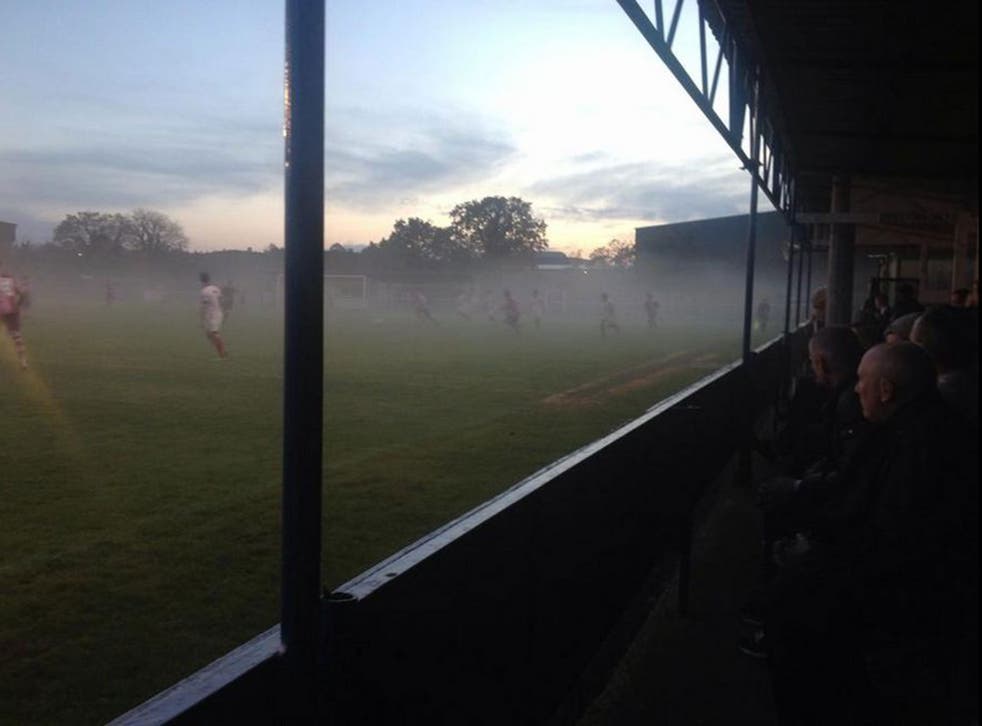 Corinthian-Casuals, who play in England's Isthmian League South - the eighth tier of the country's league pyramid - will meet Corinthians of Sao Paulo in a friendly on 25 January.
Corinthians have promised the gate money will go to help the English club pay for the tour and for a documentary they are making on the club's history.
"Corinthians only exist because of the Corinthian-Casuals, and our links go back more than 100 years. We have always been open to helping them," Corinthians marketing director Alexandre Ferreira told Reuters.
"We decided to promote a game where the gate money will help them pay the cost of the Brazil trip and the documentary."
The game will be played at the 48,000-capacity Corinthians Arena, which was built for the World Cup, and will be part of a week-long tour of the South American nation.
It will pit an amateur side featuring a policeman, a decorator and a builder against the 2012 World Club Cup champions who boast at least five internationals in their ranks and who are in fifth place in Serie A.
"Some people have said you are going to lose very badly, but I don't think the idea is for Corinthians Paulista to beat us very badly," said Chris Watney, the former Casuals striker who is organising the trip.
"The idea is to celebrate the story and the whole Corinthians family."
Sport Club Corinthians Paulista, to give the Brazilians their full title, should beat their rivals easily, but they might also consider their history before handing out a drubbing.
The Brazilian side was formed in 1910 by five factory workers who were inspired by Corinthian's first tour to Brazil earlier that year.
At the time, Corinthian were one of the world's best-known teams, and such was their fame that they were invited back to Brazil on two occasions.
They returned in 1913 and scheduled a game against their namesake in Sao Paulo in August 1914. But when their ship docked in northeastern Brazil on their first stop, they learned that war had broken out between Britain and Germany
The four players who were in the Reserve of Officers took the next boat home and their 13 colleagues continued on to Rio.
When they got there they stayed long enough to see the city but then decided en masse to return home and support their team mates.
After dodging German battleships and U-boats, every one of them signed up for active service.
"They were the first icons of world football, and there is something sad that these guys never got to play football again," Watney told Reuters.
"They didn't have to come back when they landed in Rio, they chose to come back before kicking a ball. And then they died.
"These were the guys who exported football to the world, and so I think it is of national importance that we pay tribute to them."
Some of the club's greatest names were on the tour to Brazil, Watney said.
They included Cuthbert Brisley, then considered one of the game's best goalscorers, and Max Woosnam, who, as well as playing for Corinthian and captaining Manchester City, hit a century at Lord's, won a Wimbledon doubles title, and scored a maximum 147 break at snooker.
Corinthian-Casuals - who were officially formed in 1939 after a merger between Corinthian and Casuals - will also play two other teams that their predecessors had scheduled to meet in 1914, including Sao Paulo Athletic Club, founded by Charles Miller, the man credited with taking football to Brazil.
The initiative was welcomed by Corinthians, the Sao Paulo giants who now claim to have 30 million fans worldwide.
The club has maintained warm relations with their mother club, and Ferreira said the friendly game had already sparked interest among their famously fanatical supporters.
"We were able to see via social media that a lot of our fans want to see them and pay tribute to them," Ferreira said.
"We are going to use our professional team but normally in pre-season we play teams that are not quite on our level technically," he added.
"It is important for to us to have warm-up games that are less intense. The scoreline is not important, the event is important for our fans to know their history."
The game between Corinthian-Casuals and Corinthians will take place on the anniversary of the foundation of the city of Sao Paulo.
Reuters
Join our new commenting forum
Join thought-provoking conversations, follow other Independent readers and see their replies