Danny Higginbotham: Talk of Angel Di Maria struggling to settle is nonsense - Louis van Gaal is wasting his talent at Manchester United
Talking tactics: All the problems stem from the way that Van Gaal has Manchester United set up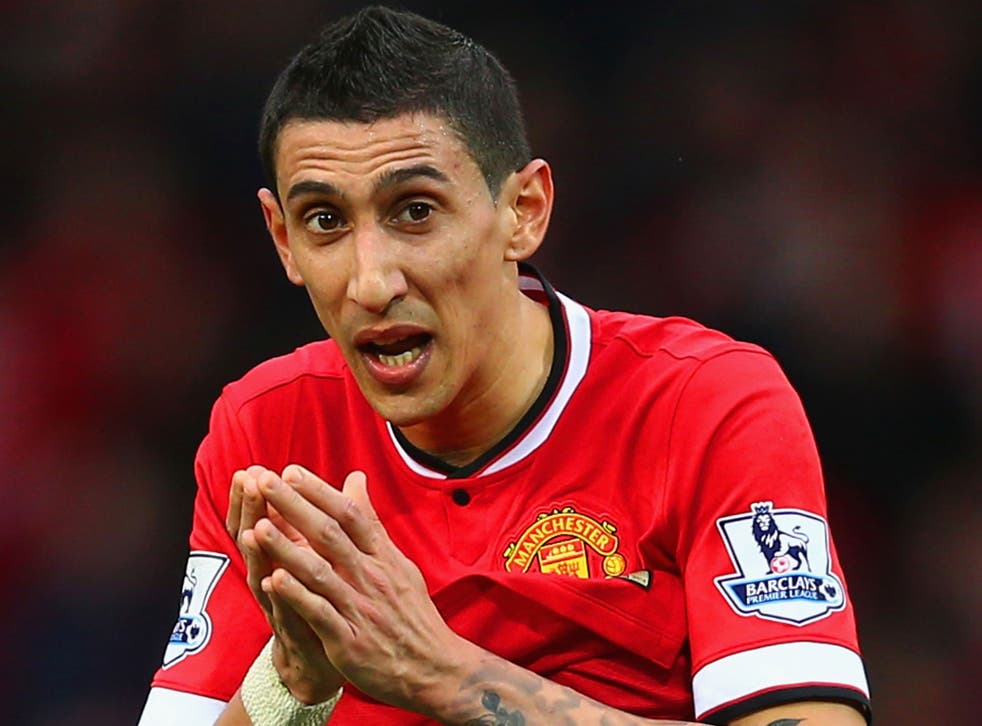 I've heard a lot about Angel Di Maria this week – a lot of talk about how it will take him a year to settle in England and how he's not that happy yet. And even though much of this is coming from the man who ought to know him better than anyone – his Manchester United manager - I have to say that I find it a little less than nonsense.
The truth about Di Maria, I feel, has nothing to do with the personal circumstances of a player trying to settle. It has everything to do with the way one of Europe's top three players – the Man of the Match for Real Madrid against Atletico in last season's Champions League final – is being wasted on the field.
All the problems stem from the way that Louis van Gaal has Manchester United set up. One of the oldest adages that a manager will have for a team is 'make the space on a pitch big when you are in possession and small when you are out of it.' But United have so many players – Di Maria included – trying to work in the same midfield area that it's bordering on claustrophobic in there, with no space for Di Maria to play and create. Neither are we seeing him being challenged to put the fear of God in a full-back, one v one, on his natural left side. I played at full-back and I can tell you that there are few things that would put more fear into defenders than Angel Di Maria running past them. But it just doesn't happen.
Manchester United - the latest match in pictures

Show all 124
Why is this? Because Van Gaal is showing no inclination to stretch the pitch, either vertically or laterally. We've talked on these pages before about how United need either the aerial presence of Marouane Fellaini or the pace of a James Wilson up top with Wayne Rooney, to get their opponents worrying and dropping six yards deeper to make sure that they give themselves a head start in that particular duel. When the defence drops, it creates space for the players behind, like Di Maria, to do their work. And bingo.
I was encouraged when I saw that Van Gaal had selected Fellaini to start at Newcastle on Wednesday night. 'Now we'll be seeing you' was what I thought about Di Maria. And then it transpired that the Belgian was in a line of five behind Rooney. None of that aerial danger, a horribly compressed midfield again and no real difficulty for two of Newcastle's players to mark three of United's.
When United are in possession at the moment, it looks like they are on a five-a-side pitch. You have Rooney – dropping deep; Radamel Falcao – dropping deep; Di Maria – wanting to come inside from the right; Ashley Young – wanting to come in from the left and get on his favoured right foot.
I like what I've seen in Young these past seven months. For me, he's one of United's players of the season. These are four of United's most dangerous players. But all that compression in the middle gives Di Maria no space whatsoever. The match stats from Newcastle told the story of a player tucked up in midfield with no room to create. Just 63.6 per cent pass completion and 59 minutes on the field – to go with the 45 minutes he was given at home to Sunderland, four days earlier.
Compare this situation to the one Di Maria had at Real Madrid last season and you'll see what a world of difference it was for him there. Carlo Ancelotti had him playing behind a line of Gareth Bale, Karim Benzema and Cristiano Ronaldo and it was the way the side was set up to stretch the game, as well as the quality of those players, which helped the Argentine. Ronaldo would drive inside, leaving space for di Maria behind him. What a contrast to Wednesday, when it must have been music to Newcastle's Ryan Taylor's ears to find that Di Maria was not going outside to test him, one-on-one.
United are missing some of the most basic principles required to stretch a team. When both of your wingers are playing on their 'wrong' side, cutting in on their favoured foot, you need full-backs who can fill the space they vacate and power down the wings to push defences back. There's no sign of that.
This is a club which has always been built around stretching sides to breaking point. You've had full backs like Gary Neville, flying past the wingers and taking the opposition full backs with them. You've had players like Andrei Kanchelskis, Lee Sharpe, Ryan Giggs and David Beckham making the field big, creating space for someone like Paul Scholes. I only played for United on a few occasions but I can tell you that no one had to mention this was the way we played. It was implicit in every attack-minded player Sir Alex Ferguson bought. I can tell you how it feels being on the receiving end of a team that stretches the pitch like that. One 3-0 defeat to United sticks in the mind as much as any. Your head was in a spin when you were up against them.
There is a psychological dimension to Di Maria's difficulties – but it actually belongs to the opposition. At Madrid last season, he was considered the third or fourth most important member of the team and third or fourth on the list of players the opposition wanted to stop. This season, opponents are viewing him as the most important member. 'If we stop Di Maria, we stop United' is how teams are viewing it.
As for this idea of it being hard for him to settle – well, I'm sorry, but I don't agree. Many of us have unsettling times in life while we've been playing and periods when we're not too happy. But football becomes the oasis and something to put your focus into when everything else around you is difficult. It ought to be the same for Di Maria, if Van Gaal would just start pushing teams back like Chelsea, Manchester City and Liverpool do. It is time for him to tell his most expensive player that the left wing is the territory that belongs to him and a place to make his own. Players like Di Maria don't forget how to devastate defences overnight. I know that from all-too painful experience.
Join our new commenting forum
Join thought-provoking conversations, follow other Independent readers and see their replies