David Moyes v Jose Mourinho: Manchester United don't need change - they need more of the same
The Independent's Sam Wallace weighs up the argument between Sir Alex Ferguson's potential successors at Old Trafford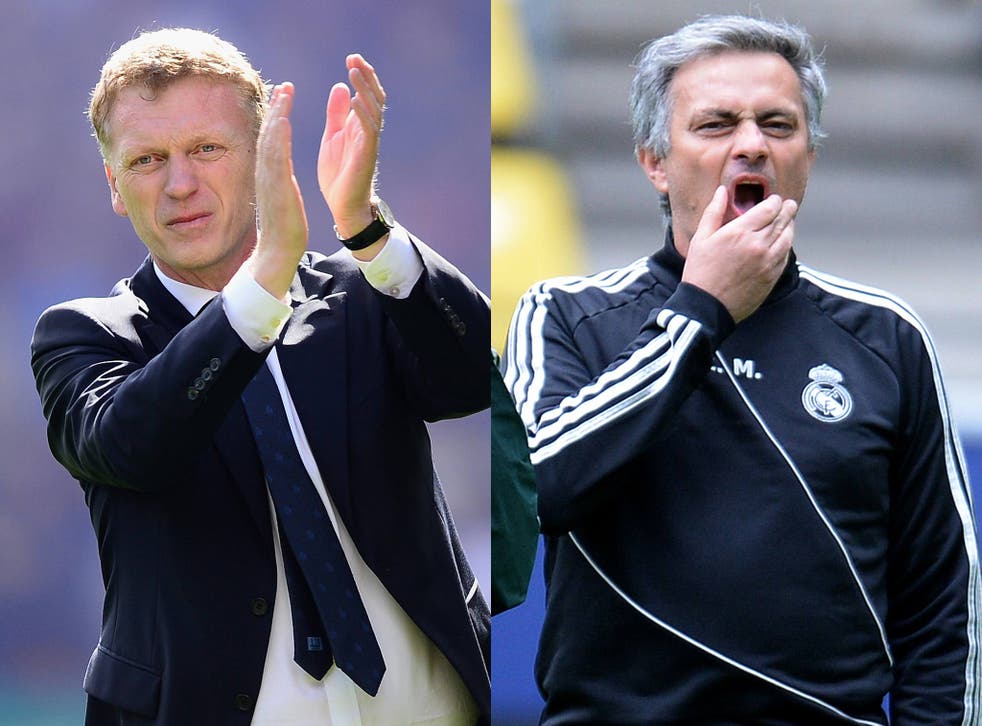 The last time David Moyes was at Old Trafford was not the 2-0 defeat for Everton on 10 February, but 23 days' later when he worked as a summariser for BBC Five Live for the second leg of Manchester United's Champions League quarter-final against Real Madrid.
On the opposition bench that night was Jose Mourinho, the other leading contender, according to the bookmakers, to succeed Sir Alex Ferguson after today's announcement that he will retire at the end of the season. When comparing the two men's credentials for the job it is important to remember one factor that is different when it comes to appointing a new manager at United.
Usually when a manager leaves a club, what is required by those he leaves behind is change. On the occasion of Ferguson leaving United what the club want is more of the same.
They do not want the whole edifice built up over the last 20 years to be torn down. Rather they want a seamless transition with more of the success upon which they have built their dominance - financial (in terms of the revenue they generate) and competitive - of the English game.
For many, the question of Mourinho or Moyes as successor to Ferguson at United is no question at all.
Mourinho is the ultimate trophy-hunter of the modern age: seven league titles in four countries in 11 seasons and two European Cups, which is as many as Ferguson won. He has brought teams to Old Trafford in the Champions League and eliminated United on two occasions. While Moyes was in the press box on 5 March, it was Mourinho whose team were doing the business on the pitch, eliminating United on what would be Ferguson's last European night.
Mourinho - the reputation, the record, the sheer force of the personality - is big enough for United. It would never end with him being overwhelmed by the scale of the task or daunted by the size of the job. It might, however, end in a frenzy of bitter recriminations and a lot of collateral damage from which it takes a long time for the club to recover.
The people who run United are not accustomed to those kind of episodes - certainly not those played out in a public fashion - in the way in which their peers at Chelsea, Real Madrid or Liverpool are. In making their decision, or in having made it already, they will naturally take those concerns into consideration.
As for Moyes on that night in March, it is not often that you see a Premier League manager as senior as him in the pressroom with reporters - it tends to be those out of work who usually fulfil those gigs. Off-duty he is good company, relaxed and conversational. He mixes easily among those reporters who, in his capacity as Everton manager, are on the other side of the fence most of the time.
There is not that distance that comes off Mourinho, that need to be treated differently and regarded as a man apart in all but the most select company. Mourinho is the man for the grand occasion, the sound-bite at the set-piece press conference on the eve of a big game. Moyes can be more brittle and terse on those occasions, but he has much more of a common touch with the people around football - staff, fans and the press.
The parallels with Ferguson are obvious - despite being more than 20 years his junior they have similarities in their Glaswegian football heritage. Moyes, 50, the same age as Mourinho, is six years older now than Ferguson was when he took the United job in November 1986.
Moyes has had nothing like the success that Ferguson enjoyed with Aberdeen before he took over at United more than 27 years ago, but then these are very different times when success has to be measured in many different ways. There will never be another Ferguson chiefly because the circumstances of post-war Britain that created a character like him no longer exist, but Moyes is not a bad fit.
He is a man who likes to dominate a football club from the top to the bottom. He has a strong personality. He has a track record on English football over the last 11 years which demonstrate that he is capable of thriving in the game's ultra-competitive environment.
There is also a sense about Moyes that he is capable of understanding what a club like United represents, and what Ferguson has created there. Of course, supporters of all clubs think that theirs is special, and different to all others. But one could hardly deny that the success of United over the last 20 years marks it out, as well as the ethos that no single individual - even Ferguson, as of today - overshadows the club.
A senior figure at the club once told me that whoever succeeded Ferguson would have to demonstrate that they "got" what United was all about. That it could not be a platform just for the projection of one individual alone. While at the same time, that manager would have to be a big enough personality to deal with the enormity of the challenge and the legacy of Ferguson.
It is not a simple line to walk. Moyes has shone at Everton but not to the extent that he has been able to win a trophy. There have been some near-misses, of course, but at a club like United, where trophies are the currency, that can make people nervous.
There are no such doubts where Mourinho is concerned. He has a record that is comparable with any manager. He is the closest thing to a guarantee of success that a club can buy in the modern game. That must be a very tempting proposition for a club of United's size who are facing up to the unknown.
On that night in March, Mourinho emerged as the victor and, as is his way, played the slavishly loyal respect card when it came to Ferguson. Although it should be said that on the thorny issue of Nani's controversial sending off, he was, in a scrupulously polite fashion, completely unsympathetic.
That has been Mourinho's approach to Ferguson and United, since he took over at Chelsea but it was different on his first visit in 2004 with Porto when he poked fun at his opposite number. That was back in the days of "mind games" and Mourinho was delighted at how angry Ferguson had got over his goalkeeper Vitor Baia's role in Roy Keane's sending off in the first leg.
That was before Mourinho really hit the big time and wised-up that if he wanted to plot a career at United, making light of them was not the way to go. But they will not have forgotten at United and, as Sir Bobby Charlton intimated recently, they have been watching his career with interest ever since. More of the same is what they want, which means success without aggravation.
You get the impression that in an ideal world they would like that man to be Moyes.
Further reading
United hope to appoint Moyes by end of the week
Sam Wallace: What next for United after Ferguson?
His best XI during his reign
His 13 titles remembered
Season-by-season guide
Players pay tribute
Ferguson's statement in full
Join our new commenting forum
Join thought-provoking conversations, follow other Independent readers and see their replies