World Cup 2014 stadium collapse: Deaths in Sao Paulo Arena Corinthians add to worries ahead of tournament
Fifa concerned at slow construction pace and Brazilian public's protests over costs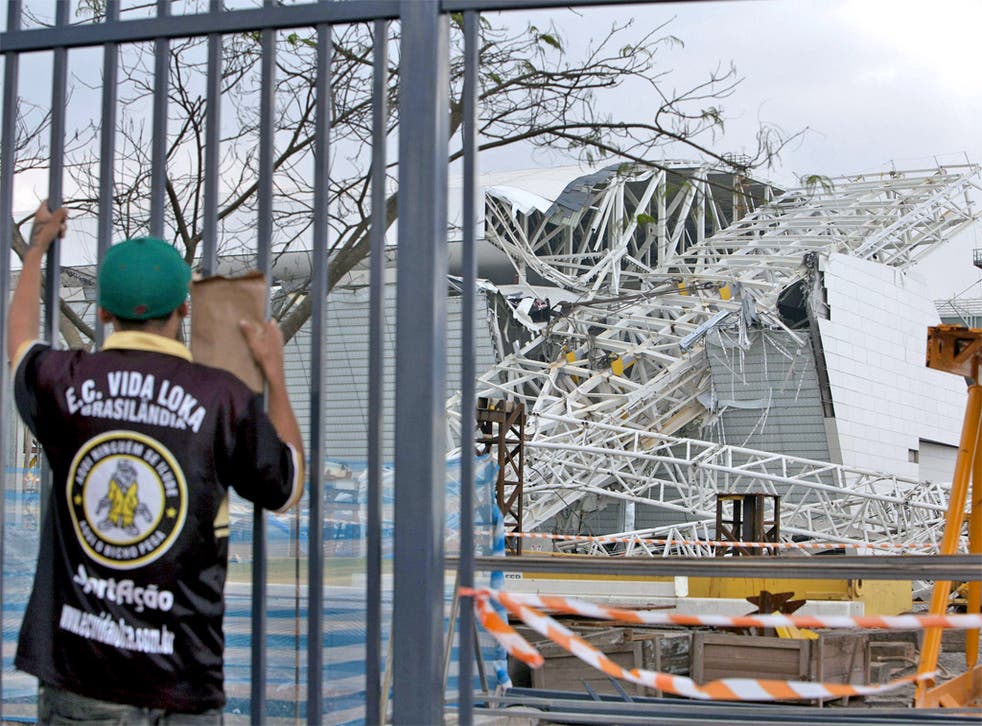 Even before Wednesday's tragedy in Sao Paulo, in which two workers were killed when part of the stadium that will host the opening game of next year's World Cup collapsed, Fifa was worried about the slow progress of building work at many of the 12 tournament venues.
A meeting is planned next month with an "intervention and acceleration" plan prepared in case the country is not ready on time. All the signs are that Fifa will need it, as Brazil once again struggles to prove itself ready for a tournament that is already sparking alarm on many fronts.
The accident at the Arena Corinthians is the third involving fatalities at a World Cup stadium, with four workers dead as a result. In June 2012, a construction worker fell 30 metres to his death at the Mane Garrincha stadium in Brasilia, and another worker died at the Arena Amazonia in Manaus in March this year.
Fifa's president, Sepp Blatter, on Wednesday night said he was "deeply saddened by the tragic death of workers", insisting that the safety of construction staff was ''a top priority''.
But many problems remain. A number of stadiums are unfinished, and some, such as those in Manaus, Cuiaba and Curitiba, are perilously behind schedule. The rains have now started in Manaus, slowing building work to a crawl, and Mauricio Guimaraes, the man in charge of the World Cup project in Cuiaba, has admitted that the stadium there will not be ready until the middle of January – two weeks after Fifa's final delivery deadline. It is likely to be the same story in Curitiba, where the Arena da Baixada is only 83 per cent ready.
Even if all the World Cup venues are fully operational come June next year, it will come at considerably greater expense than forecast, as more and more public money is shelled out on overtime and additional costs.
The Brazilian government announced recently that the World Cup stadiums are expected to cost the country around £2.1bn, the vast majority of which will come from public coffers.
Such lateness is particularly hard to fathom, given that Brazil was officially awarded the right to host the World Cup as far back as October 2007. More than 18 months then dragged by before the 12 host cities were announced in May 2009, and political bickering in Sao Paulo meant the site of the World Cup stadium in Brazil's biggest city, scene of Wednesday's accident, was only officially confirmed in October 2011.
It was this sense of heels being dragged that led the Fifa general secretary, Jérôme Valcke, to grumble that the country "needed a kick up the backside" in 2012. It was not a comment that went down well among the locals – but neither was it inaccurate.
Worse news for World Cup organisers is that the Brazilian people, who have for so long displayed an almost wilful acceptance of the corruption and sloth that pervade the country's corridors of power, have finally found their collective voice – and an angry voice it is.
As the Confederations Cup took place in June this year millions of Brazilians took to the streets in protest rallies that were sparked by bus fare rises in Sao Paulo, but soon grew to include all manner of social ills, from woeful public health and education systems to thuggish police handling of demonstrators.
No one knows if the protests, many of which ended in violent confrontations with the police, will return at the World Cup next year. The next potential flashpoint could be the draw, which takes place on 6 December.
Former playing great Romario has been an outspoken critic of the World Cup. "I am not against the World Cup, but I am against the excessive spending," he has said, and on another, rather more graphic occasion, "Brazil has opened its legs to Fifa."
Brazil will, in one form or another, be ready for the World Cup. But when it comes to hosting the tournament, those famous Brazilian smiles may already be slipping.
Join our new commenting forum
Join thought-provoking conversations, follow other Independent readers and see their replies