Deloitte Football Money League report: Manchester City FFP hopes lifted by revenue hike - but it's not good news for Manchester United
Increase to £40m should be enough to pass Uefa's test - and avoid a Champions League ban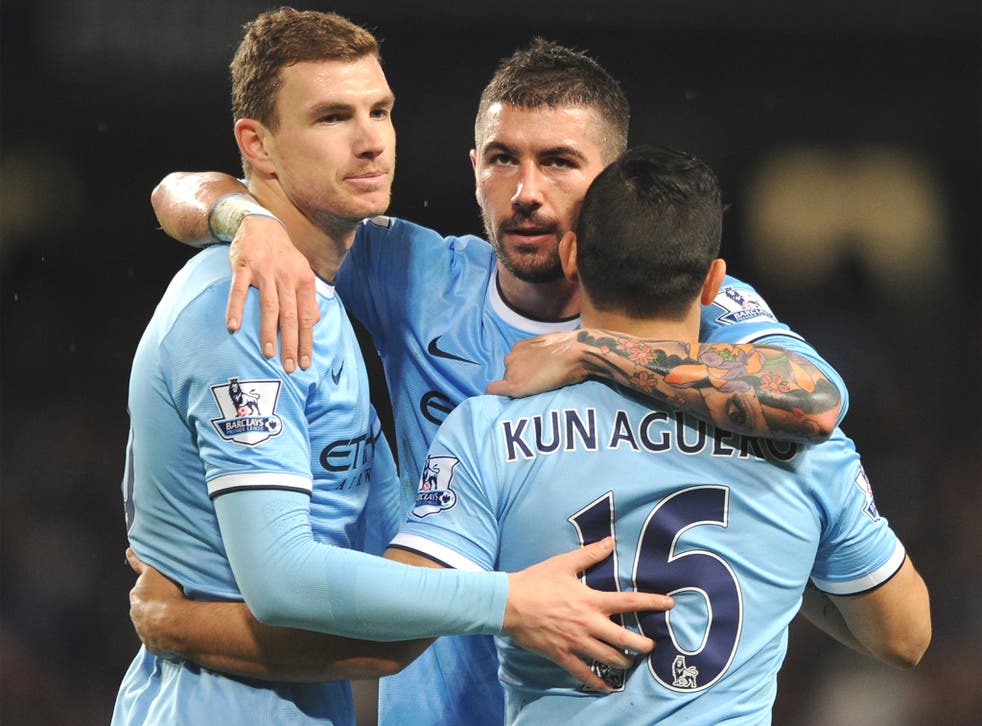 Manchester City appear set to pass Uefa's Financial Fair Play test – and avoid a Champions League ban – having increased revenues by £40m, according to figures released today in the Deloitte Football Money League report.
The European football world has been waiting to discover if City's results for 2012-13 – which the club are yet to disclose – reveal a big enough reduction in losses to see them comply with FFP.
The financial information published in the report today creates the first real picture of how the club has fared. It reveals City's revenues are up to £271m, enough to keep expected losses around the £60m mark, though financial experts were last night baffled by a key component of the claimed extra revenue.
The Deloitte breakdown shows City's commercial income at £143m and media revenues at £88.4m – both in line with expectations and equivalent to the previous year. It suggests a £40m increase on commercial revenue on the previous year and matchday income has increased by 12 per cent to £39.6m. City's overall revenue figure sees them virtually over the line in passing FFP.
FFP rules state clubs must keep losses to an aggregate of €45m (£37.2m) across the 2011-12 and 2012-13 seasons – and, having recorded pre-tax losses for 2011-12 of £98.7m last December, the club have had their work cut out, although Uefa is open to accepting a club's "direction of travel" as demonstrating an intent to meet FFP regulations. But since they have only marginally passed the test, accountancy practice means they might need to issue their financial results with some form of warning that Uefa may invoke some kind of punishment for non-compliance.

Some observers question whether City's Etihad sponsorship deal, worth around £400m over 10 years, is a means of the club's Abu Dhabi owners artificially injecting cash to reduce losses, but the club deny that and insist the deal is in line with market rates.
Responsive:
City suggested last night that a change in the way Deloitte has accounted for revenues may have contributed to the dramatic increase in matchday income.
Ed Thompson, the FFP commentator and analyst, queried how commercial income could have increased so much last season. "It is certainly a baffling figure," he said. "There always looked like there had to be some kind of off-the-wall element to the figure, to mean that City complied with FFP."
City's 2012-13 losses will not be divulged until their financial results are revealed. But since those losses are likely to be lower than 2011-12, they will be permitted to take out of the equation all wages for players signed before June 2010 in the final FFP reckoning. That figure – which might total £60m – also seems certain to be vital to City being able to keep their losses within those allowable under FFP.
In the annually compiled Money League, City have risen above Chelsea for the first time but it is another Middle East-owned club – and another whose ability to meet the demands of FFP will be closely observed – that has made the most eye-catching rise. Paris Saint-Germain, owned by Qatar Sports Investment, nearly doubled their revenue in 2012-13, lifting it from £178m to £342m. That is largely down to a huge deal with the Qatar Tourist Authority – the four-year agreement will see incremental rises each year up to €200m for the final one in 2016. PSG are also backed by a €75m deal with the Qatari telecommunications provider Ooredoo.
The club have faced similar accusations to City over the QTA deal. A special panel will make a decision this spring.
"We expect to see PSG become a mainstay in the top five [in the Money League] in years to come, backed by their ambitious Qatari owners and strong commercial support," said Austin Houlihan of Deloitte Sports Business Group.
Join our new commenting forum
Join thought-provoking conversations, follow other Independent readers and see their replies