Manchester United: Louis van Gaal insists 'plan is working' as he enters key period
'I do think it is working. The style is also working, but it is not giving the best results'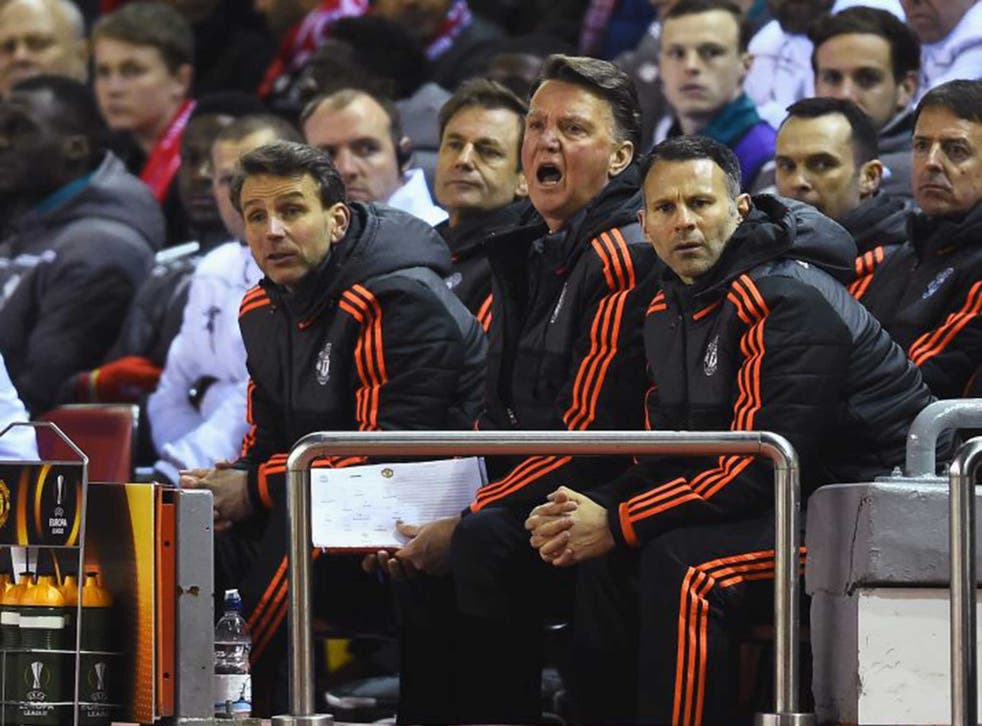 Barring a sudden change of form and fortune, Manchester United's season could be as good as over by 6pm on Sunday 20 March, which potentially gives Louis van Gaal just eight days to save his job at Old Trafford.
With West Ham United providing a live and dangerous FA Cup quarter-final opponent tomorrow and a trip to Manchester City in the Premier League looming on 20 March, Van Gaal's players seem to be between a rock and a hard place as they search for the victory which will prolong their competitive interest in this campaign.
Unless, of course, Thursday's 2-0 Europa League round-of-16 first-leg defeat at Liverpool can be overturned in what would become one of Old Trafford's greatest European nights next week.
Few who witnessed the insipid surrender at Anfield will back United to pull that one out of the fire, least of all former midfielder Paul Scholes, who derided Van Gaal's team as a "shambles" and United as a club "going the wrong way".
But if United find themselves on the wrong end of a defeat at the Etihad and also out of both the FA Cup and Europa League by the evening of the 20th, then Van Gaal's team will have fallen off a cliff a full month sooner than when a 2-0 defeat at Everton on 20 April 2014, signalled the end for David Moyes.
That defeat at Goodison, 11 days after a Champions League quarter-final elimination against Bayern Munich, ended United's hopes of a top-four finish, but only the most one-eyed supporter would suggest they will remain alive and kicking in this season's race for Champions League qualification in the event of a defeat across town.
Still, Van Gaal continues to insist that something tangible can be plucked from the mire this season, even if the Dutchman is beginning to sound like a man who can no longer see events unfolding in front of him.
When asked whether the next week would determine his future, Van Gaal not only refused to engage, but went on to claim that, in his view, his United plan is on track.
"Yes, I do think it is working," Van Gaal said. "You have to see how we have to work with the circumstances we have to work. I do think it is working. The style is also working, but it is not giving the best results.
"When you don't have too many players and you have to play in three competitions it is very difficult to play.
"We are in three competitions still. After the defeat in Midtjylland, you [the media] have sacked me already and then we stood up and we got into the next round and that is still possible against Liverpool. Maybe we can score three goals. It shall be very difficult, I know that, but it is possible. It is not impossible.
"Against West Ham United it is also possible. At Old Trafford, we normally win our games.
"But I don't want to discuss it [the future] with you because you are not part of the people who determine it."
That United remain alive in the Europa League, not to mention the race for the top four, has largely been down to the form of goalkeeper David de Gea, who produced four world-class saves at Anfield to deny Liverpool the opportunity to render the Old Trafford return next Thursday as meaningless.
The Spaniard has largely been left to carry the fight on his own in recent months, with injuries to key players such as Wayne Rooney not helping United's ambitions, but there is little light at the end of the tunnel on the injury front ahead of West Ham's visit and the second leg with Liverpool.
"I don't want to hide behind the injuries," Van Gaal said. "We are still in three competitions, so we can fight for a lot. Still we have the chance to win something and you have to believe in that.
"We are in three competitions and there are many of my colleagues who are not in three competitions any more."
With Juan Mata suspended for the match against West Ham tomorrow and Marouane Fellaini facing a potential Europa League ban following an off-the-ball elbow incident with Emre Can at Anfield, Van Gaal's options are diminishing again and three games in three competitions over the coming eight days may ultimately prove to be three strikes and you're out.
Join our new commenting forum
Join thought-provoking conversations, follow other Independent readers and see their replies