Don't fall for the myth that Pep Guardiola is Santa, while Jose Mourinho is Satan
I feel uneasy about the way the Spaniard's cheerleaders treat him as a cross between Rinus Michels, Miguel de Unamuno and Saint Nicholas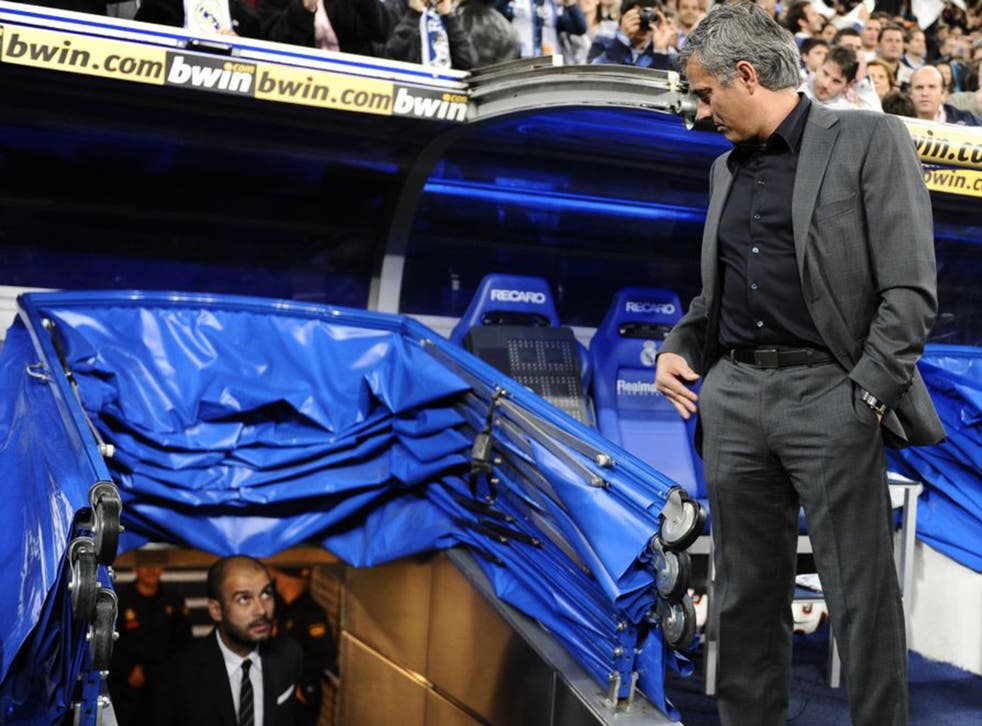 You mean the big fat man with the long white beard? No, Bing, no. Apparently the real Santa is bald and svelte. You know: designer stubble, V-necked jersey, would fit most chimneys. Anyway, what about him?
He's coming to Town! Golly. I do hope not. Mick McCarthy's doing a very solid job. Besides, I thought he was going to Manchester. Or Chelsea. Depends who wrote him the nicest letter, I suppose:
"Dear Santa. Please can I have a Premier League trophy, a Champions League trophy, a pair of socks, and some walnuts. NB: I have always believed in your existence – even when that nasty man from Portugal implied that you were a bit of a con. Did you hear that spiteful remark about leagues where 'a kitman' can be a coach and win the title? (Don't worry, he's gone now. He did give me the first trophy, to be fair, but has only ever given the second one to other people.) Actually, you won't believe this but I even know one or two people who think the real Santa lives in Leicester! But I know the man they mean. He was also here once. I gave him a whole season to win the Champions League – and he only got me to the semi-final. PS You will see that I have put a tot of vodka by the fireplace and a mince pie. Also a billion roubles. If this is not enough, just let me know."
Oh, Mr Abramovich! Did Old Grandfather Frost never make it along your stretch of the Volga? Absolutely standard issue: big fat man, long white beard. Just how is it, then, that you and everyone else have fallen for the myth that only Pep Guardiola can deliver the perfect gift for the oligarch who has everything?
The 10 highest paid managers in the Premier League

Show all 10
Now I wouldn't pretend for a moment the slightest competence (or desire) to question Guardiola's status as a world-class coach. Nor, certainly, would I subscribe to far more risible shibboleths about Guardiola needing to prove himself in the "greatest league in the world". I just feel a little uneasy about the way his cheerleaders treat Jupp Heynckes, Tito Vilanova and Luis Enrique, for instance, as thoroughly decent managers simply privileged to have worked with world-class players – and Pep as a cross between Rinus Michels, Miguel de Unamuno and Saint Nicholas.
Granted, Barcelona were in a Frank Rijkaard-shaped hole when he stepped up. But the team that made Guardiola's name also happened to comprise the core of the national side that won the World Cup and consecutive European Championships – their intricate, intense passing honed by Luis Aragones and Vicente del Bosque – supplemented by a little fellow named Lionel Messi. By Pep's final season in Barcelona, moreover, people had begun to figure out ways to thwart his relentless passing machine. It failed to overcome a Chelsea side set up in a fashion he may soon find wearily familiar, if he does indeed come to England, while Real Madrid romped away with the league.
The following year, moreover, tiki-taka appeared to reach a terminal crisis when its greatest practitioners were ruthlessly exposed by the dynamism of Bayern Munich under Heynckes. Even as the tragic Vilanova retrieved La Liga with a haul of 100 points, a 7-0 aggregate humiliation in the Champions League semi-final showed the world that a powerful alternative had now been developed to the hypnotic Catalan model.
Naturally it helped that Heynckes, in turn, could call on several players who were about to win a World Cup. Regardless, Bayern were already committed to retiring him in favour of Guardiola, who promptly set about ridding his new team of the approach that had humbled his old one. His new improved Bayern were promptly blown away in their next semi-final by Real Madrid, 5-0 on aggregate, albeit most excused their failure at the same stage last season – the latest Barcelona coach, Luis Enrique, being blessed with Neymar and Luis Suarez as well as Messi. Guardiola's suitors in England, evidently reluctant to hail Luis Enrique as an equivalent genius, presumably feel that any old kitman could win with a team like that.
Mind you, Juventus made a rather better fist of things against Barcelona in the final – even without their No 1 defender. As Bayern's opponents in the first knockout tie this time round, Juventus can pin their hopes on an outstanding coach operating in a league sooner decided by tactical excellence than money. In the Premier League, in contrast, Guardiola would be doubly blessed: by rivals who rely on expensive fig leaves to conceal their tactical deficiencies, and a budget of his own proportionate to his intergalactic reputation. But for now he's no more Santa Claus than Mourinho is Satan. So do please feel free to carry on crying and pouting until the real one comes to town.
(Between ourselves, I have a hunch you might find him lurking in Sassuolo. Buon Natale.)
Join our new commenting forum
Join thought-provoking conversations, follow other Independent readers and see their replies