Felix 'the dictator' Magath has been brutal in rebuilding Fulham – and results this season scream it's not working
Magath has relied on youngsters this season with senior players beings shut out - but four defeats in four suggest it might not be the way forward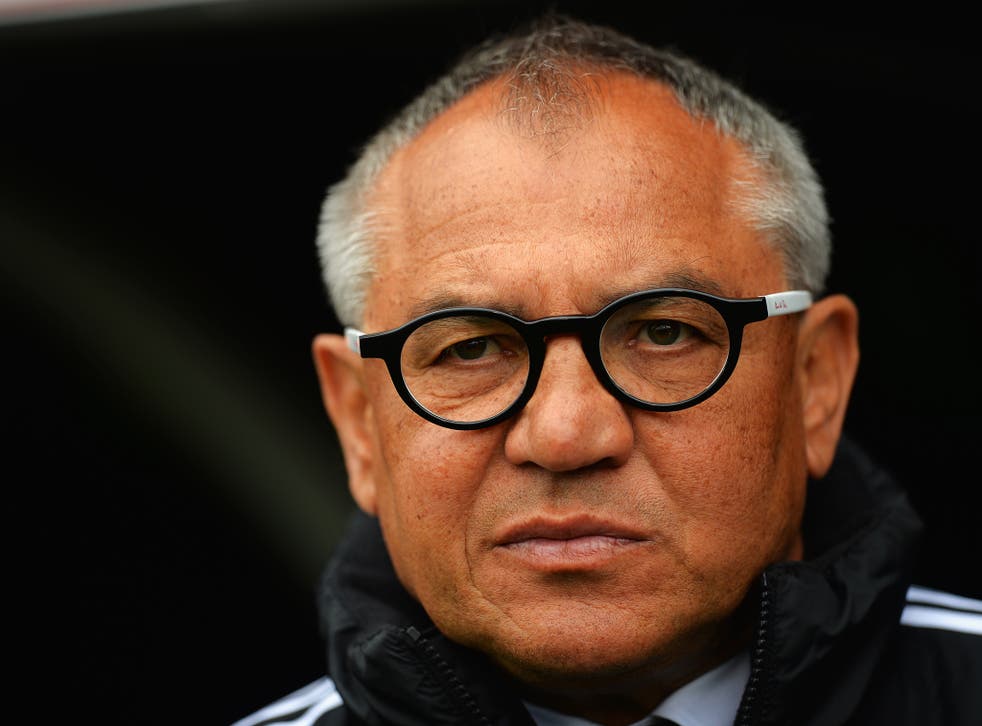 The last time Fulham went to Griffin Park to face Brentford more than 16 years ago both sides were in what is now League One and Peter Beardsley was playing for the away team. On Tuesday night they return for a Capital One Cup second-round tie that might have more hanging on it than is usually the case at this stage of the competition.
Brentford, newly promoted to the Championship from League One, are five points better off than Fulham, newly relegated from the Premier League and bottom after four straight defeats. There is something about a game against a neighbour that has lived in one's shadow for years to remind a team in crisis just how far they have fallen, and perhaps how much further they have to go.
The west London hierarchy is a disjointed affair. Chelsea tend to look elsewhere for their most serious rivals and choose to regard Fulham and Queen's Park Rangers as mere ticks on the hide of their European super-club. What everyone has been able to agree on, however, is that Brentford have long been bottom of the pile.
That might – for the short term at least – be about to change if Fulham conspire to play as poorly as they have done in their opening four defeats of the Championship season, culminating in Saturday's 5-1 defeat to Derby County.
It has been one hell of a fall for Fulham in the space of little more than a year since Shahid Khan, the American car parts billionaire, bought the club from Mohamed al-Fayed. They have sacked two managers and ended up with Felix Magath, the man who earned the nickname "Saddam" at one of his former clubs on the strength of the unyielding way in which he imposed his regime.
When Lewis Holtby found out that Magath, formerly his coach at Schalke, was coming into the club in mid-February, the German midfielder immediately asked to return to Tottenham. His fears were well-founded: against Stoke City last season, Magath substituted him after 34 minutes.
At Frankfurt they called Magath "the last dictator in Europe". At Wolfsburg he took a team from the brink of relegation and won the Bundesliga two years later. The question for Fulham is how long they continue believing in the dictator as he imposes his will, without results.
Relegation from the Premier League was one thing, but how long they stick with Magath could define Fulham's fortunes for years to come. The longer it goes on, the more the feeling is that Magath is not the answer to Fulham's problems – rather he is becoming the chief cause.
Fulham could hardly say they were not warned that Magath's approach to managing is rather like that of the post-war planners who ruined so much of what remained of Britain's cities. Magath seems to believe that what is already there must be demolished and rebuilt in his own image. The process is brutal. Once embarked upon it makes changing course even more momentous.
It will be that decision which Khan will face again if Fulham lose to Brentford. Magath insists on reporting to the American directly and speaks to him every day, bypassing the club's chief executive, Alistair Mackintosh. It will be Khan's decision, and Khan's alone, to sack Magath if that is what it comes to. The mood at the club is that Khan is not at that point yet.
Magath has made some extraordinary decisions this season already, including a massive clear-out of senior players that has left him with a collection of new arrivals and academy boys who so far lack the nous to navigate the Championship's gruelling 46-game marathon.
A decent pre-season with a group of young players convinced him that he could put them centre stage. Given that so few managers, especially those from overseas, have trusted academy-produced players, he deserves some credit for that. The problem is that the likes of Patrick Roberts, Cauley Woodrow, Sean Kavanagh and Jesse Joronen have been thrust into a side with, Scott Parker aside, too few experienced heads.
For all the anticipation that Fulham's current generation of academy boys will yield some first-team players, and perhaps, in Roberts' case, a good England international, the way a young player is introduced to first-team football is as important as giving him the chance in the first place. They need the best possible chance to thrive, and the current Fulham side does not give them that.
Given his remarks after the defeat to Derby, it seems that Magath is now changing course, and may pick a more experienced team tonight.
Certainly, the list of those whom Magath has ignored this season is even more puzzling, including the club's record signing from January, Kostas Mitroglu. Alongside him, Bryan Ruiz, Alex Kacaniklic, Dan Burn and Fernando Amorebieta have not figured either. Ryan Tunnicliffe, signed along with Larnell Cole from Manchester United by Rene Meulensteen, has returned from loan to be sent back to the Under-21s.
The departures have been eye-watering, with around 11 senior players, some out of contract, leaving in the summer, including Brede Hangeland, Steven Sidwell, Kieran Richardson, Pajtim Kasami and David Stockdale. The Dutch international goalkeeper Maarten Stekelenburg was loaned out. The club made around 50 redundancies post-relegation to save money although the mood is that the parachute payments make their finances sustainable for now.
Some of the signings have been just as confusing – and not just the size of the £11m fee paid to Leeds United for Ross McCormack. One wonders what it was about Mark Fotheringham's recent CV that persuaded Magath to sign him. At 30 years old the Scot's most recent former cubs – Notts County, Ross County, Dundee, Livingston – are way below the required standard for the Championship.
Barrie Simmonds, the club's well-regarded chief scout, has decamped to Norwich City, having decided he did not wish to work with Magath. As for the years of work that have gone into the academy by Huw Jennings and Malcolm Elias, whose Under-18s reached the FA Youth Cup final last season, it has hardly been a gentle integration for those young players into first-team football.
The feeling at the club, nevertheless, is that those young players are at least loyal to their new manager. It is not a response he has inspired in all his players. The stories about training under Magath are alarming, including three sessions a day in pre-season. His mantra wherever he has managed has been around fitness, or his players' perceived lack of it. Either way, the start to the season has been disastrous, by any reckoning.
Hangeland's parting shot to Magath that "his main tool is to try to mentally and physically batter his players" pointed to trouble before the season had begun. Hangeland was informed by email that a clause had been triggered to end his contract. Since he left, Fulham have let in nine goals in five games, including a fifth to Derby on Saturday immediately after they conceded possession from the kick-off following the fourth goal.
Little more than four years ago, under Roy Hodgson, Fulham's finest hour came when they contested the Europa League final in Hamburg. At the time Brentford had just finished ninth in League One in their first season since promotion. Magath was Schalke coach. When Fulham appointed him in February he had been out of work for 18 months and was available. The club regarded that as a great stroke of luck at the time. Six months on, they might realise now why it was the case.
Join our new commenting forum
Join thought-provoking conversations, follow other Independent readers and see their replies