Fifa president Sepp Blatter claims political pressure from Europe resulted in members voting for Qatar to win the 2022 World Cup
In an apparent swipe at Uefa president Michel Platini, Blatter admits that 'direct political influences' were applied due to economic links with Qatar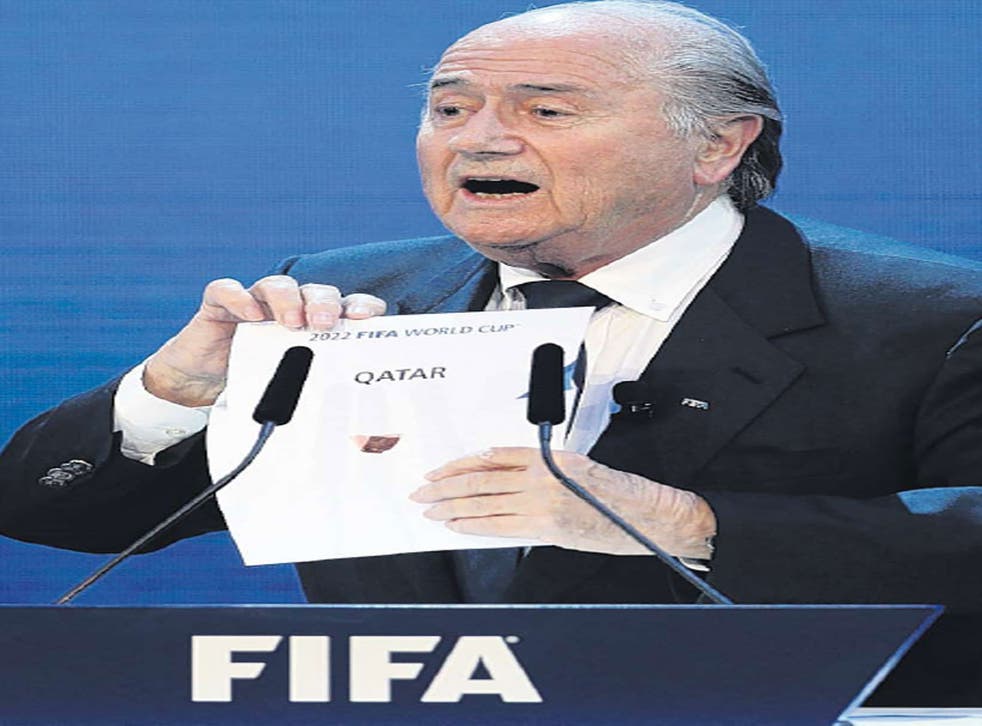 Fifa president Sepp Blatter has claimed that members responsible for awarding the 2022 World Cup to Qatar were pressured by European politicians into making the decision.
Blatter, who has come under fire for the decision, claims there was "direct political influences" involved in the decision, in what seems to be a Uefa president Michel Platini.
The Frenchman is considering running for Fifa presidency when Blatter steps down, although he has delayed his decision until either during or after next summer's World Cup, but he has had to defend his current position after he claimed he voted for Qatar to take the tournament to the Middle East for the first time and not due to pressure by then French president Nicolas Sarkozy in order to secure trade deals with Qatar.
Speaking to German magazine Die Zeit, Blatter said: "Yes, definitely there was direct political influences. European leaders recommended to their voting members to vote for Qatar, because they have great economic interests with this country."
The current president also referred to the Fifa's ethics committee investigation into how the bidding process was concluded, with Blatter claiming that although it began in last November, it has so far failed to yield any findings.
"We have set up a new, independent ethics commission to re-examine the awarding of the World Cup to Qatar," said Blatter.
Platini strenuously denied that there was any political pressure put on him, despite being invited by Sarkozy to attend a dinner with Sheikh Hamad Al-Thani – the Emir of Qatar – at the Elysee Palace ahead of the vote in 2010.
In a statement released in January, Platini said: "To believe that my choice to vote for Qatar 2022 was in exchange for agreements between the French state and Qatar is pure speculation and are only the views of those who write these lies.
"I have therefore made my choice independently, following a simple logic that I have always advocated: openness to countries that have never hosted major sporting events.
"I reserve the right to sue anyone who questions my integrity in this vote."
Register for free to continue reading
Registration is a free and easy way to support our truly independent journalism
By registering, you will also enjoy limited access to Premium articles, exclusive newsletters, commenting, and virtual events with our leading journalists
Already have an account? sign in
Register for free to continue reading
Registration is a free and easy way to support our truly independent journalism
By registering, you will also enjoy limited access to Premium articles, exclusive newsletters, commenting, and virtual events with our leading journalists
Already have an account? sign in
Join our new commenting forum
Join thought-provoking conversations, follow other Independent readers and see their replies